Maldives International Education and Career Expo in February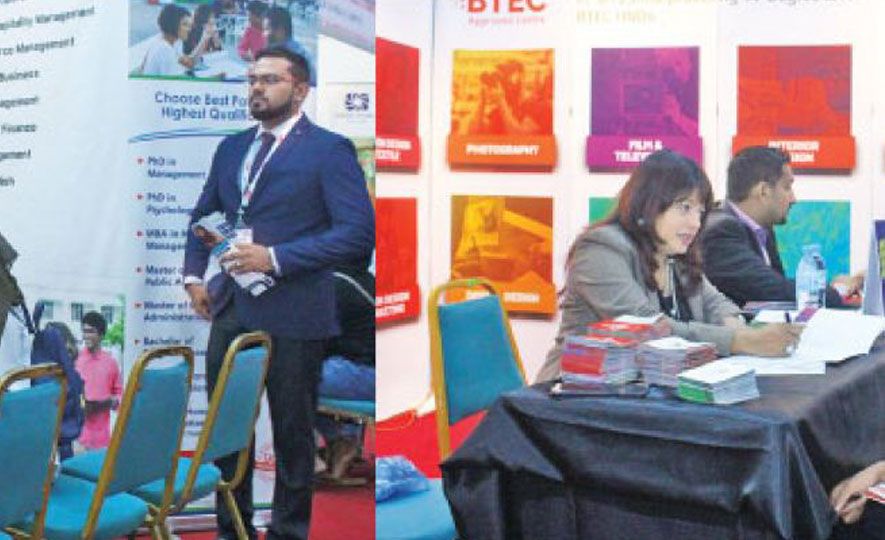 2018-11-20/ http://www.ft.lk/ft-education/Maldives-International-Education-and-Career-Expo-in-February/10515-667184
Maldivian students are increasingly turning towards Sri Lanka as a home away from home for their diverse educational needs. The students of today are very focused and wise in their choice of careers and seek out new avenues and options for education and career development on a regular basis. Increasingly Maldivian students are favouring Sri Lanka to further their education.
Lanka Exhibition and Conference Services Ltd. together with Asaree Services Ltd. in Maldives, with the endorsement of the Ministry of Education – Maldives, will hold their annual Maldives International Education and Career Expo for the fourth consecutive year from 14-16 February 2019 at the Dharubaaruge Exhibition Hall, Male, Maldives.
Most often youth in developing countries make their way overseas to further their education. Due to certain limitations or in a bid to gain an added advantage over fierce competition in society, students seek out the best destinations for education and development. Promoting Sri Lanka and putting the spotlight on all it has to offer to Maldivian students, the Maldives International Education and Career Expo gives international schools, colleges, institutes, universities and management training centres the ideal opportunity and platform to meet with potential students together with their parents and brief them on what options are available. Sri Lanka with its close proximity to the Maldives has the added advantage of ease of parental supervision, low costs in travel and living and visits back home.
Maldives International Education and Career Expo which inaugurated in 2016 is organised annually by Lanka Exhibition and Conference Services Ltd. and Asaree Services Ltd. The expo has been attracting foreign universities and colleges from Sri Lanka, India, Malaysia, Singapore, Bangladesh, Australia, USA, Canada and Europe since its inception.
The third edition which concluded in March 2018, attracted over 1400 students from across Maldives who met with representatives from more than 30 colleges and institutes. Along with the exhibition the concurrent events such as the training programs, entertainment zone and seminars attracted large number of students for the Expo. A significant number of students enrolled on the spot at the Educational institute of their choice; 72% were interested in pursuing graduate degrees in medicine, engineering, fashion design, IT and Business, while the remainder explored high school and undergraduate degree options.
The Maldives International Education and Career Expo 2019 will be held for three consecutive days from 14th- 16th of February 2019 at the Dharubaaruge Hall to ensure high attendance rates from Male and Hulhumale cities. The timing is perfect as results are just out for O/L and A/L examinations.
The organisers have planned to have group visits from some of Maldives leading schools, colleges and institutes, thus providing the exhibitors/participants with the opportunity to meet potential students, parents, teachers, and faculty members at the Expo. There will be over 50 exhibition stalls displaying and informing the Maldivian students of various courses, student programs, higher education options and job opportunities. The three day education fair is set to feature specific pavilions for visiting universities and will include special sessions focused on students and their career decisions with the participation of a host of top professionals.
Source at: Daily FT