Meet with Sri Lankan Food and Beverages Exporters at GULFOOD 2022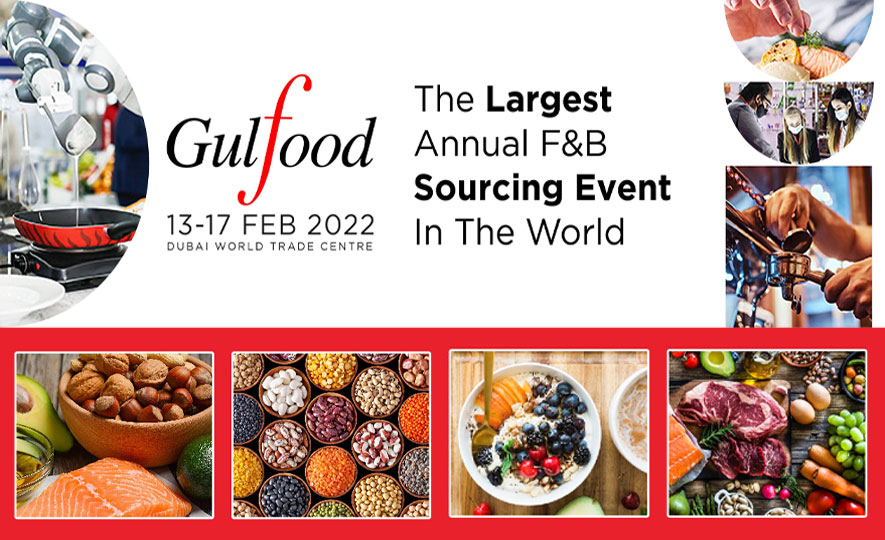 2022-02-10
The Gulf region has built a strong brand identity in the Food and Beverage space. UAE is blessed with a strategic location between East and West which makes its accessible to major emerging economies, linking shipping routes in Middle East, Asia, Europe and Africa. Gulfood Exhibition launched in 1987 and has currently become the World's largest annual food and beverage trade show. The 2020 edition of the show has attracted more than 60,000 visitors & 2,500 exhibitors from 162 countries seeking business opportunities and exploring the latest F&B products and innovation. The 2021 event was held following social distancing & hygiene protocols as per the new normal conditions of the world due to COVID – 19 pandemic.
GULFOOD 2022
Gulfood 2022, the major food & beverage sourcing event held in the gulf region will feature 21 halls packed with diverse products from 120 countries. This is a limitless opportunity to network with global giants.
Sri Lanka Country Pavilion at GULFOOD 2022
EDB together with Sri Lanka Consulate in Dubai is organizing a National Pavilion at GULFOOD 2022 Exhibition in Dubai, UAE from 13th – 17th February 2022 to promote 19 Sri Lankan companies manufacturing & exporting Food & Beverage products. EDB has reserved 126 sqm for the Sri Lanka Country Pavilion.
The Sri Lankan participants at GULFOOD 2022 will promote Value added Coconut Products, Spices, Processed Food, fruit-based beverages, cashew, Fresh & Dehydrated Fruits and Vegetable, Oats, Super Foods, Food Supplements etc.
We cordially invite the visitors to GULFOOD 2022 to pay a visit to Sri Lanka pavilion in "World Food" Section – SHK Rashi Hall.
We warmly welcome you to Sri Lanka pavilion.
Gulfood 2022 - Exhibiting Companies
Company Name
Contact Details
Stall Number
Products
Aussee Oats Milling (Pvt) Ltd
Office- Unit 3725, 37th Floor, West Tower, World Trade Centre, Colombo
Mr. Shehan Wijesekara
Assistant Manager- International Marketing
Mobile: 076-3481795
Tel: 033-3689535
Email: [email protected]
RH19
Instant Oats, Rolled Oats, Steel Cut Oats, Oat Flour, Flavored Oats, Oats Cereal Beverages
Adamexpo
No: 370, Sedawatta Road, Wellampitiya
Mr. Idris Shabbir
COO
Tel: 011-7608500
Fax: 011-2447886
Email: [email protected]
RG24
Tea
Desiccated Coconut
Spices
Expolanka (Pvt) Ltd
No: 127, Mabima Road, Heiyantuduwa
Mr. A. P. Rambukwella
Manager- International Trade
Tel: 011-2401586
Fax: 011-2401576
Email: [email protected]
RG20
Fresh Coconut
Desiccated Coconut
Fruits and Vegetables
Dry Fruits
VCO/OVCO/Milk/Cream
Coconut Water
Ceylon Biscuits Limited
P.O. Box. 03, High level Rd, Makumbura, Pannipitiya
Mr. Nadeeja Karunathilaka
Director- International Sales- Confectionary & Food Clusters
Tel: 011-5000000
Fax: 011-2857202
Email: [email protected]
RH13
Biscuits
Chocolates
Cakes
Porridge/Soya/Dehydrated fruits and juices
Jaindi Export (Pvt) Ltd
No: 47, Industrial Estate, Dankotuwa
Ms. Milanthi Fernando
Marketing Executive
Tel: 031-2265607
Fax: 031-2265608
Email: [email protected]
RH15
Org. Coconut Milk
Org. Coconut Cream
Org. Virgin Coconut Oil
Org. Creamed Coconut
Org. Coconut Flour
Org. King Coconut Water
Maliban Biscuit Manufactories (Pvt) Ltd.
No: 389, Galle Road, Ratmalana,
Mr. Yathindra Tennekoon
International Marketing Manager
Tel: 011-5555000
Fax: 011-2738286
Email: [email protected]
RG16
Biscuits
Cereals
Tea

International Commodity Exports (Pvt) Ltd
Office- No:148/01, Kynsey Road, Colombo 08
Processing Plant- Giriulla Mills, Giriulla
Mr. Nanda Kohona-Director
Ms. Praharshi Wickramasekara-Executive Export Marketing
Mobile: 071-8681602/ 070-4383031
Tel: 011-7389377
Fax: 011-2677063
Email: [email protected] / [email protected]
RG4
Cinnamon (Quilling/ Cut sticks/ Powder)
Pepper (Black/ White/ Green) & Powder
Nutmeg and Mace/ Whole and Powder
Cloves
Ginger Whole/ Powder
Turmeric Whole/ Powder
Moringa Leaves and Powder
Essential Oil (cinnamon leaf/ cinnamon bark/ nutmeg/ ginger/ clove)
Bio Extracts (Pvt) Ltd
Office- No: 11/A, Milepost Avenue, Colombo 03
Processing Plant- No: 672/4, Mayura Mw, Off Maligawa Road, Ratmalana
Mr. Dilantha De Silva
COO
Tel: 011-4656800/ 011-4656801
Fax: 011-2574046
Email: [email protected]
RH11
Herbal Health Supplements
Black Seed Oil
Organic Virgin Coconut Oil
Essential Oils
Herbal Personal Care & Pain Relief
Wichy Plantation Company (Pvt) Ltd
Office- No: 107, UDA Industrial Estate, Katuwana, Homagama 1
Processing Plant- Rambawewa, Kanaththewewa, Wariyapola
Mr. Lakmal Jayasinghe
AGM Key Accounts
Ms. Savini - 0764551270
Tel: 011-5627522/
Fax: 011-2891693
Email: [email protected]
Website: www.wichy.com
RH23
Creamed Coconut
Coconut Milk
Condensed Milk
Virgin Coconut Oil
Coconut Flour
Desiccated Coconut
New Lanka Cinnamon (Pvt) Ltd.
Office- No: 260/1, Weralu Anduwawa, Maha Edanda, Karandeniya
Mr. Amila Siriwardena
Managing Director
Mobile: 0772622196
Tel: 091-2291854
Fax: 091-2291854
Email: [email protected]
RG10
Cinnamon and other spices
Lanka Commodity Trading (Pvt) Ltd
Office- No: 11/A, Mile Post Avenue, Colombo 03
Ms. Aaliya Hafeez
Sales and Marketing
Tel: 011-2573290
Fax: 011-2574046
Email: [email protected]
RH9
Black Pepper
Cloves
Nutmeg and Mace
Desiccated Coconut
Cinnamon
Enrich Tea and Food Exports (PVT) Ltd
No: 50/12, Atthidiya Road, Kawdana, Dehiwala
Mr. Saman Kankanmge
Director Sales
Tel: 011-2738054/011-4805855
Email: [email protected]
RG12
Coconut Products
Spices
Kithul
Rice
Bite Mixtures/ Snacks/ Dehydrated Products, Tea
Rancrisp Marketing (Pvt) Ltd.
No: 41/3A, Archbishop Lane, Thudella, Ja-Ela
Mr. G. S. A. Thamel
Managing Director
Tel: 011-2231093
Fax: 011-2231093
Email: [email protected]
Mr. Harsha - 0718719292
RG8
Rancrisp Processed Cashew Nuts
Rancrisp Processed Cassava Chips, Potato Chips, Taro Chips, Jack Fries
Rancrisp Dehydrated Fruits and Vegetables
NDC Exports (Pvt) Ltd Nadalagamuwa, Wadumunnegedara
Mr. H. T. Madhawa Silva
CEO
Tel: 037-2285774
Email: [email protected]
RG14
Organic Virgin Coconut Oil
Organic Coconut Milk and Cream
Organic Coconut Flour
Organic
Creamed Coconut
Organic Desiccated Coconut Fine/ medium/ chips
Organic Low Fat Desiccated Coconut
Edinborough Products (Pvt) Ltd
Office- No: 12, New Kolonnawa Rd, Moragasmulla, Rajagiriya
Mr. Jude Rubera
Consultant- Exports
Mobile: 077-7289933
Fax: 011-4617655
Email: [email protected]
RH5
Sweet Chili Sauce
Tomato Sauce
Oyster Sauce
Chili Sauce
Ellawala Horticulture (Pvt) Ltd
Office- No: 14, Carwil place, Colombo 03
Mr. Chanaka Ellawala
Director
Tel: 011-2575756
Fax: 011-2573098
Emal: [email protected]
RH3
Fruit Chunks in Pineapple Juice( tin)
Fresh Fruits
Dehydrated Fruit
Young Jackfruit in Brine (tin)
Coconut Chunks in Pineapple Juice (tin)
King Coconut
Curry Pastes
Verger Naturals (PVT) Ltd.
Office- Level 05, 1A Union Place, Colombo 03
Processing Plant- Etawerellahena, Horana Road, Pahala Karannagoda, Warakagoda
Mr. Azhar Preena
Manager Business Development
Tel: 011-2301898/ 034-2242990
RG26
Cloves
Black Pepper
Nutmeg
Mace
Cinnamon
Manchiee De Coco Products
Amaragiri Estate, Loluwagoda, Mirigama
Mr. Diluk Silva
Manager- International Marketing
Tel: 033-2241192/0761139488
Email: [email protected]
RG30
MCT Oil & Powder (O/C)
Coconut Milk Powder
(O/C)
Org. Virgin Coconut Oil
Coconut Milk (O/C)
Coconut Syrup
Org. Coconut Milk Powder
Coconut Aminos
Coconut Water
King Coconut Water
Global Trading Services
Office- No: 123/1/1, New Baseline Road, Kirulapona, Colombo 05
Mr. Danuka Perera
Managing Partner
Tel: 011-5054888
Fax: 011-2512976
Email: [email protected]
RH27
Sri Lankan (Ceylon) Spices
Sri Lankan (Ceylon) Cashews
Ready to Eat Food Products
Curry Powders and Mixtures
Variety of Rice and Rice flour
Dried, Processed and Canned fish
Dehydrated Products
Coconut Related Products
In Brine Vegetables
FMCG, Biscuits and Beverages