Messe Duesseldorf bullish on promoting industrial products of Sri Lanka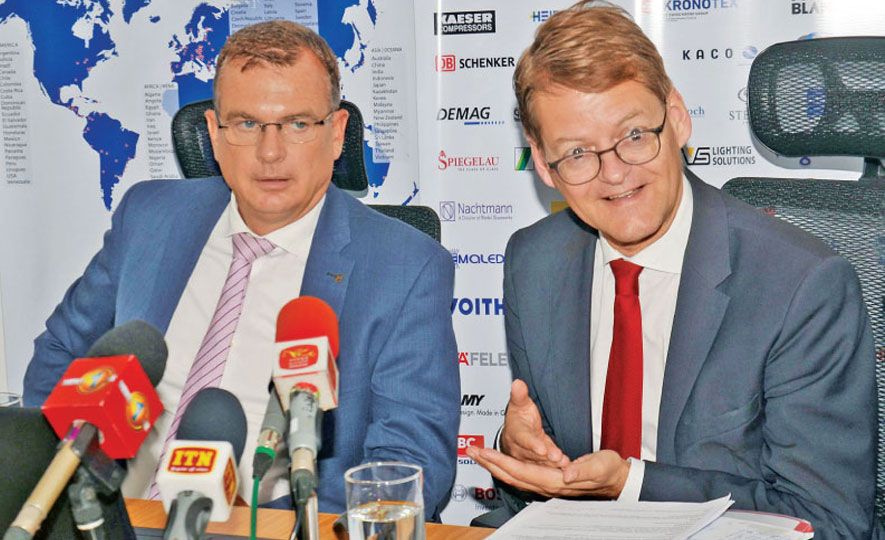 2019-05-22/ http://www.ft.lk/business/Messe-Duesseldorf-bullish-on-promoting-industrial-products-of-Sri-Lanka/34-678606
AHK Sri Lanka highlights its commitment to support country's export strategy
Messe Duesseldorf urges firms to use trade fairs as tool to promote SL
Two delegations from SL to participate at K and Medica trade shows this year
Reinforcing Germany's support to Sri Lanka in need of the hour, world's leading trade fair organiser Messe Duesseldorf GmbH announced plans to promote 'Made in Sri Lanka' as a quality brand and build the country's industrial products in the international arena.
Messe Duesseldorf was represented officially by the Delegation of German Industry and Commerce in Sri Lanka (AHK Sri Lanka) last week, where they announced plans to organise Sri Lankan business delegations in October and November to participate at K and Medica trade fairs in Duesseldorf in Germany.
Addressing media, AHK Sri Lanka Chief Delegate Andreas Hergenröther stated that the visit of high ranking officials of Messe Duesseldorf during current times clearly showed that German companies stick to their commitment to Sri Lanka.
"Messe Duesseldorf is here for the first time in Sri Lanka to project the prospects and opportunities for long-lasting cooperation. It is a very important sign for us especially at a time like this where we see a very urgent need to communicate about the opportunities that Sri Lanka has. I am thankful for Messe Duesseldorf officials for sticking to their promise given to us," he added. Hergenröther also emphasised the need to establish a quality branding on 'Made in Sri Lanka' in the international arena as many are not aware of the competitive and technologically-advanced Sri Lankan companies.
"Although there are so many companies with great products, 'Made in Sri Lanka' doesn't stand as a quality brand in the international trade as not many are aware of it. We should make use of trade fairs as a tool to promote Sri Lankan industries that create employment and contribute immensely for economic growth," he pointed out.
Noting that AHK Sri Lanka is supporting the country in its export strategy, he insisted that Sri Lanka must make use of many events organised by Messe Duesseldorf as they see a huge potential to establish a quality branding of 'Made in Sri Lanka' globally in various sectors.
Messe Duesseldorf Director International Business Dr. Clemens Schuette stressed that their world's leading trade shows are the ideal platform to promote Sri Lankan products and services and to identify partners for transfer of technology to increase the competitiveness of the Sri Lankan industry.
"It is our first visit and it is exciting to learn about the country, opportunities and ideas of all stakeholders in Sri Lanka. We are starting cooperation with Sri Lanka with AHK Sri Lanka as our exclusive partner. I firmly believe it is a good time to promote Sri Lankan exports to the world with great vigour," he said.
According to him Sri Lanka has been on the radar of Messe Duesseldorf for the past five years, where they have observed the track record of the country's development work and economic expansion.
"We know how resilient Sri Lanka and its people are. After a three-decade civil war the country bounced back like never before. The growth rates, international trade and trade between Sri Lanka and Germany saw an upward trend. However, there is more room for improvement and trade fairs are an excellent platform to further improve international presence. Sri Lankan companies are very good, but not everyone knows about them. We need to promote Sri Lanka through important international trade fairs," he said.
He also said it is important to promote Sri Lanka as an advanced economy rather than a developing economy noting that the country has many technologically advanced and completive companies.
"Messe Duesseldorf has many events in Germany and also in other countries in the region that could be used as a tool to promote Sri Lankan businesses particularly; rubber industry, packaging industry, medical devices industry, boat industry, tube and wire industry many others," Dr. Schuette added.
High ranking representatives of Messe Duesseldorf were in Sri Lanka to meet Government officials including Development Strategies and International Trade Minister Malik Samarawickrama and Export Development Board (EDB) Chairperson Indira Malwatte, potential exhibitors and several industrial associations to create awareness on the opportunities they have in the international level.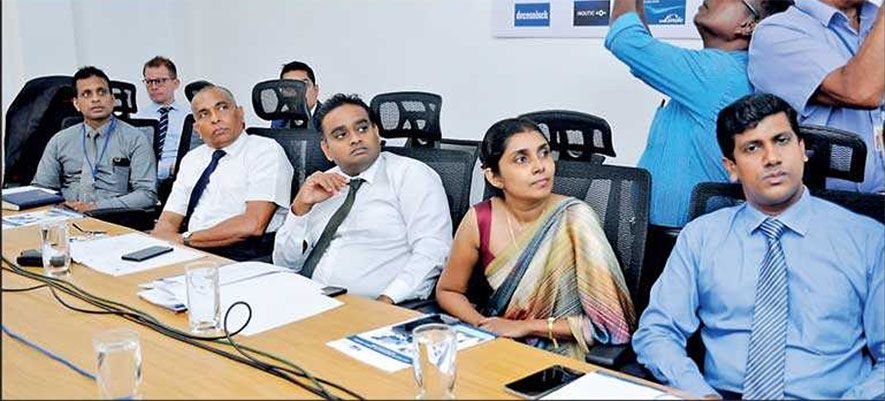 Messe Duesseldorf is one of the five largest trade fair organisers worldwide, with over 50 fairs staged at the venue in Germany including 23 world's leading exhibitions.
World's leading trade fairs at Messe Duesseldorf with particular relevance to Sri Lanka are K show –leading trade fair for plastic and rubber, A+A show – top trade fair for safety, security and health at work, Medica – world forum for medicine, Drupa – world's leading trade fair for printing technologies, Interpack – leading fair for processing and packaging, Tube and Wire – leading trade fair for tubes and wire industries as well as Boot – world's largest water sports and boat show.
In addition, it organises trade fairs all round the world. Over the past few years Messe Duesseldorf has expanded its footprint in Asia by organising regional exhibitions in Singapore, Shanghai and Tokyo.
Source at: Daily FT