Ministry of Economic Development of the Democratic : Reflection of Sri Lanka International exhibition from November 13 to 17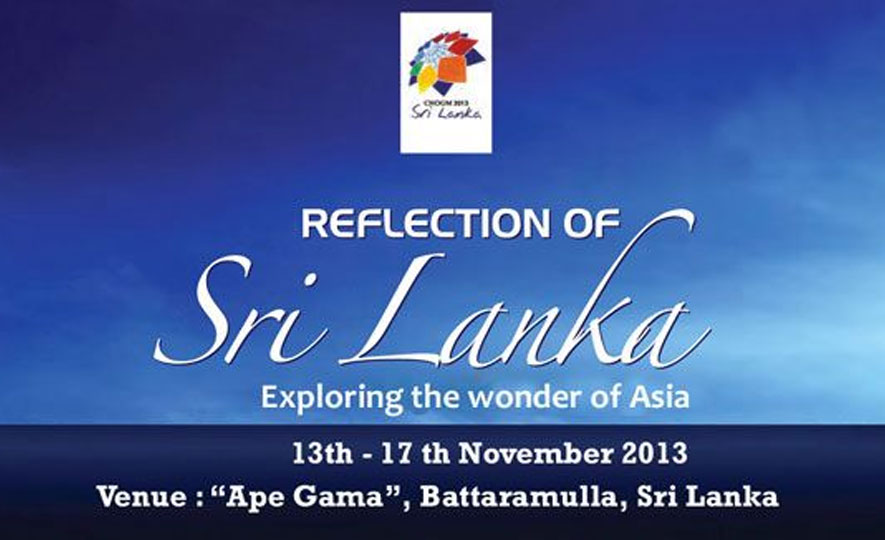 2013-11-07
The exposition on Trade, Tourism and Investment titled 'Reflection of Sri Lanka' is set to take place in parallel with the Commonwealth Heads of Government Meeting (CHOGM), in November 13 to 17, 2013 at the Battaramulla Ape Gama premises(Jana Kala Kendraya). This event would be the biggest of its kind, happening in Sri Lanka, with the registered participation of 520 exporters under one roof, accommodating 968 stalls.
Reflection of Sri Lanka International Exhibition on Trade, Tourism and Investment organized by the Ministry of Economic Development and Ministry of Industry and Commerce together with Export Development Board(EDB), Sri Lanka Tourism Promotion Bureau and the Board of Investment(BOI).
300 exporters have been chosen by the EDB to showcase their products in 355 stalls while 200 export-oriented SMEs have been allocated 100 stall in the vicinity under a separate SME sector corridor. Earlier markings noted 25 machinery exporters to be given 36 stalls and 82 tourism-related parties to have 100 stalls, while over 200 more were allocated for international technology providers. Foreign representatives of importers from 70 countries are set to grace the event, paving way of a golden opportunity for potential exporting parties to attract potential investors.
With the anticipation of 700 registered foreign participants of the Commonwealth Business Forum, this is set to reach a total of 1300 with local attendance to the exposition. At a glance, it is estimated that up to 2500 foreign nationals will attend, making this one of the largest crowds ever to attend this landmark event, in Sri Lanka.
The trade stalls will concentrate on seven key sectors - tea, apparel, gem and jewellery, spices, food, rubber, products and ICT/BPO. Buyers are expected from India, China, Canada, UK, UAE, Iran, Philippines, Egypt, Pakistan, Singapore and Seychelles, with buyer delegations with national representation expected from China, India, South Africa and Iran.
The event, which will be held on a nine acre land, has instigated an informative and visible array of Sri Lanka's main crops adjacent to its relevant featuring stall in the form of a mini tea plantation, coconut, cinnamon and other spices, ayurvedic herbs, rubber etc. The site will be preserved continuously after the conclusion of the exposition.
The Board of Investment (BOI) have also instigated a one-stop shop or 'Investment Centre' for the sole purpose of catering towards interested investors who can acquire relevant project information with regard to potential business projects in Sri Lanka, whilst assisting those interested parties in all aspects of immediate and convenient registration. The BOI is set to promote more than 55 Government related and large-scale projects to participants of the forum.