New dimension in Lankan fashion and apparel to debut at SLDF 2014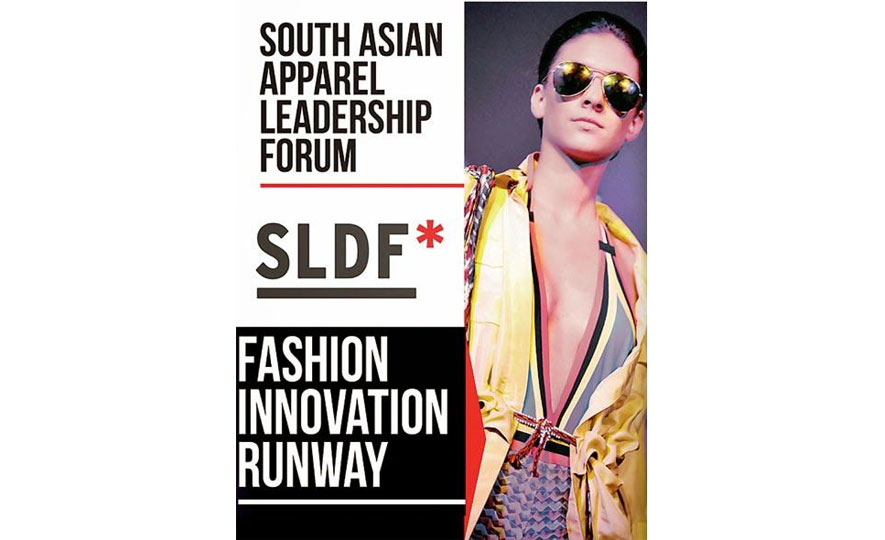 2014-12-02
Sri Lanka Design Festival's 2014 fashion edition is taking shape with a preview into Sri Lanka's brand-led future in fashion. Taking a giant step forward from the country's longstanding reputation as a sustainable and technologically advanced manufacturing destination, Sri Lanka is about to forge its reputation as a fashion industry with its own brands. Sri Lanka Design Festival is the platform for this major step for Sri Lanka, and its sixth successful fashion edition is scheduled to unfold this week.
Big brands and bigger names; fashion and apparel celebrities at SLDF
SLDF 2014 will bring down a number of apparel big names and leaders in fashion to witness Sri Lanka's fashion evolution. The dynamic duo Martin Raymond and Chris Sanderson from The Future Laboratory revolutionary trend forecasting, research and brand innovation consultancy who have presented thought-provoking ideas in UK, US, Germany, Australia, Denmark and have an impressive clientele including Louis Vuitton, M&S, Microsoft and BMW etc. will be speaking at SLDF.
Other influential personalities visiting Sri Lanka for the festival include Kurt Cavano – the founder and chief strategy officer of GT Nexus – featured among World Trade Magazines world's 50 most influential business people and a seasoned veteran on technology and innovation related to fashion.
Among the renowned personalities speaking at SLDF is Peter Ingwersen – the former LEVIS director for Europe. Peter is highly passionate about Sri Lankan fashion and the immense potential it holds to deliver something unique to the world. His several decades' worth experience on building global brands is now to be shared in Sri Lanka. Hailing from a fashion supply chain background, Giles Watkins – Coats Commercial Director of Global Services is also attending the forum to share his expertise on building brands in foreign landscapes.
Former editor of Elle India Nonita Kalra who is an expert on Indian fashion markets and consumers is also among the elite fashion names visiting SLDF this year. Another distinguished personality for SLDF 2014 includes Jane Rapley OBE who has become an icon in British design and was honoured with Queen's Order of the British Empire, for leading the team that launched the careers of some of the most legendary names in design, including Alexander McQueen, Stella McCartney and Matthew Williamson. Other delegates include seasoned fashion educator and designer Jane Gottelier, experienced colour theorist Janet Best and British designer/educationalist Patrick Gottelier.
Among Sri Lankan apparel big names participating in SLDF this year as speakers is CEO of Brandix Lanka Ltd. Ashroff Omar and Chairman of MAS Holdings, Deshamanya Mahesh Amalean. The festival is due to see other local fashion brand leaders such as Ajay Amalean – Managing Director of amanté/Director of MAS holdings as well as Arshad Sattar – Director of Avirate/Timex Garments.
Fastest ticket to a brand-led future; South Asian Apparel Leadership Forum
With over 100 professionals in apparel manufacturing, supply chain services, ethical fashion, retail brands, media and opinion leaders the fifth annual South Asian Apparel Leadership Forum (SAALF) will be held this December as part of Sri Lanka Design Festival. This forum aims to bring together the most cutting-edge international knowledge on building brands. With expert insights into global consumer behaviour patterns, technology, the pros and the cons for Sri Lanka as well as first-hand experiences in building brands at home and abroad from those who have truly walked the talk.
Whether you are an apparel industry professional, a designer launching own brand or an entrepreneur looking to take a local business to the global forefront, South Asian Apparel Leadership Forum is your fastest ticket to some world-class knowledge on the topic. The forum is scheduled to take place at SLECC, 6 December 9 a.m. to 1 p.m.
'Fashion Innovation Runway' featuring the best of local apparel industry and a preview into Sri Lanka apparel's brand led future. With a special showcase of the success stories of using 'design' as the value addition for apparel manufacturing industry, this fashion show brings together the creative talent of the design studios in Brandix, MAS Holdings, Orient Design, Orit apparel, Star Garments etc. with supply chain experts like Coats, Rainwear and Colourzone. A number of unique brands such as RedCocoon, Kiito, Prabath, Aqua Island, Nithya, Lonali, RumPunch, LICC, Aviraté and Tarja along with the international brand George will be part of this extravagant show which promises to be a fantastic display of fashion made in Sri Lanka.
Networking and speed dating at SLDF 2014
As a marked event in the global apparel calendar, Sri Lanka Design Festival is attended by a large number of retailers, sourcing specialists and brands keen to establish links with Sri Lankan apparel and fashion businesses. SLDF's many pre-fashion show cocktails, and fringe events provide many informal networking opportunities, making the festival a hotspot for making business matches between retailers, brands and fashion manufacturers. For tickets and more information, call SLDF Secretariat on 0115867772/3, visit them at 29, Lauries Road Colombo 4 or log on to www.srilankadesignfestival.com.
Sri Lanka Design Festival 2014 will be held between 5th to 7th December at SLECC, Colombo with the Ministry of Economic Development, Export Development Board, Sri Lanka Tourism and Sri Lanka Apparel as Key Stakeholders. Brandix Lanka Limited and MAS Holdings are the Official fashion industry patrons while other supporters include Coats Thread Lanka – Official Thread & Zip Partners, GT Nexus – Official Technology Partner, Daily FT/Daily Mirror/Sunday Times – Official Print Media, MTV/MBC – Official Electronic Media, Mount Lavinia – Official Venue Partner, Triad – Official Communications Partner and Cheryl Gooneratne Hair & Beauty Academy – Official Hair & Makeup, Sunshine Travels – Official Travel Partner and Pico – Official Exhibitor Logistics Partner.