Nine Sri Lankan ICT/BPM Companies to Showcase Offerings and Accelerate Export Opportunities at Japan IT Week 2019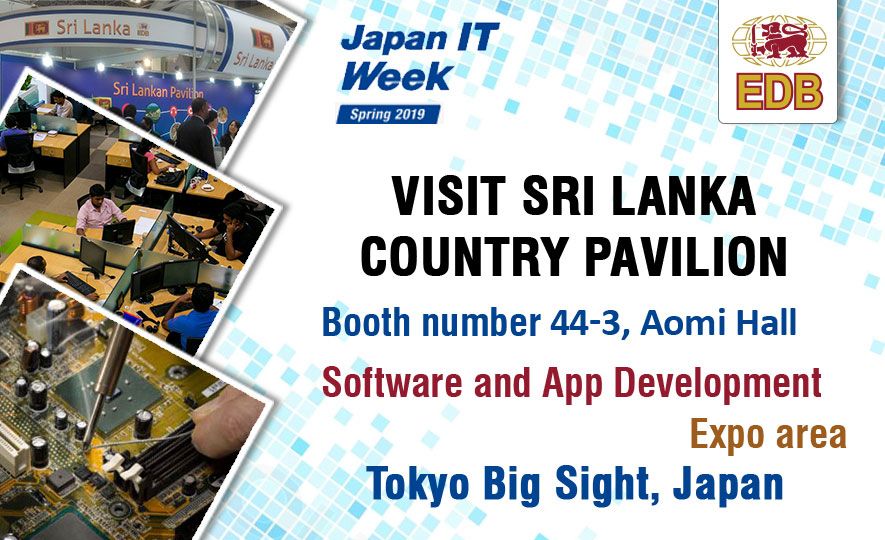 2019-04-25
Japan IT Week is one of the world's leading ICT/BPM-focused exhibitions and provides a myriad of opportunities for professionals, vendors, service providers and customers to meet exhibitors from across the world and develop profitable business relationships. Japan has a strong track record of innovation, making Japan IT Week the ideal platform for Sri Lankan companies to showcase their offerings, establish business relations and expand their footprint in the continent.
Sri Lanka Export Development Board (SLEDB) in collaboration with the Sri Lankan Embassy in Japan, is organizing a Sri Lankan pavilion with a delegation of nine Sri Lankan ICT/BPM companies at Japan IT Week 2019. The exhibition will take place from the 8th-10th of May at Tokyo Big Sight, Aomi Hall, with the Sri Lankan delegation occupying 44-3 booth in Aomi hall in the Software and App Development Expo area.
As part of the National Export Strategy's (NES) growth initiatives, the Government of Sri Lanka (GoSL) continues to strengthen Sri Lanka's ICT/BPM sector through the Island of Ingenuity (IOI) brand. As a unified platform for the ICT/BPM sector, the Island of Ingenuity aims to showcase Sri Lanka's innovative prowess in the global arena to exponentially grow industry revenues to USD 5 billion by 2022 from its current USD 1.2 billion, while creating 200,000 new jobs and 1,000 startups.
Under the NES, these outbound missions follow a very structured program. Companies participating in Japan IT Week engaged in coaching sessions with STAX – the Sectoral Expert for the ICT/BPM Initiative of the NES – to be educated on areas such as market nuances in Japan, key value propositions and a unified message for Sri Lanka's ICT/BPM sector under the IOI brand. Other key initiatives include targeted digital marketing campaigns prior to, during and following Japan IT Week to generate awareness and optimize lead generation.
2019 marks the 5th consecutive year that a Sri Lankan delegation will exhibit at Japan IT Week. More than 30 companies have been assisted by Sri Lanka Export Development Board where the delegates had opportunities to meet with global investors and experts, learn about latest industry trends and explore commercial partnerships and to gin tech know-how which is vital support for them to expand their businesses on Japanese market. As a result there are Sri Lankan ICT/BPM companies who have opened their branch offices in Japan, manages to sign up joint ventures and win prospective deals from Japan.
This year the EDB will introduce Creative Hub (Pvt) Ltd, EasyBooking (Pvt Ltd), Somro BPO (Pvt) Ltd and Genesiis (Pvt) Ltd to the Japanese market for the first time, while BeyondM (Pvt) Ltd, Metatechno Lanka (Pvt) Ltd, Global Tutor (Pvt) Ltd, Sanota (Pvt) Ltd and Outsmart Hub (Pvt) Ltd will join the delegation to strengthen existing business and expand their footprint in Japan.
The SLEDB in partnership with the Japan Information Technology Services Industry Association (JISA) and the Japan External Trade Organization (JETRO) will also conduct a seminar and B2B matchmaking session on the 7th of May at TJK Plaza, Chiyoda-ku, Tokyo. The seminar and the matchmaking session will be designed to enhance awareness by promoting Sri Lanka as an opportunity to invest in disruptive companies, a destination to set up captive innovation centers and a digital gateway to the rest of Asia.
Sri Lanka's ICT/BPM solutions providers are no strangers to Japan's IT sector, with many Sri Lankan companies already providing software, mobile, big data and other solutions for leading Japanese companies spanning Hitachi, Fujitsu, and Canon IT Solutions. These lines of business have generated considerable export revenues for Sri Lanka, with government initiatives such as the mission to Japan IT Week expected to inject further revenues for the country.
The NES will also support ICT/BPM companies through the Champion Builder Program – an initiative aimed at enabling accelerated growth for high-potential ICT/BPM companies through company-level and industry-wide assistance programs. These industry-wide initiatives will primarily focus on driving foreign investments and supporting the expansion of Sri Lankan companies by, for example, launching a 'Captive innovation Center Program', promoting Build-Operate-Transfer models, facilitating infrastructure concessions, and engaging with international agencies to build capacity, among others.