Norwegian GSP+ opens $ 100 b market for Sri Lanka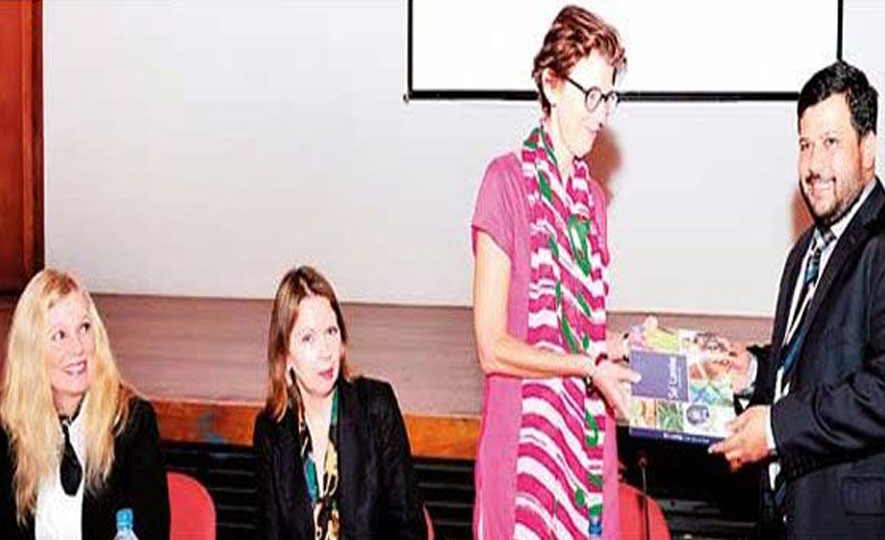 2014-03-20
Norwegian Customs offers hands-on support in Colombo for first time
Post-war Lanka demonstrated strong growth: Norwegian Ambassador
Norwegian openings for Lankan textiles, tea and rice: Norwegian Customs
'Norway a gateway to Scandinavian market: EDB's Egodage
As bilateral trade soared by a strong 26%, Norway, the gateway market to Scandinavia and the third highest per capita market in the world, called Sri Lanka on 18 March to step forward and grab promising opportunities available with it.
"There are many niche markets for your products and new opportunities are available in Norway. The new Norwegian GSP Plus involves lower middle income countries with populations of less than 75 million. Sri Lanka therefore qualifies as a GSP Plus country. As result, Sri Lanka now receives better market access to Norway," announced Ambassador of Norway in Colombo Grete Lochem on Tuesday.
Lochem was addressing the EDB-facilitated seminar on the Norway GSP+ scheme at the EDB auditorium, Colombo.
Present at the session were Minister of Industry and Commerce Rishad Bathiudeen, EDB Chairman/CEO Bandula Egodage and top EDB officials. Also taking part were Directorate of Norwegian Customs and Excise Department of Customs Senior Adviser Susann Nilsenn and Directorate of Norwegian Customs and Excise Department of Customs Assistant Director Cecilie G. Alnaes.
This is the first time that top officials from the Directorate of Norwegian Customs and Excise Department of Customs were in Colombo at hand to clarify issues for Lankan exporters.
The Norwegian import market potential is estimated to be $ 100 b. It is considered to be a high purchasing power market due to it being the third highest GDP per capita nation in the world; GDP/capita PPP of nearly US$ 55,000.
Norway has concluded 25 preferential free trade agreements through EFTA, while negotiations are underway with a number of free trade partners. The new Norwegian GSP+ is not a part of the EU's GSP assistance scheme.
"Our total bilateral trade with Norway has increased by 26% to $ 31.83 million since 2008. The balance of trade is in our favour. Apparel is the main export item to Norway from Sri Lanka, taking 38% of the total exports in 2012," said Bathiudeen, noting that Sri Lanka is targeting an export goal of US$ 20 billion by 2020 as per the vision of President Mahinda Rajapaksa.
Market access for countries like Sri Lanka, through supportive schemes including the new Norway GSP Plus schemes, has been playing an important role in Sri Lanka's export competitiveness, he asserted, adding that in this context it will be more important to explore the possibilities of widening Sri Lanka's access to markets through such promising schemes.
"Sri Lanka has been benefiting from the Norwegian GSP general facility from 1972 and has now met the criteria to enjoy the Norwegian GSP Plus status from this year. The door is now open for our exporters to this highly promising $ 100 b market. From the SAARC region Sri Lanka enjoys Norwegian GSP Plus benefits on the basis of lower middle income categorisation. Sri Lanka appreciates the Government of Norway's generous support in providing the GSP Plus facility. I am hopeful that the Government of Norway will maintain the same position in future in line with the principles of WTO. I am therefore very optimistic that today's initiative will benefit our export community, especially manufactured products such as apparel, as well as agricultural products, including tea," Bathiudeen outlined.
Pointing out that Sri Lanka has demonstrated strong economic growth since the war ended, Lochem addressing the session stated: "Progress has been made in service and manufacturing sectors. There is development in infrastructure – ports and roads. But Sri Lanka is experiencing a trade deficit, importing much more than exporting. In invoking Norway-Sri Lanka commercial cooperation, it's the hard work of everybody that is involved. There are trade opportunities to expand trade and investment. Today Norwegian Customs officials are especially present here to answer all your questions on the Norway market. Let's hope there will be more exports from Sri Lanka to Norway."
Meanwhile, EDB Chairman/CEO Bandula Egodage stated that Norway offers a potential market for Sri Lanka with an import market of nearly US$ 100 billion and a per capita GDP that is the highest in Europe, recording over US$ 55,000.
"We all know that Norway is rich in terms of petroleum, hydropower, fish, forests and minerals. Besides, Norway could be an entry point for us for looking at the larger Scandinavian market, which includes Sweden, Denmark and Finland, with a combined population of over 25 million and a GDP of over US$ 1,100 billion," Egodage added.
Directorate of Norwegian Customs and Excise Department of Customs Senior Adviser Susann Nilsenn, addressing the Lankan exporters, said: "As a GSP+ country, Sri Lanka will receive a better offer than ordinary GSP countries. You will get duty free access for goods under Chapters 61-63, as well as 50% or 100% duty free access for certain agricultural goods. There are no demands in the Norwegian GSP system relating to implementation of core international conventions on human and labour rights, sustainable development and good governance. The Norwegian GSP system is amended every three years. We don't have any textile production in Norway, no tea production and no rice production, therefore exporters of such items have a ready opening. Sri Lanka is in Group 3 in regional cumulation; Group 3 countries are Bangladesh, Bhutan, India, Maldives, Nepal, Pakistan and Sri Lanka."