Poland and Sri Lanka strengthen bilateral trade relationship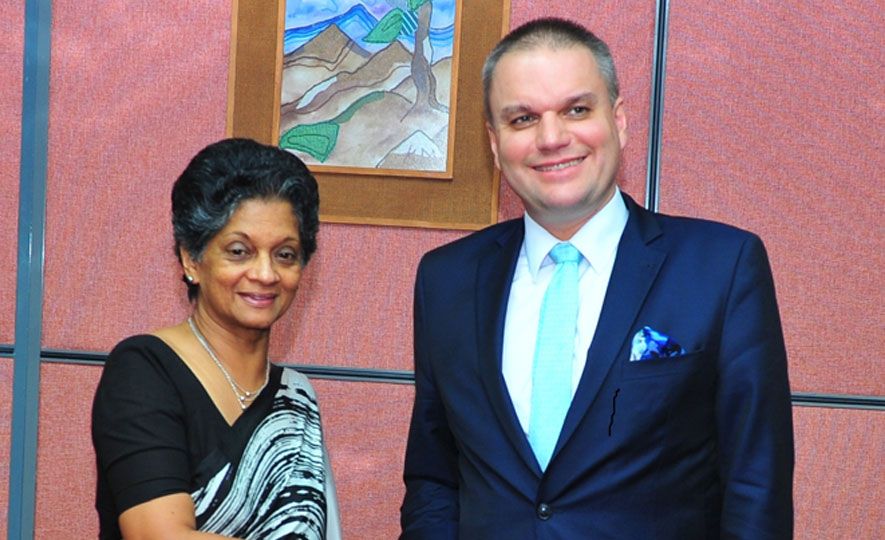 2019-10-12/ http://www.ft.lk/front-page/Poland-and-Sri-Lanka-strengthen-bilateral-trade-relationship/44-687495
Inaugural LOT Polish Airlines flight on 4 Nov. to accompany trade delegation from Warsaw
EDB arranges business forum and B2B to promote Sri Lanka travel and tourism, tea, wellness tourism, ICT and spice sector
Poland recognised as being economically important to boost SL exports
In a bid to strengthen the bilateral trade relationship between Poland and Sri Lanka, LOT Polish Airlines will accompany a trade delegation to Colombo from Warsaw.
The business mission of the Polish entrepreneurs to Sri Lanka will be organised by Poland's Ministry of Entrepreneurship and Technology and the Polish Chamber of Commerce (KIG) in coordination with the Polish Embassy in India and Sri Lanka Embassy in Poland.
Continuing healthy trade relations between two countries, Ambassador of the Polish Embassy accredited to Sri Lanka resident in New Delhi Adam Burakowski paid a courtesy call on Sri Lanka Export Development Board (EDB) Chairperson and Chief Executive Indira Malwatte recently.
During the meeting the Ambassador announced the arrival of LOT Polish Airlines' inaugural flight from Warsaw to Colombo on 4 November.
According to official data released by Sri Lanka Tourism Development Authority (SLTDA), around 800,000 tourists have arrived from Europe in 2018 and 20,000 tourists were from Poland. With the establishment of new route of Warsaw to Colombo, it is expected that these statistics will show a further increase.
The EDB discussed to arrange business forum and B2B arrangements for the Polish trade delegation to Sri Lanka with the expectation of promoting travel and tourism, tea, wellness tourism, ICT and Sri Lankan spice sector.
Being the largest economy in Central and Eastern Europe, Poland has been recognised as an economically important country for Sri Lankan exporters to discover new opportunities.
The EDB organised a trade delegation to Poland in April 2019, where a Sri Lankan trade delegation also visited Poland and participated at B2B meetings and business forum which opened up opportunities to develop business sales leads, joint ventures, and distributorships in both countries.
The total trade between Poland and Sri Lanka in 2018 recorded as $ 97 million, while Sri Lanka's exports to Poland amounted to $ 45 million.
Further, EDB has scheduled an awareness seminar on the Central and Eastern European market to enlighten Sri Lankan exporters on untapped opportunities. This proposed program will held by the end of this month with providing assistance to identify and create linkages with the relevant supermarkets, agents, importers in Poland and the Czech Republic.
Source at: Daily FT