PRISL Enterprising Fairs CEO Forum for plastics and rubber industry ends on high note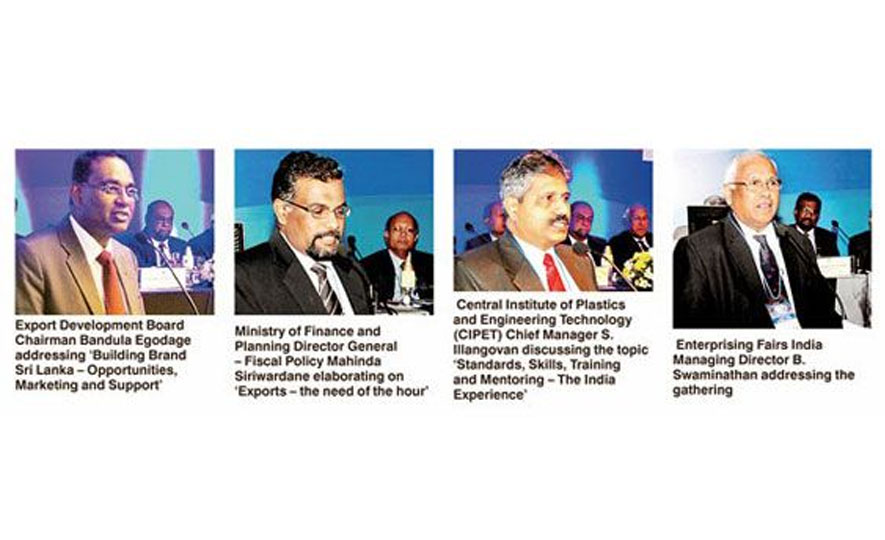 2014-08-04
PRISL (The Plastics & Rubber Institute of Sri Lanka) together with Enterprising Fairs India Ltd (EFIPL) organised a CEO Forum on at The Kingsbury Hotel on 1 August, to encourage the plastics and rubber industries to take 'exports' as a growth strategy. Experts from the Government, EDB and India addressed this elite forum. The event saw over a 100 business leaders local and international, from the plastics and rubber industries, and they were able to gain valuable insights on industry best practices, through case studies from India and the present and future plans of the export market for Sri Lanka.
The eminent panel of speakers consisted of Export Development Board (EDB) Chairman and Chief Executive Bandula Egodage, Ministry of Finance and Planning Director General – Fiscal Policy Mahinda Siriwardane and Central Institute of Plastics and Engineering Technology (CIPET) Chief Manager S. Illangovan.
Egodage touched on the subject of 'Building Brand Sri Lanka – Opportunities, Marketing and Support', whilst Siriwardane elaborated on 'Exports – the need of the hour' and Illangovan discussed the topic 'Standards, Skills, Training and Mentoring – The India Experience'.
As a follow up to the CEO Forum, the PRISL and Enterprising Fairs India will be organsing an International Seminar on Trends and Advancements in the fields of Plastics and Rubber on 5 August at The Kingsbury Colombo. Those who want to register for the seminar are encouraged to register through [email protected] or by calling 0114545687.
On behalf of the organisers Enterprising Fairs India Ltd. Managing Director B. Swaminathan said, "As a catalyst that encourages trade, we are happy to launch two significant expos focussing on Plastics and Rubber, which play an integral part on local export earnings. As a developing nation Sri Lanka is opening up with its economy and infrastructural advantages, there is no better time than this to open up the country and inviting international businesses to experience its riches."After the success of SRILANKAPLAST – an international exhibition on Plastics, in 2012, Enterprising Fairs India Limited, a B2B Exhibition company from India, once again has collaborated with The Plastics and Rubber Institute of Sri Lanka (PRISL), to conduct their second edition of SRILANKA PLAST – a Plastics Expo (www.srilankaplast.com) and the first edition of RUBEXPO – a Rubber Expo (www.rubexpo.com) on 14, 15 and 16 August 2014 at BMICH, Colombo. To visit these expos you may pre-register at www.enterprisingfairs.in or send a mail to [email protected]