Promotion of Sri Lanka's exports in Fujian, China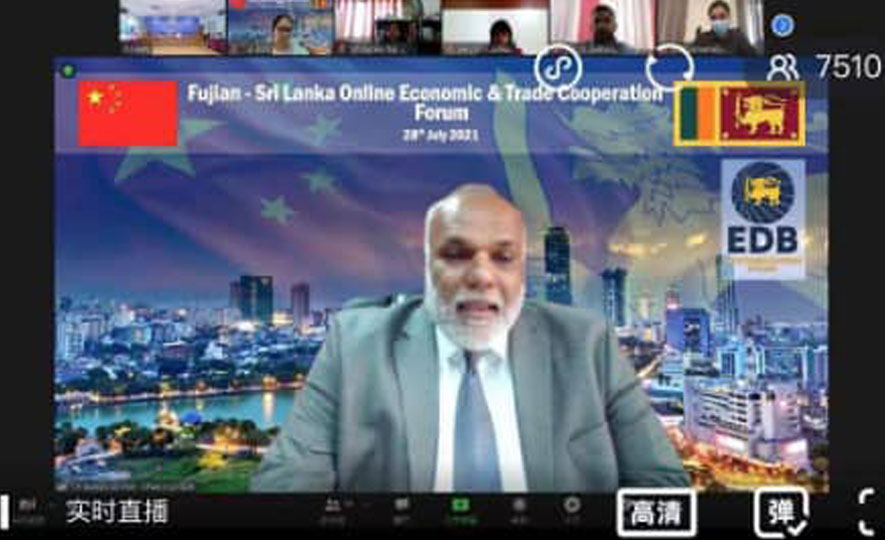 2021-08-05
The Sri Lanka Export Development Board in collaboration with The Consulate General of Sri Lanka in Guangzhou and the Department of Commerce of Fujian successfully organized the Fujian, China - Sri Lanka Economic & Trade Forum and Matchmaking event on 28th July 2021 via "video conference + web cast".
The virtual event was attended by over 11,000 participants from China and Sri Lanka. Officials of government promotional agencies such as the Sri Lanka Tea Board, National Gem and Jewellery Authority, Sri Lanka Coconut Development Authority, Board of Investment and the Department of Commerce, and Sri Lankan Export companies joined the programme from Sri Lanka. Officials of the government authorities in Fujian led by the Fujian Department of Commerce, potential importers and investors of Fujian, representatives of e-commerce platforms in Fujian participated from China.
The Forum covered the areas of bilateral trade, economic scenario of both countries, trade potential for Sri Lanka in Fujian province and e-commerce platforms in Fujian which are applicable to promote Sri Lanka's products and find buyers in China.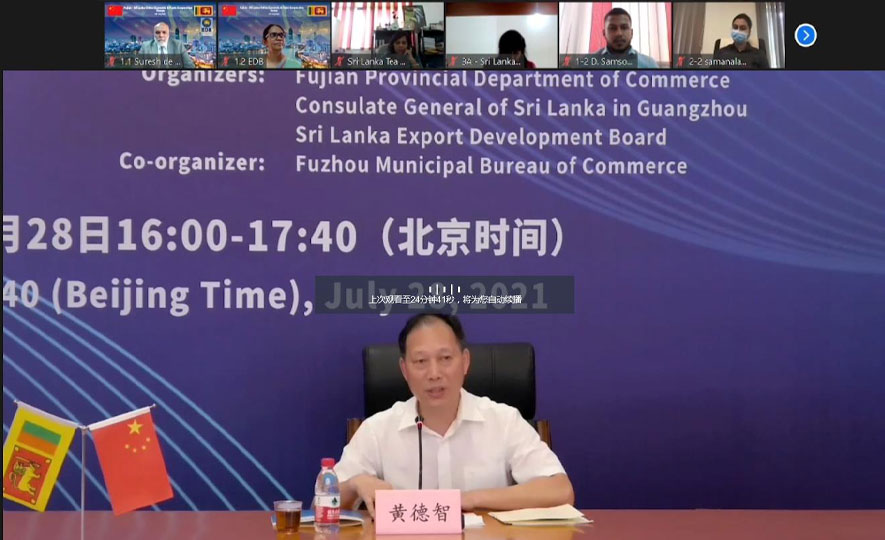 The Deputy Director General of the Department of Commerce of Fujian addressed the Forum and emphasized that the Fujian province located on the southeastern coast of China which imports USD 80.6 Billion annually, is a potential market for Sri Lanka's products. Further he suggested continued economic and trade development programmes between the countries and requested Chinese enterprises to enhance trade with Sri Lanka.
Ms. Priyangika Dhamasena, Consul General of Sri Lanka in Guangzhou during the opening remarks of her address, stated the importance to narrow the wide trade gap between Fujian Province and Sri Lanka, enbling Sri Lanka to explore trade opportunities in the province.
Mr. Suresh De Mel, Chairman & Chief Executive, EDB, addressing the virtual gathering requested Chinese enterprises to explore Sri Lanka emphasizing the importance of strengthening the trade relationship between both countries.
Sri Lanka Export Development Board presented Sri Lanka's economic and trade environment, export potential and trade related issues faced in trading with China to the Forum requesting Chinese enterprises to increase more sourcing from Sri Lanka.
As the last session, an online matchmaking event was organized for selected Sri Lankan companies in the sectors of Tea, Sea food, coconut kernel products and Gems & Jewellery. Sri Lankan companies had successful B2B meetings with the relevant Chinese companies and further negotiations are continuing.