Sanken catapults Sri Lanka's premium property market to international status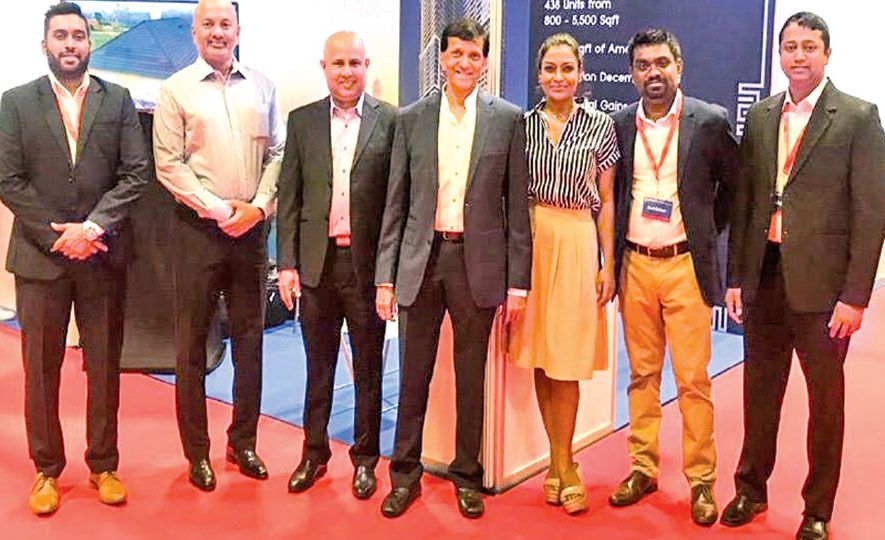 2019-04-10/ http://www.ft.lk/propertyconstruction/Sanken-catapults-Sri-Lanka-s-premium-property-market-to-international-status/10516-676295
Showcases project amongst UK and Japan projects, at Singapore International Expo
Capitol TwinPeaks, the flagship residential venture of the Sanken Group, located on the Beira lakefront in Colombo 2, showcased its premium project at the SMART Investment & International Property Expo in Singapore, on 30 and 31 March.
The Sanken Group was present at the event representing not only Capitol TwinPeaks, but Sri Lanka's real estate industry overall, in order to attract further investors, aiding in increased inflow of FDIs to the country. Other nations present were China, Indonesia, Japan, Malaysia, UAE, the United Kingdom and Singapore, allowing for attendees to source premium global property, from real estate hotspots with expected high returns on investment.
On the invitation of the Sanken Group, KPMG Sri Lanka Principal – Deal Advisory Shiluka Goonewardene conducted a seminar at the event on 'Sri Lanka Investment Overview – Growth Potential Going Forward'.
Speaking at the seminar, Goonewardena asserted: "Sri Lanka in the last decade has catapulted to the forefront of not only travel and tourism, but also real estate potential. As our nation continues to take steady strides towards complete infrastructural and communication connectivity; as we transition into a Developed Nation, local property markets have grown exponentially. This is a remarkable time to invest in Sri Lanka's property market, with the possibility of double digit returns via capital gains and rental yields, upon completion of a project."
The expo and seminar, which took place over two days at the Suntec Singapore Convention & Exhibition Centre, welcomed over 3,000 investors and property buyers who were granted first-hand access to luxury properties and developers from around the globe. Concluding, Goonewardene noted: "Today's international expo will allow for investors to view luxury properties from some of the best current investment destinations, such as Sri Lanka's Capitol TwinPeaks. Allowing for Investors to realise winning investment strategies that meet their own risk assessments"
Sanken is synonymous with several landmark high rises around Sri Lanka, with over 17 subsidiaries complementing the Company's overall expertise in real estate. Sanken Overseas Ltd., as the International arm of the Group, is present in 12 countries across 3 continents.
As Sri Lanka becomes a real estate hotspot amongst the international market, the island nation is expected to offer passive investors high capital gains and rental yields, in excess of real estate markets in Developed Nations.
Source at: Daily FT