SL's gem and jewellery industry recounts Queen Elizabeth II and her love for gemstones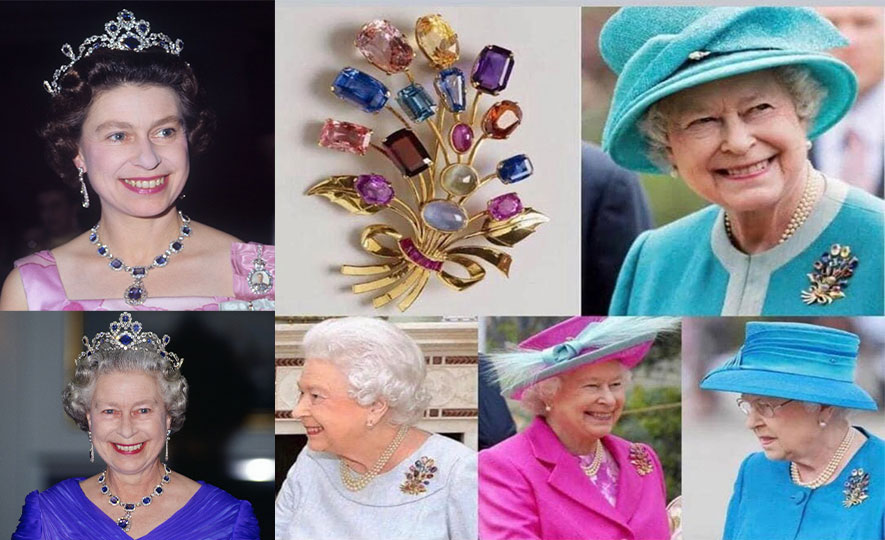 2022-09-15
Queen Elizabeth II was a true inspiration and stalwart member of the monarchy. As the longest reigning monarch, she has represented and led her country for 70 years, through various circumstances and has been an inspiration and guidance to the United Kingdom and Commonwealth Nations. Her towering strength, leadership and integrity have been a source of pride for people across the world. Queen Elizabeth II selflessly devoted her 70-year reign to public service as well as advocating many important issues.
"As a nation we are proud and privileged that Her Majesty the Queen fondly wore gems and jewellery sourced and crafted in Sri Lanka," said the Sri Lanka Gem and Jewellery Association (SLGJA) in a statement.
It said the gem and jewellery industry is honoured to have served Queen Elizabeth II and the Royal family over many decades.
"Sri Lankan gems have been a firm favourite amongst the Royal family, with her late Majesty the Queen choosing to wear the 'Trumpet Brooch' on many occasions," SLGJA said.
It said the Trumpet Brooch was gifted to Queen Elizabeth II by the Mayor of Colombo during her visit in 1981. The brooch encapsulates all that is Sri Lankan gems, with a variety of precious and semi-precious stones that are vibrant and facetted to precision. The Trumpet Brooch resembles a bouquet of flowers and was worn by Her Majesty on many occasions during her tours around the world.
"Her Majesty's fondness for Sri Lankan gems is shared by the Royal family too, with Princess Diana choosing the famous Ceylon Sapphire as her engagement ring to the then Prince Charles," SLGJA added. In its statement the SLGJA expressed its deepest condolences on the death of Queen Elizabeth II. "Her Majesty was an inspiration to all around the world and held a special place in people's hearts. Our thoughts and prayers are with the Royal Family and the People of the United Kingdom," the statement added.