SLASSCOM and Norway sign 2-year agreement to collaborate on ICT development and entrepreneurship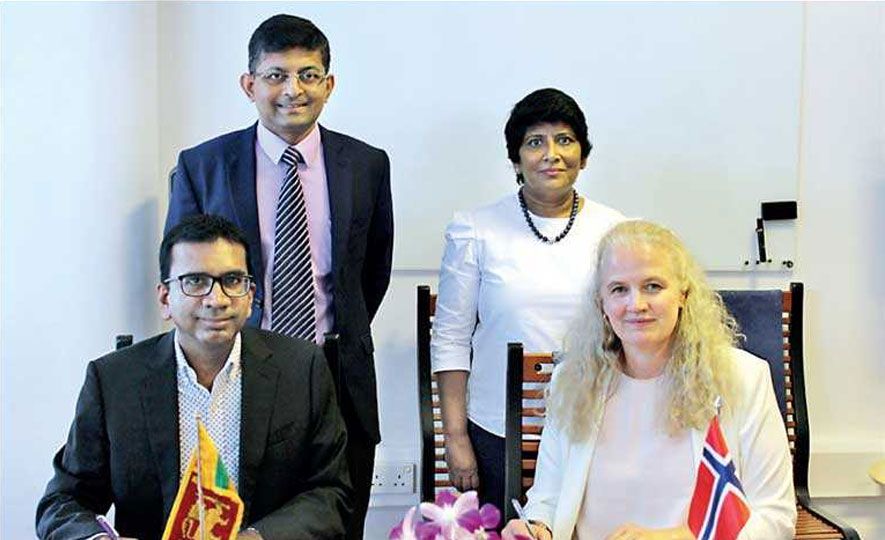 2019-08-21/ http://www.ft.lk/front-page/SLASSCOM-and-Norway-sign-2-year-agreement-to-collaborate-on-ICT-development-and-entrepreneurship/44-684251
The Sri Lanka Association of Software and Services Companies (SLASSCOM) and the Norwegian Ministry of Foreign Affairs entered into a two-year agreement to foster collaboration in the ICT industry. The newly-appointed Norwegian Ambassador to Sri Lanka Trine Jøranli Eskedal and SLASSCOM Chairman Ranil Rajapakse signed the agreement.
Eskedal said: "Norway is keen on working together with private sector partners in Sri Lanka. This partnership between SLASSCOM and the Norwegian Foreign Ministry will contribute to further increase private sector collaboration between our two countries. We are also pleased that this collaboration is in line with Sri Lankan government's vision 2025 plan for the future of a digital Sri Lanka, which has an emphasis on IT education and harnessing future tech leaders."
Rajapakse stated: "This is a great testimony to the ties that have existed between our countries for many years. The knowledge solutions industry is currently our fifth-largest export earner and has the potential to play an even more significant role in the years ahead. We're delighted that this partnership will enable SLASSCOM to influence many drivers in the industry, including capacity building, learning and to position Sri Lanka as an attractive destination for knowledge solutions."
This partnership is a continuation of a previous collaboration between SLASSCOM and Norway. The areas for collaboration include encouraging entrepreneurship and knowledge exchange, increasing visibility on AI (Artificial Intelligence) awareness, and TechKids (Kids Can Code) to build future tech leaders. The program will enable three qualified Sri Lankan start-up companies to be showcased on the global stage at the Oslo Innovation Week (OIW). It will also enable two Norwegian tech start-ups to travel and work in Sri Lanka for a few weeks.
Ambassador Eskedal also noted that one of the key target groups of the project are girls between the ages of nine to 13 years who are interested in learning about coding, thus encouraging and providing girls with opportunities to start tech education from a young age.
Building business linkages between Norwegian and Sri Lankan companies is a key objective of this program, which will enable multiple networking and roundtable events to be organised to connect companies attending the OIW or during outbound missions. It will also support the AI Asia Summit planned for November 2019 by providing access to speakers from leading Norwegian educational institutes.
The TechKids program will influence the next generation by introducing coding to children between the ages of six to 15 years. From 2018, with support from ICT Norway, SLASSCOM has initiated and supported code clubs in various parts of the country and trained more than 600 schoolchildren, SLASSCOM member companies and partners.
Source at: Daily FT