SLEDB's Sri Lankan ICT/BPM delegation at Japan IT Week 2019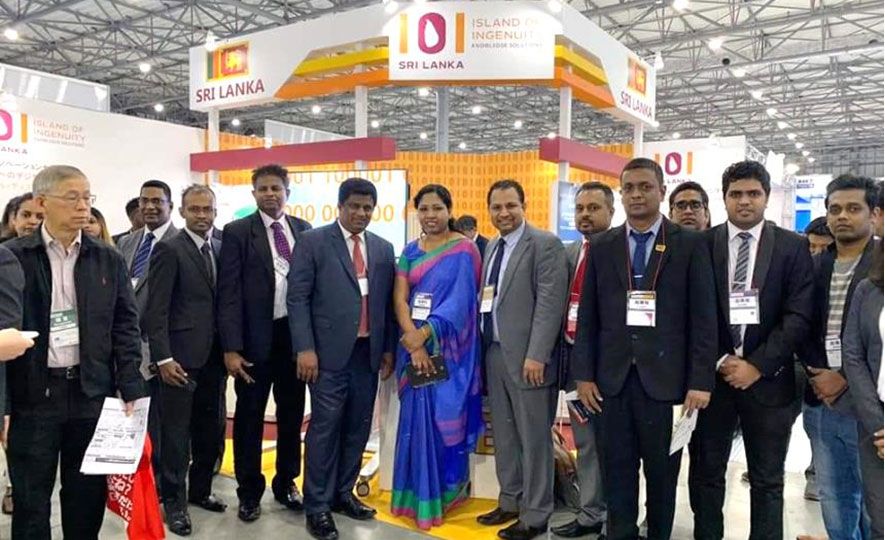 2019-05-15
A top level Sri Lankan ICT/BPM delegation organised by the Export Development Board successfully participated at the Japan IT Week 2019 from 8 to 10 May.
At least $1,000,000 worth of business is expected to be generated by end of 2019 as a result of this mission. In addition, a few companies are expecting to sign joint ventures with leading Japanese companies in the ICT/BPM sector in the near future. With the Government of Sri Lanka's continuous efforts to drive the economy through digital adaptation and innovation, the Sri Lanka Export Development Board-organised Sri Lankan ICT/BPM delegation has successfully concluded their participation at Japan IT Week 2019 from 8 to 10 May with a roaring success by generating average 65-70 initial business contacts and out of which 30-35 are potential conversions. This is the fifth consecutive year that the EDB has organised the country pavilion at Japan IT Week, and more than 25 companies have been able to embark into the Japanese market through those missions. DB will also support the local companies to mediate further discussions with potential leads, and to ensure that sustainability, successful business, and co-operation is achieved as a result of the mission.
Japan IT Week is one of the world's leading ICT/BPM focused exhibitions, and provides a myriad of opportunities for professionals, vendors, service providers, and customers to meet exhibitors from across the world and develop profitable business relationships. Japan has a strong track record of innovation, making Japan IT Week the ideal platform for Sri Lankan companies to showcase their offerings, establish business relations and expand their footprint in the continent.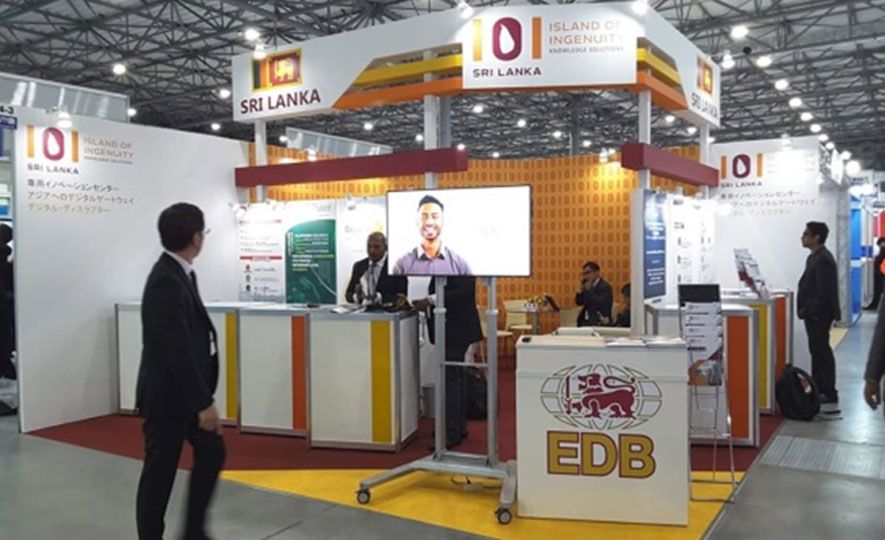 This year, the EDB introduced Creative Hub Ltd, EasyBooking Ltd., Outsmart Hub Ltd., Somro BPO Ltd. and Genesiis Ltd. to the Japanese market for the first time, while BeyondM Ltd., Metatechno Lanka Ltd., Global Tutor Ltd., Sanota Ltd. joined the delegation to strengthen existing business and expand their footprint in Japan. The companies were able to enhance their knowledge on the Artificial Intelligence, Robotic Automation, IoT, and other highly-demanded technologies in Japan.
Along with the exhibition, the Japan Information Technology Service Industry Association (JISA) had organised a country seminar with the participation of 20 Japanese companies. The opening remarks were made by JISA International Affairs Vice Chairman and EDB Assistant Director Ravindi Ranaraja. The Sri Lankan delegation successfully delivered an investment pitch to the Japanese companies highlighting the key service offerings to the Japanese Industry.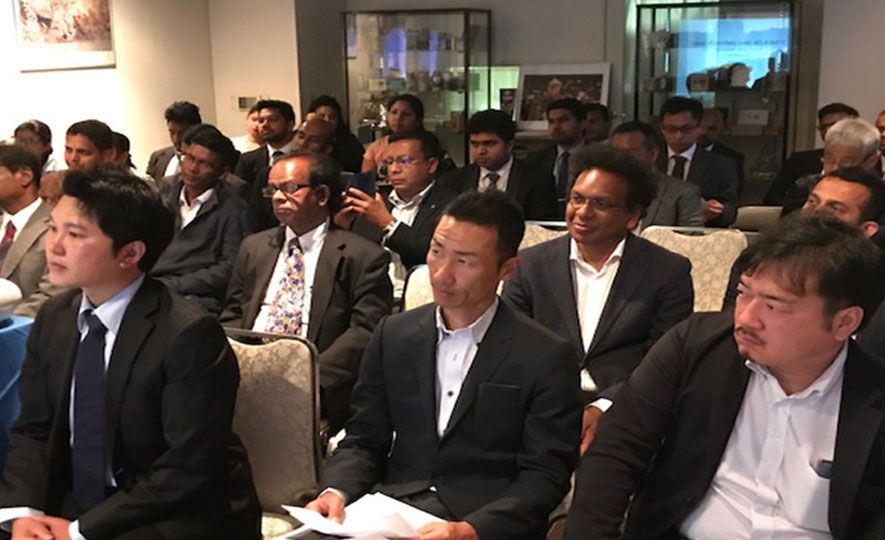 Further, EDB and Embassy of Japan in Sri Lanka had organised an interactive session with the Sri Lankan diaspora community in Japan, to create awareness of the Sri Lanka ICT/BPM sector and to highlight the initiative taken by the Sri Lankan Government to develop the sector. At this occasion, Digital Infrastructure and Information Technology Minister Ajith P. Perera delivered a brief opening speech on the niche skills available in Sri Lanka to cater to the Japanese labour shortage. Ranaraja, who led the Sri Lankan delegation from EDB, invited the Sri Lankan diaspora to become the brand ambassadors of the Sri Lanka ICT/BPM brand: "Island of Ingenuity – Sri Lanka Knowledge Solutions" (IOI). It was also emphasised how the voice of the diaspora community can be leveraged to promote the IOI brand through their networks.
During the session the JICA ICT senior advisor Ide Hiroyuki did an informative session on "What is the ideal platform to boost ICT business between the two countries?" During his presentation, it was revealed that the strong commitment of the both countries is crucial, not only till the funds are transferred but also up until reaching the expected results from the project.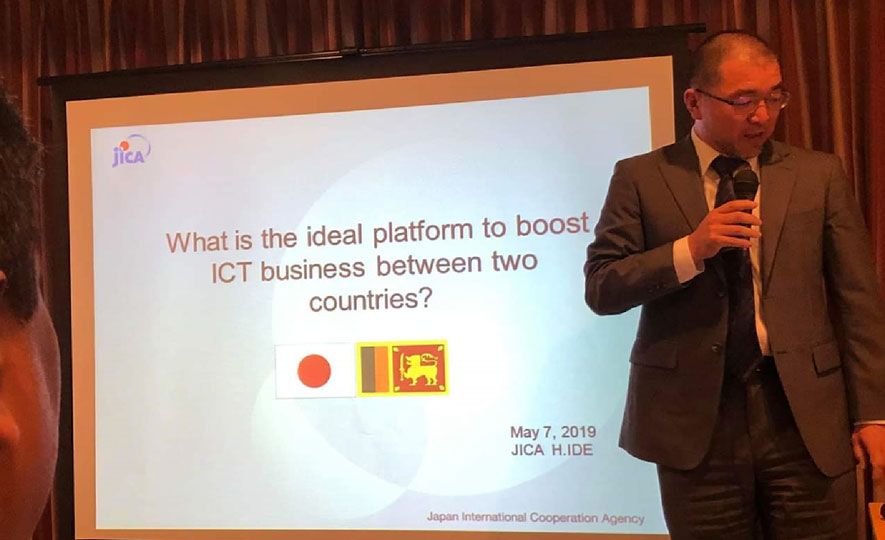 As part of the National Export Strategy's (NES) growth initiatives, the Government of Sri Lanka (GoSL) along with SLEDB continue to strengthen Sri Lanka's ICT/BPM sector through the Island of Ingenuity (IOI) brand. As a unified platform for the ICT/BPM sector, the Island of Ingenuity aims to showcase Sri Lanka's innovative prowess in the global arena to exponentially grow industry revenues to $5 billion by 2022 from its current $1.2 billion, while creating 200,000 new jobs and 1,000 start-ups.
The EDB had extended the opportunity for two start-up companies to explore Japanese market and get market intelligence. "It was a great opportunity and through this we were able to find couple of positive leads and did brief demos for them during the expo. I believe there is high potential to convert them to real business. Also, the preparatory session conducted by EDB helped us a lot to prepare ourselves on how to pitch successfully ourselves in Japanese market," commented Sanota Ltd. Managing Director Sahan Chathuranga.
"We at hSenid are working with Japanese clients, which includes a big IT company in Japan. We are expanding our business with Japan, hoping to establish our own company there soon for the benefit of both countries. We were able to enter the Japanese IT market mainly because the EDB took leadership in supporting the Sri Lankan IT companies through Government funding. We are very thankful to EDB for the continuous support provided," hSenid Ltd. Chairman Dinesh Saparamadu stated, making their 5th appearance at the Japan IT Week in 2019.
Metatechno Lanka Company Ltd. General Manager stated: "We are into software outsourcing business with Japan for past 18 years. This year we participated in Japan IT Week exhibition held in Tokyo last week, under the country pavilion organised by the EDB of Sri Lanka. We had a great opportunity to showcase our products to Japanese companies and strengthen our footprint in Japan. Was able start discussions with leading Japanese companies who visited to the pavilion and they are willing to partnership with us."
Creative Hub Solutions Pvt Ltd. Managing Director Irosha De Silva, who joined the delegation for the first time, was able to gain a tremendous market knowledge of Japan. "This was the first time we took part in an international exhibition. Through the help and guidance of EDB we were able to establish a network there and now we are looking at establishing a Creative Hub branch in Japan!"
Sri Lanka's IT industry has emerged and become globally competitive, due to the unique talents of the workforce, the focus on high quality and reliability, but above all - ingenuity and creativity. Sri Lankan ICT/BPM Solution providers are now known to the Japanese IT sector with many companies providing software, mobile, big data solutions for leading Japanese companies. The SLEDB is prominently giving leadership to the Sri Lankan ICT industry in achieving the overall national IT/BPM goals of reaching $ 5 billion in export revenue and a workforce of 200,000 by 2022. Therefore, the EDB is planning to organise similar programs in other countries to explore business opportunities for Sri Lankan ICT/BPM Sector in the future.