SLINTEC signs agreement with Dynawash to commercialise new dyeing technology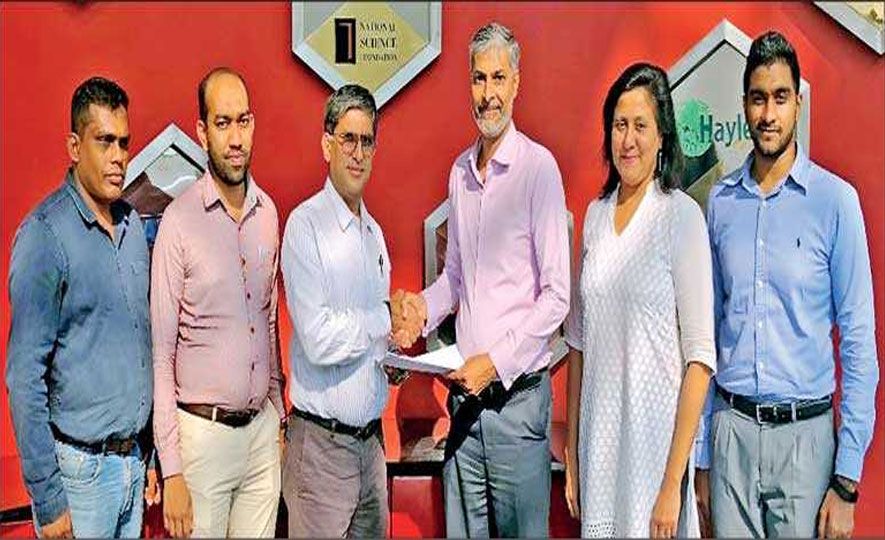 2019-03-13/ http://www.ft.lk/business/SLINTEC-signs-agreement-with-Dynawash-to-commercialise-new-dyeing-technology/34-674542
Sri Lanka Institute of Nanotechnology (SLINTEC) signed a research commercialisation agreement with Dynawash Ltd. on 31 January to introduce a new natural textile dyeing technology using biomass pigments.
Green manufacturing is more than a phraseology for the Sri Lankan textile industry, and a great deal of research has been undertaken by SLINTEC, to establish the natural dying procedure compatible with the synthetic dying procedures. Lead scientist of the project, Dr. Vinitha M. Thadhani, revealed that the invention has enabled to earn carbon credit by reducing consumption of fossil fuel (petroleum) based synthetic dyes, with reduction in dying time and water consumption from 15-50% depending upon the fabric (cotton, nylon, etc.).
Further, unlike synthetic dyes which tend to remain stable to common oxidation and reduction processes as per their designing and so are very difficult to remove from textile industry effluents, the developed natural dying process, involves biodegradable material, without the use of any oxidant or reductant and minimises the environmental impact of waste water treatment.
SLINTEC engaged with Dynawash in July, 2017 for this research project, which underwent a successful research and development phase, for the past one and half years, and now the technology has been transferred exclusively to Dynawash for commercialisation under the trademark 't-Hues', which would be made available to both national and international market. The project was partially funded through the research funding support scheme of the Export Development Board (EDB).
SLINTEC is a public-private partnership between the Government of Sri Lanka and major players in the private sector; namely MAS Holdings, Brandix, Dialog, Hayleys, Loadstar, Lankem and most recently LOLC. SLINTEC is committed to support the small-and-medium enterprises to improve and develop their products to meet the demands of the local and international markets using nanotechnology and advanced technology solutions.
Dynawash has been at the forefront of providing dyeing services to the apparel sector of Sri Lanka for past 15 years. They had successfully completed a research project with SLINTEC prior to the current project, on low temperature polyester dying under the guidance of Dr. Vinitha M. Thadhani, which had enabled Dynawash to save approximately a million rupees per annum. The company is constantly seeking ways to apply technology to improve their process and is seeking to build a strong partnership with the R&D sector in Sri Lanka.
Source at: EET India