Sri Lanka Plast 2016 exhibition kicks off on Friday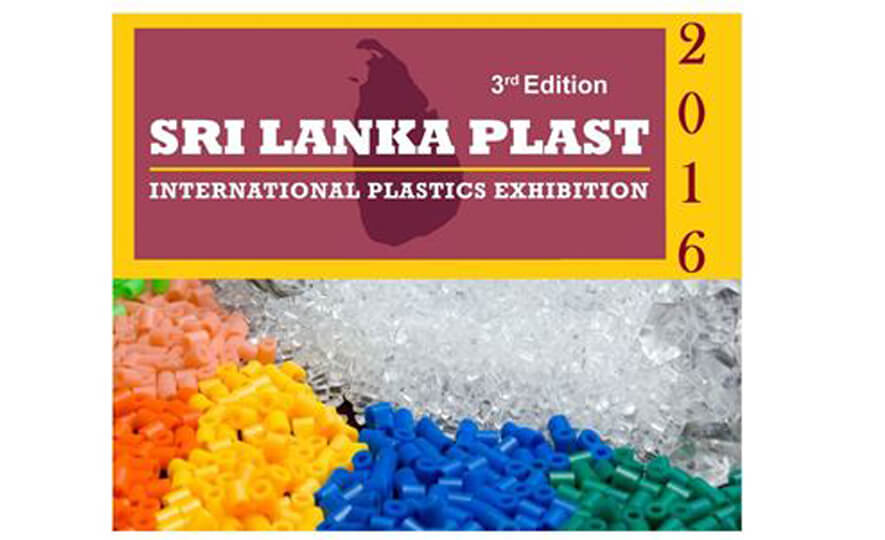 2016-08-03
Sri Lanka Plast 2016, the main exhibition with focus on plastics processing and Rubexpo focused on manufacturing of rubber related products and services is scheduled to take place from 5 to 7 August at the Bandaranaike Memorial International Conference Hall (BMICH) in Colombo.

This would be the third edition of the event taking place in Sri Lanka which is organised by Enterprising Fairs (India) Ltd. The event will be organised together with The Plastics and Rubber Institute of Sri Lanka (PRISL) and supported by Ministry of Industry and Commerce Sri Lanka, Export Development Board (EDB), Industrial Development Board (IDB) and the Rubber Research Institute of Sri Lanka.

This year's exhibition is set to feature four parallel events comprising of 'Sri Lanka Plast' focusing on the plastics segment, 'Rubexpo' held for the second year and with focus on rubber , 'Compack' featured for the first time focuses on packaging and 'Enmach' which is taking place for the second year highlights the scope of the manufacturing needs.

This year's exhibition will feature 175 stalls from 10 countries which will also include China and Taiwan. Some of the highlights of the event over the course of three days will showcase live machine demos and the CEO Forum 2016 which has been outlined to take place on the inaugural date. The forum is set to feature speakers from Sri Lanka and Singapore and participants can look forward to take part in a draw with winnings of a free return ticket to attend the 'Plastivision Expo' which will take place in Mumbai or the 'India Rubber Expo' in Chennai during the month of January 2017.

Day two will provide free entrance to a technical seminar with focus on the 'Trends in Engineering Plastics and Innovations for Tomorrow's Polymer Industry'. PRISL will offer free guidance in its booth for new and prospective entrepreneurs as well as guidance for exports through the EDB.

Enterprising Fairs (India) Ltd. President B. Swaminathan said, "This year's exhibition would no doubt provide visitors and interested parties with a platform where local and international markets can meet and interact all under one roof. He further added, "As Sri Lanka's rubber industry has been hailed as one of the main source of exports in Sri Lanka, the exhibition will help open doors for many small and medium rubber enterprises to meet up with people from the rubber industries and mingle with foreign representatives as well."

Enterprising Fairs (India) Ltd. has vast experience in handling domestic and International Exhibitions. The prime focus of the company is to facilitate business convergence for categories such as plastics, rubber, packaging, and manufacturing, which are among the fastest growing economies in the world. EFIPL organises professional trade shows in the field of Plastics, Packaging, Rubber and Manufacturing especially in developing countries like India, Sri Lanka, East Africa, Myanmar and Vietnam and in the near future, would penetrate into South Africa. Enterprising Fairs members have vast experience in marketing and in the field of plastics, packaging, rubber and manufacturing.