Sri Lanka at annual European Seafood exposition in Belgium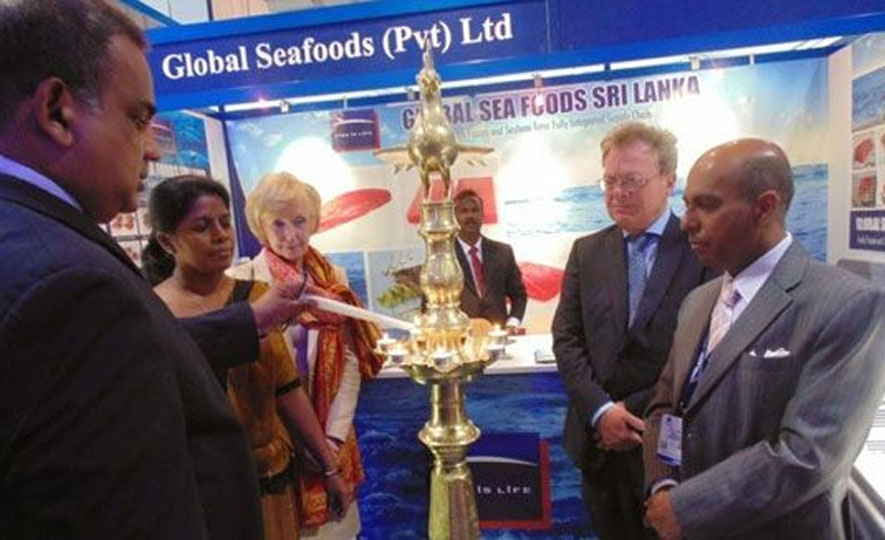 2014-05-11
Sri Lanka Export Development Board in collaboration with the Sri Lanka Embassy in Belgium organized the Sri Lanka's participation at 22nd Annual European Seafood Exposition held in Belgium from May 6-8. Over 1,690 exhibiting companies attracted more than 25,800 buyers and suppliers for the event.
This year's exposition marks the 22nd edition of Seafood Expo Global, and the 16th edition of Seafood Processing Global.  The exposition is considered a unique opportunity for the global seafood industry to come together and make valuable business connections.
This time, around 76 exhibiting countries represented an exhibit space of more than 34,800 square meters,   From Argentina to Yemen, 71 national and regional country pavilions came from all parts of the world, including new national pavilions from Libya and Japan.
The Sri Lanka Pavilion was ceremonially opened on May 6 by P. M. Amza,  Ambassador of Sri Lanka to Belgium & Luxembourg and the European Union, which accommodated five reputed Sri Lankan Seafood export companies exhibiting a range of products including processed seafood.
Sri Lanka continuously participated at this event since 2005. The main objective of Sri Lanka's participation was to strengthen relationship with existing buyers and look for more export opportunities with new buyers.
According to an Embassy news release, all the companies were able to establish valuable business contacts and links while meeting their existing buyers