Sri Lanka, Austria talks on development projects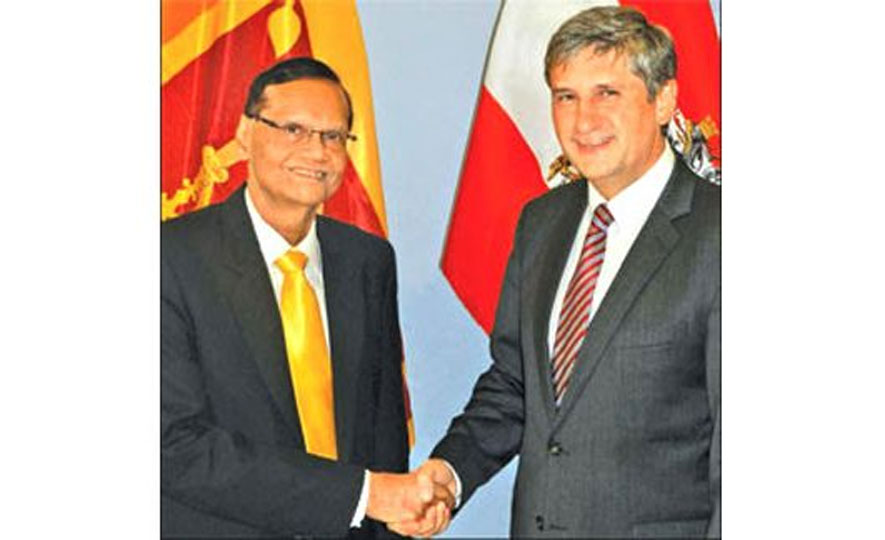 2013-06-13
The growth of bilateral trade between Sri Lanka and Austria, despite the economic recession in Europe and the steady increase in direct foreign investment from Austria augur well for the future of relations between Sri Lanka and Austria, External Affairs Minister Professor G L Peiris said.
He said this during a meeting on Tuesday with Austria's Vice Chancellor (Deputy Prime Minster) and European and International Affairs Minister Dr Michael Spindelegge at the Foreign Ministry in Vienna.
The ministers noted that Austrian companies are showing increasing interest in bidding for major infrastructure development projects, while others have already undertaken construction projects in Sri Lanka, including the Greater Colombo sewerage system rehabilitation project.
The Sri Lankan government has concluded negotiations with Austria on several major development projects including the supply of railway steel bridges and auxiliary supplies and services, construction of the Kochchikade bridge, enhancement of facilities at the Advanced Technical Institute in Kandy and the provision of protective fences at railway crossings.
The ministers agreed that it is timely to focus on strengthening economic ties, taking advantage of the stable and peaceful environment for increased trade.
Minister Spindelegger welcomed the initiative by Sri Lanka's Embassy in Vienna, in association with the Export Development Board, to arrange a visit by a trade delegation to Austria this year, as a follow up to the visit by a business delegation from Austria to Sri Lanka in June 2011.
They noted that Austrian companies are active in several fields in Sri Lanka, including the manufacture of electrical goods and the provision of services in the tourism sector.
Prof Peiris told Dr Spindelegger that the Sri Lankan government is engaged in a massive reconstruction programme in many areas of the country, and that there are extensive opportunities for further investment by Austrian companies, especially in tourism, power generation, agriculture and fisheries.
Dr Spindelegger welcomed Prof Peiris and expressed pleasure that a visit by a Sri Lankan Foreign Minister to Austria is taking place after the lapse of 10 years.
He recalled his meeting with Minister Peiris in New York on the sidelines of United Nations General Assembly three years ago, and welcomed the opportunity of continuing their bilateral discussions. He also referred to the visit of Dr. Wolfgang Waldner, State Secretary of Foreign Affairs of Austria to Sri Lanka in April last year, and his discussions with Minister Peiris in Colombo. The ministers discussed an extensive programme of activities, planned for next year, to mark the 60th Anniversary of the establishment of diplomatic relations between Sri Lanka and Austria.
Sri Lanka's Honorary Consuls in Graz and Salzburg, as well as the Austrian Honorary Consul in Sri Lanka will play an active part in the implementation of this programme. Minister Peiris said that Austrian President Dr Heinz Fischer visited Sri Lanka on several occasions in a private capacity in the 1980s, and that he is most welcome to visit the country again. Prof Peiris suggested that it would be useful to establish a mechanism at senior official level for annual bilateral consultations to review progress and to identify new areas of collaboration.
He said it is of particular importance, in view of Austria's current capacity as Vice-President of the Human Rights Council, to provide a detailed briefing on progress with regard to implementation of the recommendations of the Lessons Learnt and Reconciliation Commission.
He explained the steps taken so far in a structured manner, on the basis of priorities, and the developments envisioned in the near future. In discussions with Reinhold Lopatka, Austria's State Secretary for European and International Affairs Prof. Peiris said that Sri Lanka has established a University for the Visual and Performing Arts, and requested Austria to support this institution with academic exchanges and scholarships, especially in the fields of Music and the Visual Arts.
During his two day official visit to Austria, Minister Peiris held discussions with Neugebauer, Second President of the Austrian National Council, Yuri Fedotov, Director-General of the United Nations Office in Vienna and Lassina Zerbo, Executive Secretary-Elect of The Comprehensive Nuclear Test Ban Treaty Organisation. He had bilateral talks in Vienna with Tomas Dub, Deputy Minister of Foreign Affairs of the Czech Republic. He delivered an address on "The Place of Sri Lanka in Europe's outreach to Asia" at the Diplomatic Academy of Vienna, one of the oldest diplomatic training institutes in the world.