Sri Lanka exports 2% of world's ornamental fish supply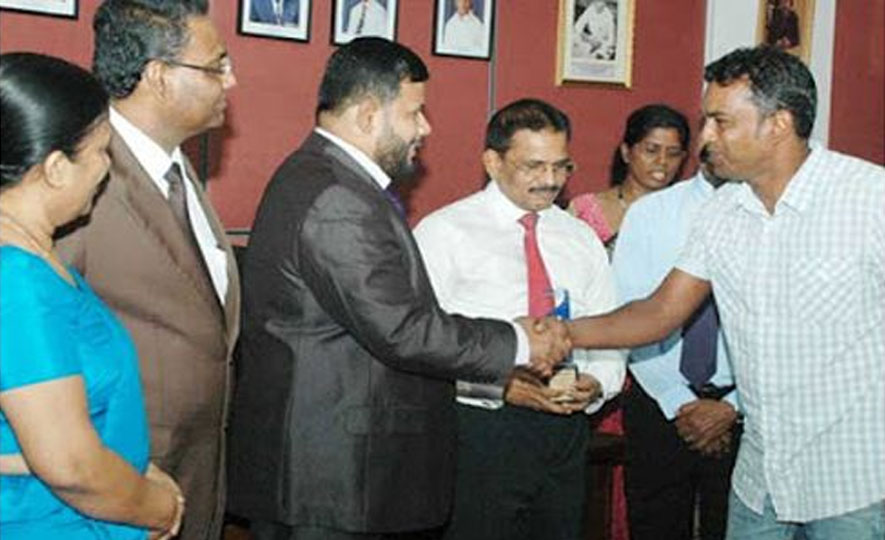 2013-06-12
Minister of Industry and Commerce of Sri Lanka Rishad Bathiudeenyesterday revealed that Sri Lanka have more than 2% share of the globalornamental fish market which is around US$ 340 million. "We are also nowrecognised as one of the best ornamental fish suppliers to theinternational market."
Bathiudeen was addressing the press briefing held at the ExportDevelopment Board (EDB) to announce Sri Lanka's strong achievements atthe AQUARAMA 2013 event in Singapore.
More than 300 competitors from 10 countries, submitting 1,350 entries,were taking part in the highly competitive AQUARAMA 2013 internationalornamental fishery event held in Singapore from 28 May to 2 June.
Seventeen Sri Lankan firms, facilitated and sponsored by EDB, competing in the event won 30 awards, which was symbolically re-awarded by Minister Bathiudeen with his praise, yesterday.
"Sri Lanka has been placed as the second largestaward winner, at the Asia's biggest, international ornamental fish andaccessories exhibition AQUARAMA 2013, which is a great achievement forthis sector. We won 30 awards at the 2013 Singapore event and stands asthe second, in comparison to Singapore which is the number oneornamental fish exporting country, in the world," Minister Bathiudeensaid.
The ministers also added: "Therefore, this is not only a honour for SriLanka but also an important development for our ornamental fishindustry. EDB has sponsored 17 participants at this event and submitted232 entries in various fish categories. In the commendable 2012 budgetproposals by the President Mahinda Rajapaksa, provisions have been madeto upgrade facilities of exporters to increase the quality of fishexported from Sri Lanka.
"This is another stepping stone, towards our US$ 20 billion exporttarget, by 2020. The value of ornamental fish exports in 2012 stood atUS$ 7.52 million. The major export markets, for our aquarium fish are;Japan, USA, UK, Germany and France. We began ornamental fish exports in1950's. Sri Lanka have more than 2% share of the global ornamental fishmarket, which is annually around US$ 340 million. I am pleased to saythat now we are recognised as one of the best ornamental fish suppliersto the international market."
Live Tropical Fish Exporters Association Co-President Rohan Fernando,addressing the event said: "The backbone of fish exports are the fishbreeders of this country. But exporters have been starving without newspecies to breed and export. Fortunately, the AQUARAMA event, promotedby EDB here, has come to the rescue."
In the budget proposal 2012, provisions have been made to set up/upgradequarantine and withholding facilities of exporters to increase thequality of fish exporting from Sri Lanka. The EDB is the implementingagency for the program.