Sri Lanka finds prospects to trade with Malaysia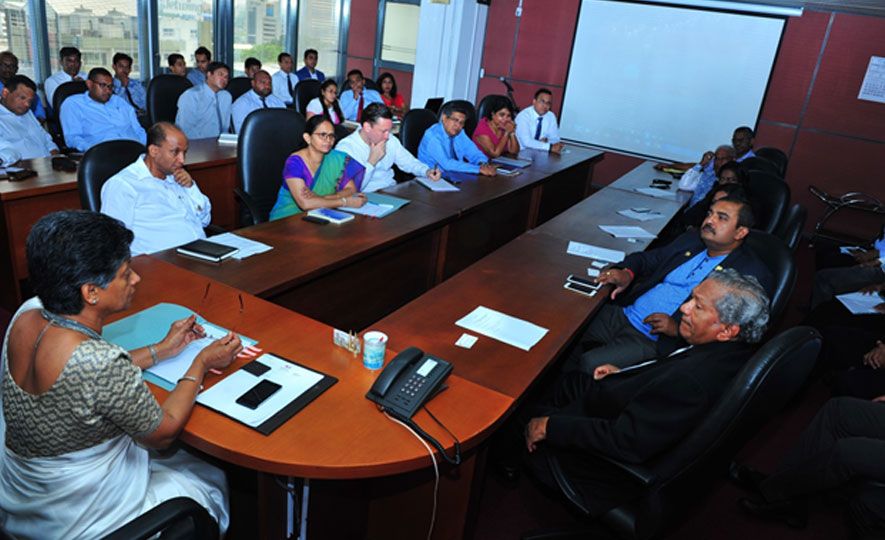 2018-06-22
Being the Strategic Partner of the Sri Lanka Investment and Business Conclave 2018 organized by the Ceylon Chamber of Commerce (CCC) 2018 from 19th to 21st June 2018, the EDB collaborated with CCC in organizing foreign buyers delegation for the event considering the benefits that will accrue to the development of exports through establishment of trade links, creating investment opportunities into the export sectors and image building efforts of the country.
EDB hosted the business meetings on 19th June 2018 at the EDB for 6 member buyer delegation of Malaysia scheduled to attend the Conclave.
The business delegation was headed by Mr. Dato Kulasegaran, the president of the Malaysia Sri Lanka Business Chamber.
At the meeting held with the participation of the Malaysian delegation and Sri Lankan export companies Ms. Indira Malwatte, Chairperson & CE of EDB welcoming the delegates, revealed that the Sri Lank High commission in Malaysia with collaboration of Malaysia Sri Lanka Business Chamber has taken initiatives to establish a Sri Lanka Trade Centre in Malaysia. Further she emphasized the importance of developing trade with Malaysia and stated that Sri Lanka's recognized products will be displayed at the proposed Trade Centre.
Ms. Malwatte emphasized the ease of doing business between Sri Lanka and Malaysia with the similar legal system in both countries. Mr. Kulasegaran, the president of the Malaysia Sri Lanka Business Chamber stressed that Malaysia is the gateway to ASEAN Region. Further he revealed that middle income group of Malaysia is increasing ; hence the purchasing power of the Malaysia is in the increasing rate. The economy of Malaysia is the 4th largest in Southeast Asia, and is the 38th largest economy in the world. The Malaysian economy is the 23rd most competitive country in the world in the period of 2017–18.
Mr. Howard Obbard, the Director of BSSB, a British owned and Malaysian based reputed furniture manufacturing company was also a member of the delegation and stressed their interest to invest in furniture manufacturing plant in Sri Lanka. The EDB organized specific business meetings for Mr. Obbard with the relevant Sri Lankan companies in the sectors of furniture manufacturing and lifestyle products.
There were some B2B meetings also held between the visited Malaysian companies and around 30 Sri Lankan companies. Sri Lankan companies in the areas of tea, coconut kernel products, confectionery, processed food & beverages and ayurvedic herbal products had effective B2B meetings with the Malaysian companies in the relevant sectors.
EDB has organized a mini product display also at the venue of the Conclave which is Cinnamon Grand Colombo accommodating 12 export companies from the Apparel, ICT/BPO, Spices, Electronics, Processed Food, Board Building, Tea, Wellness Tourism, Leather Products, Gems & Jewellery, Rubber and Construction sectors.