Sri Lanka for open trade and investment, Minister Malik Samarawickrama tells WEDF 2017 opening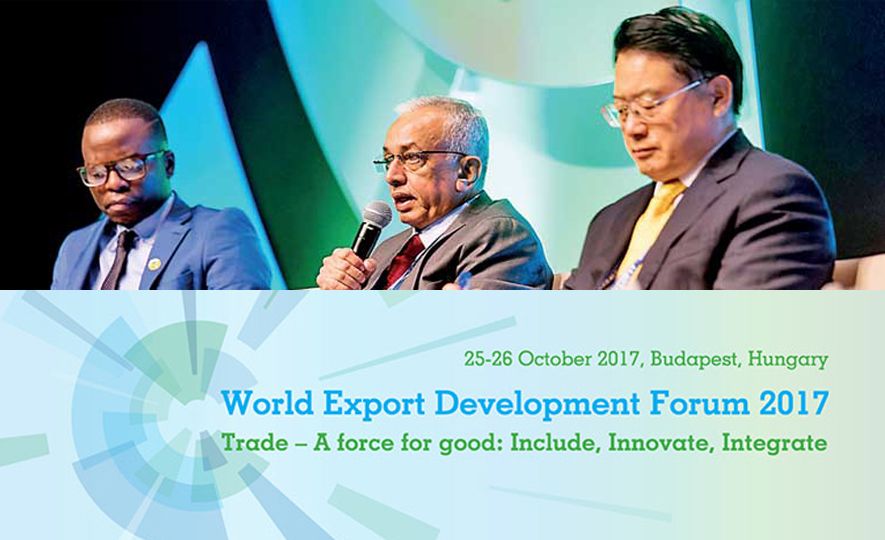 2017-10-26/ http://www.ft.lk/front-page/Sri-Lanka-for-open-trade-and-investment--Malik-tells-WEDF-opening/44-642234
Development Strategies and International Trade Minister Malik Samarawickrama speaks at the first plenary of the World Export Development Forum in Budapest yesterday (25-10-2017)
Sri Lanka's commitment to open trade and investment as a means to achieve more inclusive socioeconomic growth was highlighted yesterday at the opening of the World Export Development Forum in Budapest, Hungary by Minister Malik Samarawickrama.
Speaking at the first plenary of the forum, which was inaugurated by Hungarian President János Áder, Sri Lanka's Development Strategies and International Trade Minister Samarawickrama said the Government was of the firm belief that an outward-oriented strategy was the surest path to the prosperity of the Sri Lankan people.
"We have realised Sri Lanka cannot progress from a low middle-income country without being more open to trade and investments with the outside world and without aggressively promoting exports," he said.
On the latter, Minister Samarawickrama told the WEDF opening, attended by over 500 delegates, that Sri Lanka was forging greater bilateral trade and investment agreements with Singapore, China and India.
Speaking at the plenary session titled 'Making trade work for the 99%', which explored how trade can work for all with business leaders and policymakers looking at policy and practice to boost competitiveness, Minister Samarawickrama also briefly shared some of the ongoing initiatives of the Government since the 2016 WEDF which Sri Lanka hosted.
One was the broader goal of steering the country towards achieving an export performance of $ 20 billion per year by 2020 from the current level of $ 11 billion. He noted that it was a challenging goal but needed to be achieved to strengthen the economy and enhance the prosperity of the people.
Towards this end the Cabinet has recently approved the National Trade Policy, which is a landmark achievement and important step in paving the country's way forward toward outward orientation.
The other is the work on the National Export Strategy with the support of ITC. He said the strategy, which looks at priority sectors and trade support functions prepared by the Sri Lanka Export Development Board and the private sector, was in its final phase and a steering committee would be set up shortly to see its implementation by June 2018.
The WEDF 217 was also informed about the comprehensive Innovation and Entrepreneurship Strategy being firmed up with the support of the World Bank. "Once launched it will include a range of measures to boost competitiveness of exporters, especially SMEs and startups," the Minister added.
Sri Lanka's plans to improve the Ease of Doing Business were also shared with the goal of moving up to 70th place by 2020 from its current 110th place.
The 2017 WEDF, held under the theme of 'Trade – A Force for Good: Include, Innovate, Integrate', has brought together over 500 business leaders, ministers and other policymakers, heads of trade and investment support institutions and leaders of international agencies to share the latest trends and best practices. It is co-hosted by the World Trade Organisation and United Nations joint agency the International Trade Centre (ITC) and the Ministry of Foreign Affairs and Trade of Hungary.
Minister of Foreign Affairs and Trade Péter Szijjártó and ITC Executive Director Arancha González also spoke at the inauguration.
The plenary in which Minister Samarawickrama spoke also involved Li Yong – Director-General, UNIDO; Prof. Jaideep Prabhu – Cambridge Judge Business School, University of Cambridge, United Kingdom; Dr. Ratnakar Adhikari – Executive Director, Enhanced Integrated Framework, WTO; Dr. Patrick I. Gomes – Secretary-General, Secretariat of the African, Caribbean and Pacific Group of States; Malgorzata Wadzinska – Global Government Relations and Public Policy, Central Europe/Balkans/Turkey/Caucasus, Procter and Gamble, Poland and Gabor Zsamboki – CEO and General Manager, ANY Security Printing, Hungary.
According to ITC, this year's event will explore how trade can be a force for good at a time when global challenges – economic, social and environmental – are changing the way trade works.
WEDF is part of ITC's broader objective of assisting small and medium-sized enterprises in developing and transitioning economies to become more competitive in global markets, thereby contributing to sustainable economic development within the frameworks of the Aid-for-Trade agenda and the United Nations' Global Goals for Sustainable Development.
The WEDF 2017 on its opening day also discussed how the benefits of trade can be shared more equitably and looked at new regional trade routes such as the One Belt, One Road initiative and similar channels in Africa and Latin America. This high-level public-private dialogue explored opportunities for SMEs in regional trade routes.
It also featured the international launch of the SME Competitiveness Outlook 2017 by ITC Chief Economist Marion Jansen and the launch of ITC's flagship report 'SME Competitiveness Outlook 2017: The Region: a door to global trade'.
Today Sri Lanka Export Development Board Chairperson and Chief Executive Indira Malwatte will speak at a plenary session titled 'Innovation for trade competitiveness' looking at innovative approaches to competitiveness when business and public policies are aligned.
Other speakers in this session include Roberto dos Reis Alvarez – Executive Director, Global Federation of Competitiveness Councils, USA; Gustavo Lascurain – Managing Director, Pasaban, Spain; Fu Xiaolan – Director, Technology and Management Centre for Development and Professor of Technology and International Development, Oxford University; Abdulaziz Bin Nasser Al Khalifa – Chief Executive Officer, Qatar Development Bank and Zoltán Urbán – CEO, Export Import Bank, Hungary.
WEDF will also focus on expanding digital trade (e-commerce) and the overall importance of innovation in becoming competitive; 'green' business and turning waste into wealth and how to move from agriculture to agribusiness and how to grow from a startup to a successful international business.
In addition to policy discussions and practical workshops, WEDF will facilitate business-to-business (B2B) meetings with a focus on how agricultural technologies, agricultural crops and oil seeds will give national and international companies the opportunity to network and make deals.
By Nisthar Cassim in Budapest, Hungary
Source at: www.dailyft.lk