Sri Lanka Investment and Business Conclave 2018 in June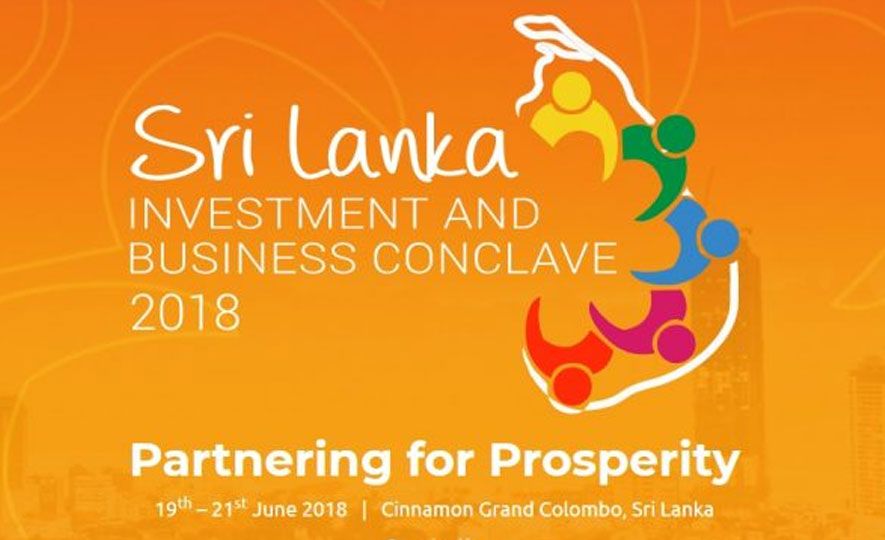 2018-05-22/ Source at: Daily FT
The Ceylon Chamber of Commerce in association with the Ministry of Development Strategies and International Trade, Ministry of Foreign Affairs, Ministry of Finance, Ministry of Industry and Commerce, Board of Investment of Sri Lanka, Department of Commerce and the Sri Lanka Export Development Board will be organising Sri Lanka Investment and Business Conclave 2018 from 19 to 21 June for the third consecutive year at the Cinnamon Grand Colombo, Sri Lanka.
The Sri Lanka Investment & Business Conclave 2018 offers the perfect blend of opportunities aimed at enriching institutional, corporate and individual investors and business houses with a comprehensive set of guidelines for their investment decisions, and acts as a networking opportunity for introductions to potential overseas business partners with a view of establishing partnerships/investments in Sri Lanka.
The Sri Lanka Investment & Business Conclave 2018 will be inaugurated on 19 June followed by a Strategic Networking Event facilitating participants to directly network with senior ministers and officials attached to various government institutions in addition to participants from various other countries. On 20 June, there will be B2B and G2B business matchmaking sessions followed by four parallel breakout sessions on Navigating the Operating Landscape – Regulations – Tax – Forex – Land, Projects in the Pipeline: PPP and Western Region Megapolis Project, Thriving from the growing Capital Markets and Plugging into opportunities: Port City, Tourism, Logistics and Agriculture.
In addition, the Sri Lanka Export Development Board will be hosting 12 leading exporters (top 12 products/services exported from Sri Lanka) to showcase prime products/services exported from Sri Lanka, from 19 to 20 June at the Oak Room, Cinnamon Grand. 21 June will facilitate overseas delegates to visit Export Processing Zones, Port of Colombo and the Colombo Stock Exchange as per their interest.
Sri Lanka's Diplomatic Missions located overseas, Diplomatic Missions in Sri Lanka and the 127 Chambers of Commerce, which the Ceylon Chamber has partnerships with, International Trade Centre in Geneva, World Chambers Network Paris, Confederation of Asia Pacific Chambers of Commerce and Industry (CACCI) and Beijing Lansing Overlook International Exhibition Co. Ltd. of China is also supporting the promotion of the Conclave across the globe. The event is supported by the International Finance Corporation, a member of the World Bank Group, as the Knowledge Partner. Indocean Developers – ALTAIR is the Platinum Sponsor, Colombo Stock Exchange as the Gold Sponsor, Zam Gems as the Silver Sponsor, Lloyds Auto Mart and Hayleys Advantis as the Bronze Sponsors.
The Strategic Partners of the Conclave 2018 includes the Silk Road Chamber of International Commerce (SRCIC) – China, SLASSCOM, Confederation of Indian Industry (CII). The conclave website www.invest-srilanka.lk designed by the Lanka Communication Services Ltd. (the communication partner of the event) facilitates participants to register and schedule B2B meetings online. In order to facilitate participants to access their user accounts during the event, E-W Information Systems Ltd. will provide all IT related equipment required at the Conclave 2018 venue as Official IT Partner. Hertz Car Rental has been appointed as the Official Travel Partner, while SriLankan Airline is the Official Airline partner. SriLankan Airlines would offer all participants and accompanying persons a 15% discount on economy class airfare and a 10% discount on business class airfare (on the prevailing market fare at the time of ticketing) for purchase of tickets for registered delegates travelling to Sri Lanka from the SriLankan Airlines online stations – http://www.invest-srilanka.lk/srilankan.
The Sri Lanka Investment and Business Conclave 2017 held from 30 May to 1 June 2017 attracted 134 foreign participants from 24 countries in addition to 127 local conglomerates. Following the success of Conclave 2016 and 2017, we anticipate an even greater number of participants in 2018. Sri Lanka has invested heavily to develop infrastructure such as port, road network, additional airports and telecommunication facilities in recent times. With the educated and adaptable workforce and fast developing Infrastructure, it has become a growing Econo-mic Hub with favourable policies for investors around the world. In addition new urbanisation initiatives with new opportunities for investment have opened doors for potential investors to set up joint ventures in Sri Lanka. It boasts for being one of the lowest corporate tax rates in the region including strong policies in place for protecting international investors and business partners ensuring high quality of life for foreign investors. The Government of Sri Lanka offer many attractive facilities to investors to setup joint ventures in Sri Lanka.
Focus Sectors for Investment includes Agriculture, Apparel, Education, Export Manufacturing, Export Services, Infrastructure, Knowledge Services, Tourism and Leisure, Power and Energy, Telecommunications and Related Services, Ports Development, Distribution of Petroleum related products such as LPG & LNG and Recycling of Waste, etc.
www.invest-srilanka.lk website facilitates participants to register online to attend the Conclave 2018 and make hotel room reservation directly. For further details please contact them on Tel. +9411-5588818 or +9411-5588800; Fax. +94-112449352 or +9411-2381012: E-mail – [email protected]; Web – www.invest-srilanka.lk.
Source at: www.ft.lk