Sri Lanka Oman ICT/BPM sector collaboration mooted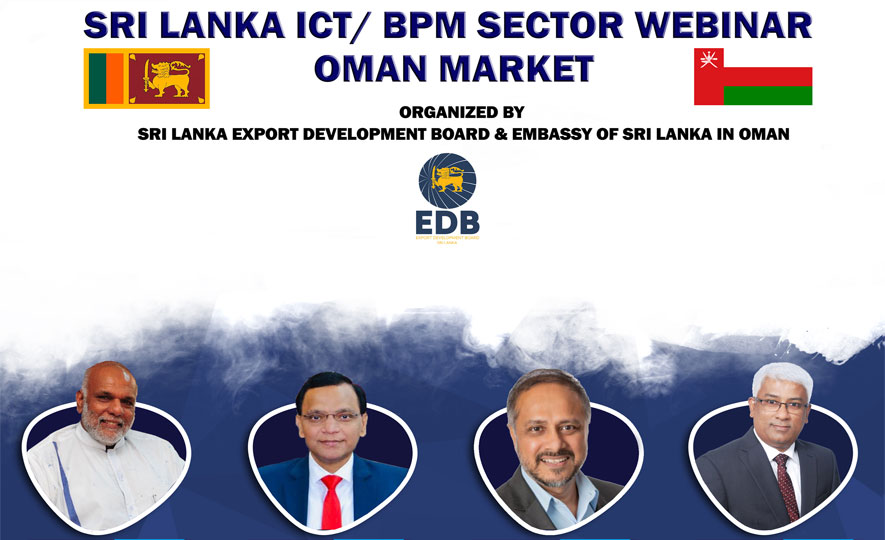 2021-03-11
The Sri Lanka Embassy in the Sultanate of Oman jointly with the Export Development Board of Sri Lanka (EDB) organised an introductory webinar on the ICT/BPM sector, in collaboration with Knowledge Oasis Muscat (KOM) with the view to connecting Sri Lankan and Omani ICT/BPM sector companies.
Export Development Board of Sri Lanka Director General Chitranjali Dissanayake opened the webinar followed by the introductory remarks made by Sri Lanka's Ambassador to the Sultanate of Oman Ameer Ajwad.
During his remarks Ambassador Ajwad stated that the information and Communications Technology (ICT) has emerged today as the most vital means of both resolving challenges and responding to the new reality. The COVID-19 crisis has triggered the need to further enhance international collaboration in this sector.
He also pointed out that since Sri Lanka and Oman have identified the ICT sector as the key priority in their national policy frameworks, ICT/BPM companies in both countries could find synergies for collaboration. To this end, the Ambassador informed that the Embassy would organise B2B webinar meetings between the ICT/BPM companies of both countries in the near future.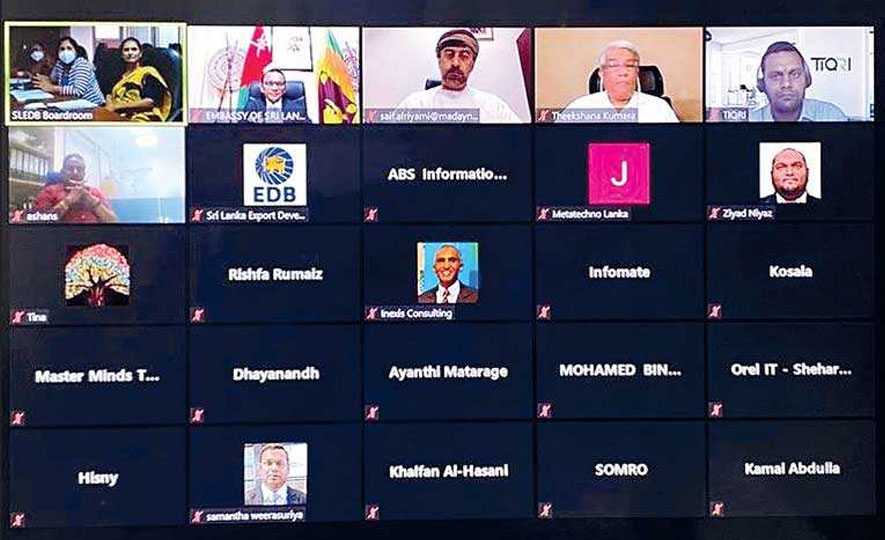 Welcoming this initiative, Director of Business Development of KOM Saif Hamdan Al Riyami, provided a briefing on the ICT/BPM industry at the Knowledge Oasis Muscat (KOM) of Madayin which is Oman's first and most successful tech park and hosts over 190 future-focused domestic, regional and global companies, institutions and organisations. Assistant Director of Export Services of the EDB Vajira Kularathne introduced the ICT/BPM industry in Sri Lanka followed by presentations from industry experts. While BPM/KPM sector opportunities in Sri Lanka were introduced by SLASSCOM Director Shiraz Lye, IT sector opportunities in Sri Lanka were introduced by FITIS Director Theekshana Kumara.
Sri Lankan ICT/BPM companies, namely TIQRI Corporation, Metatechno Lanka Company Ltd., Inexis Consulting Ltd, Informate Ltd., ZILLIONe Business Solutions Ltd., Master Minds Technologies Ltd., Arimac Lanka Ltd., Design Box Ltd., and ERP Lanka Ltd. presented their profiles during the webinar.
Winding up the webinar meeting, Director Market Development of the EDB Anoma Premathilake extended her appreciation to all the participants. EDB Deputy Director of Market Development Prasanna Jayasinghe and the First Secretary of the Embassy of Sri Lanka in Muscat W.D.N.M. Abeyesekara also participated during the webinar. EDB Assistant Director Ravindi Ranaraja moderated the meeting.