Sri Lanka participates in 16th China International Small and Medium Enterprises Fair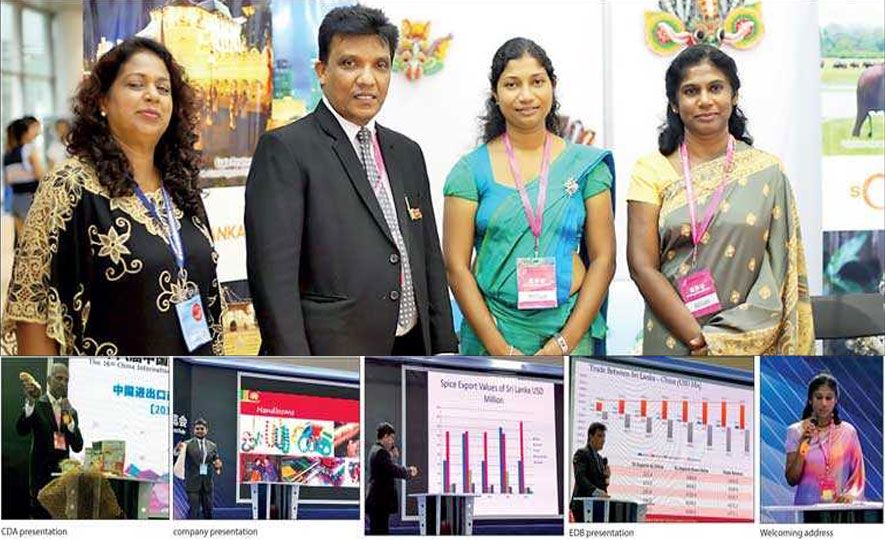 2019-07-03/ http://www.ft.lk/business/Sri-Lanka-participates-in-16th-China-International-Small-and-Medium-Enterprises-Fair/34-681129
Sri Lanka Export Development Board, in coordination with the Consulate General of Sri Lanka in Guangzhou, participated in the 16th China International Small and Medium Fair (CISMEF) from 24-27 June.
Sri Lanka has been continuously participating in the CISMEF, since 2014, showcasing and promoting her products in China.
CISMEF inaugurated in 2004, gives a platform to display, trade, exchange and cooperate with small and medium enterprises at home and abroad to increase understanding, and strengthen cooperation for common development of trade between China and other countries.
30 companies from Sri Lanka, representing prominent sectors, including gem and jewellery, tea, spices, handicrafts, coconut products participated in the fair.

At the 'Promotional Session for Products of Sri Lanka' organised by CISMEF for Sri Lankan exhibitors to introduce their products to the local enterprises, the Consul General Priyangika Dharmasena, in her speech, thanked the organisers for facilitating the segment, giving an opportunity for Sri Lankan companies to have face to face interactions with their counterparts, and bringing in avenues for trade partnerships.
Deputy Director General of the Guangdong Small and Medium Enterprises Bureau, Wang Fuxiu, in her address, explained about the fair, as well as about China Sri Lanka trade relations.
Deputy Director of the Sri Lanka Export Development Board, D.M.P. Dissanayake and Assistant Director of the Coconut Development Authority, V.U. Egodawattage conducted two presentations on Sri Lanka's trade products, trade potential and coconut items.
Several Sri Lankan exhibitors explained to the local buyers about different export sectors in Sri Lanka, as well as, about their companies. The matchmaking session assisted the Sri Lankan companies to interact with local companies, and also the exhibitors were able to secure several buyers for their products.
Source at: Daily FT