Sri Lanka's participation at the EXPO 2020 DUBAI - 20th October 2020 to 10th April 2021 in Dubai, United Arab Emirates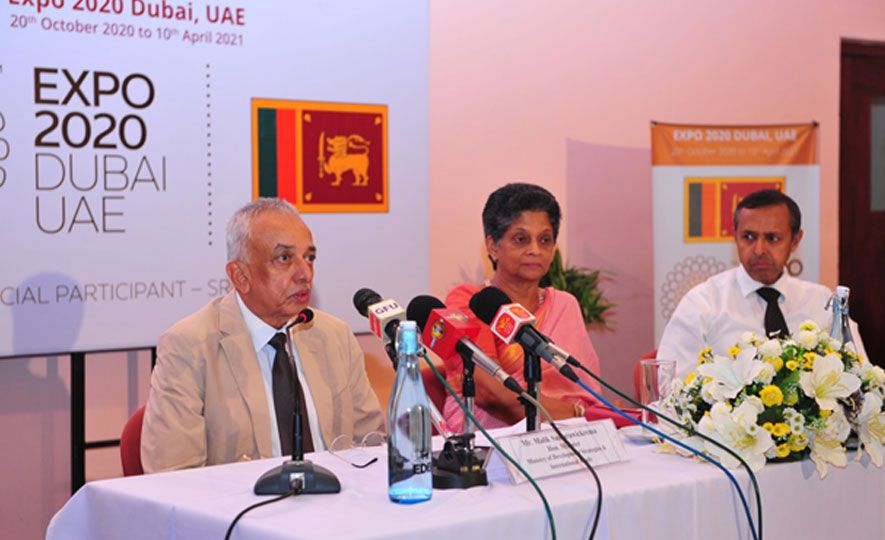 2019-02-27
The World Expo is one of the oldest and largest international events taking place every 5 years and lasting for 6 month where everyone can learn, innovate and create progress by sharing ideas and working together through a common theme. United Arab Emirates (UAE) has been selected as the host country for the forthcoming event to be held in year 2020. This World Expo will be held for a period of six months from 20th October 2020 to 10th April 2021 in Dubai under the theme "Connecting Minds, Creating the Future". The World Expo in Dubai in 2020 will be the first to be held in the MENA & SA (Middle East and North Africa & South Asia Region.
Expo 2020 Dubai's theme, 'Connecting Minds, Creating the Future', is the belief that innovation and progress are the result of people and ideas coming together in new and unique ways. The three Sub Theme Districts namely Opportunity, Mobility and Sustainability are central to the design of the master floor plan.
The "Expo 2020 Dubai", is expected to attract over 25 million visitors of which 70% will be international visitors. It is also expected that there will be more than 200 participants during the span of 06 months period to showcase their countries/products/organizations. The main site of Expo 2020 Dubai will be a 438-hectare area (1,083 acres) located midway between Dubai and Abu Dhabi.
Considering the importance of the Gulf Region in the spheres of economic and social activity as well as UAE and Gulf Region being an important economic partners in Sri Lanka's effort to build lasting partnerships in investment, trade, skill development, finance etc, Sri Lanka has confirmed participation at the Expo 2020 Dubai.
Sri Lanka Pavilion at the Expo 2020 Dubai will be located in the "Opportunity" district which consists of a 212 sqm of exhibit area in ground floor and 172 sqm of office space in the 1st floor.
Sri Lanka Pavilion will be organized under the title of Island of Ingenuity to showcase our efforts across the social, economic, technological and cultural aspects that make up the life of our Nation.
A Steering Committee consisting representatives from the Ministry of Finance, Ministry of Foreign Affairs, Ministry of Development Strategies & International Trade, Ministry of Industry & Commerce, Ministry of Tourism,, Sri Lanka Export Development Board, Department of Commerce, Sri Lanka Gem & Jewellery Authority, Sri Lanka Tea Board, Board of Investment of Sri Lanka, Sri Lanka Tourism Promotion Bureau, and the representatives of the Private Sector has been appointed for effective implementation of Sri Lanka's participation at the expo 2020 Dubai.
The Island of Ingenuity pavilion will offer opportunities not only to merchandise trade but will display all services such as ICT and endless tourism attractions. It will also provide a platform to showcase Sri Lanka's latest research and development efforts under the themes of Ingenious Products, Ingenious Services and through Ingenious Creativity providing insights into how our cultural heritage, environmental measures and key destination attractions can contribute to contemporary minds and challenges the world faces at present.
Expo 2020 Dubai will contribute to achieving the Sri Lanka Vision 2025 by supporting the growth of tourism, stimulating the development of innovative businesses and enhancing the country's international reputation as a location to do business.
Sri Lanka through the National Export Strategy has embarked on an ambitious export promotion programmes for market and product diversification under the theme "An Export Hub driven by Innovation and Investment" The Expo 2020 Dubai is well fitting into this objective as it will enhance country's image, showcase Sri Lanka's quality offer which will help increase market share, business and add exposure to our companies on emerging trends in technology. It will offer opportunities for negotiation on technology transfers, FDI discussions and resultant inflows etc.
Through the Creative Youth Program (CYP) of the Expo Organizer, the young Professionals in Creative Business Sector has been given opportunity to get involved with the designing of Sri Lanka Pavilion. Accordingly, 2 Student Teams from the Department of Integrated Design of the Faculty of Architecture, University of Moratuwa participated in the design competition. The student team who have done their design concept under the theme of "Water" has won the competition and accordingly, Sri Lanka Pavilion will be designed to depict this theme.

1st Place - Dulaj Perera (Group Leader), Vikasitha Anumewan, Randika De Silva, Imali De Silva, Dinuka Amarakoon, Himesh Rajapaksha, Abdul Rahuman, Rajika Thilakarathna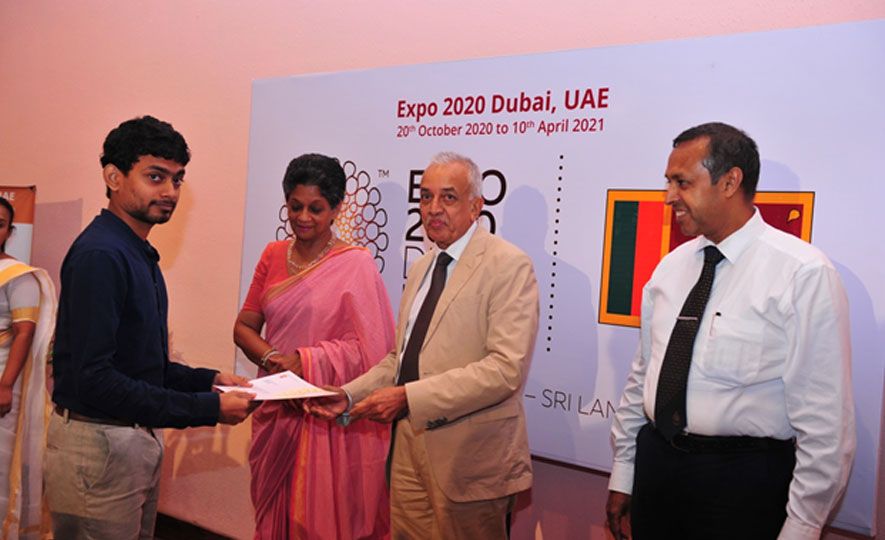 2nd Place - Dinu Munasinghe, Tharushi Mendis, Thirunika Nethmini, Deshaja Kulathunga, Warana Probodha, Udari Mohotti, Jithmi Wijesinghe, Chalana Thilakarathna
The theme will showcase Sri Lanka : "As a nation who are willing to see any challenging situation as an opportunity. Adaptable into any challenging situation runs in our veins as we turn every water drop into a nourishing flow which flourishes our own path and other's. The cultural and indigenous methods of problem solving holds the wealth and flair of entrepreneuring and innovation. There is enough room for everyone within our opportunity as we take our opportunity in fabricating an opportunity for everyone."