Sri Lanka starts work on global consumer compliance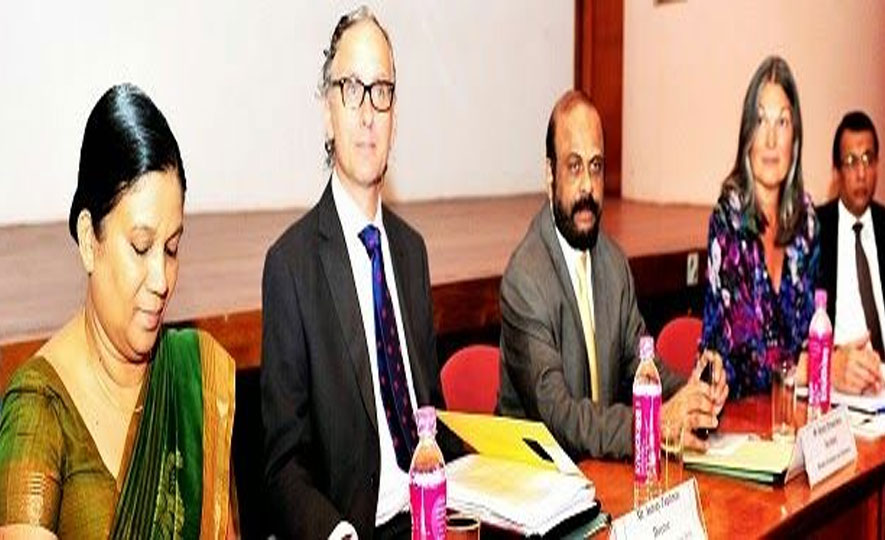 2014-09-21
Sri Lanka has begun compliance work on the global consumer end of its exports basket on 18 September. And no less than two top experts from Geneva's WTO are in town to facilitate the pioneering effort.
"Today, more countries around the world continue to reduce their border tariffs, either unilaterally or through an increasing number of free trade agreements, called as RTAs-Regional Trade Agreements. Non-tariff barriers such as SPS and TBT measures have begun to create a significant impact on international trade. Unfortunately, most of these measures appear to be highly complex and increasingly challenging" said Anura Siriwardene (Secretary, Ministry of Industry and Commerce) on 18 September in Colombo.
Secretary Siriwardena, on behalf of Rishad Bathiudeen (Minister of Industry and Commerce), was delivering the keynote address at the "National Seminar on WTO Agreement on Sanitary and Phytosanitary (SPS) Measures" held at the auditorium of EDB on 18 September. The first ever session to be held in partnership with WTO in Sri Lanka on SPS measures, the two day intensive program is conducted in Colombo by WTO Geneva's Institute for Training and Technical Cooperation and organised by the EDB and the Department of Commerce, both under the Ministry of Industry and Commerce. 18 September session also saw more than 75 reps from 16 firms including CIC Agri Produce Export Ltd, Eastern Allied Agency Ltd, Ceylon Agro Industries, Basilur Tea, Akbar Bros, and Adamjee and Lukmanjee Ltd, eagerly taking part. Also at the session were Sujatha Weerakoone (DG-EDB), RDS Kumararatne (DG-DoC), Dr Yousuf Maraikkar (ED-EDB), and members of the Spice Council including Sarada de Silva (Immediate Past Chairman of the Spice Council). Representing Geneva's WTO were the two experts-Ms Gretchen Stanton (Senior Counsellor, World Trade Organization-formerly with the US Department of Agriculture's Foreign Agricultural Service) and Antony Taubman (Director of the WTO's Intellectual Property Rights Division). "SPS measures" pertain to the international export standards to be adhered to by Lankan exporters when exporting food, animal and plant produce.
As for exports, on 17 September, the Central Bank announced that month of July 2014 exports to be at $955Mn, resulting in 2014 January-July total exports at $6.4 Bn.
"The SPS Agreement is one of the key legal instruments of the WTO-led multilateral trading system. It prevents countries from using various food safety and animal & plant health standards as disguised trade restrictive measures. Therefore, this seminar, will, no doubt, be a highly useful exercise, particularly for the private sector businesses, whose merchandise has to satisfy various SPS requirements on both sides of the borders, as well as all the government authorities, which are responsible for Sri Lanka's own SPS regime. On behalf of every participant, I would, therefore, like to convey my heartfelt gratitude to the WTO for its most valuable cooperation extended in organizing this seminar" said Secretary Siriwardena, and added: "Today, more and more countries around the world continue to reduce their border tariffs, either unilaterally or through an increasing number of free trade agreements, which are broadly known as Regional Trade Agreements or RTAs in short. The extremely slow progress observed within the Doha Round of Negotiations appears to be the main reason for these mushrooming RTAs. According to the WTO itself, the number of notified RTAs had reached as many as 585 by the middle of this year, while 379 of them were in force. Against this backdrop, non-tariff barriers such as SPS and TBT measures have begun to create a significant impact on international trade. Unfortunately, most of these measures appear to be highly complex and increasingly challenging. Some of them have become even very expensive to comply with. As a result, the LDCs and the resource-poor developing countries, which do not have sophisticated SPS infrastructure at their disposal, are placed at a very disadvantaged position in the international market place. As the Secretary, responsible for Sri Lanka's foreign trade, I am deeply concerned about the numerous difficulties our entrepreneurs, who make a vital contribution in our economy, continue to encounter in different export destinations. As most of you know already, the Government of Sri Lanka under the leadership of HE the President Mahinda Rajapaksa, has set an ambitious target in achieving $ 20 B exports by 2020. Though ambitious, this is not an impossible target, provided we get our act together and the economic conditions around the world remain conducive. My ministry and every institution that falls within its purview look forward to working very closely with our all stakeholders in this achieving this goal by 2020. In this context, we remain strongly committed to our business community, paving the way for them to play their role in the post-conflict development efforts of the island through job creation and export earnings."
RDS Karunaratne (DG-Department of Commerce) addressing the event, said: "With increasing trade among WTO members, comes growing health concerns about the goods crossing their borders. As a result of use of SPS increasing. At times they serve to protect the importing country and other times, they act as non-tariff barriers. Sri Lanka is facing a number of SPS related tariffs when it comes to exports. For Sri Lanka, which trying to expand exports, this issue is a serious obstacle. At the same time as a net food importer, and as a country with liberal trade regime, Sri Lanka too needs to learn of the SPS measures to protect its own consumers. As a WTO member, Lanka's policies too need to be adjusted in par with international trade regimes. Therefore this session will contribute towards a better understanding of this important set of standards."