Sri Lanka takes first step aiming $20B Export target by 2020
2014-07-07
Sri Lanka in a bid to achieve its $ 20 B export target by 2020, handed over on July 01, the task of producing an initial way forward blueprint by August to an international consultancy firm.
"Today we are launching the first step of EDB's Strategic Plan creation which aims to achieve $ 20 Bn by 2020. Hilmy's enormous experience and expertise will definitely enhance the total process of EDB in a positive way" said Bandula Egodage (Chairman/CEO, EDB) addressing the session on July 01.. He further said, " We also thank VEGA USAID for the contribution towards this initiative. We all know that our national target is $ 20 Bn by 2020 but there is a big mismatch-our current export strategic plan ends in 2015 and there is a strategy gap from 2015-2020; We are launching today's initiative to bridge this gap and draw the plan till 2020 to complete this in a professional and a focused way."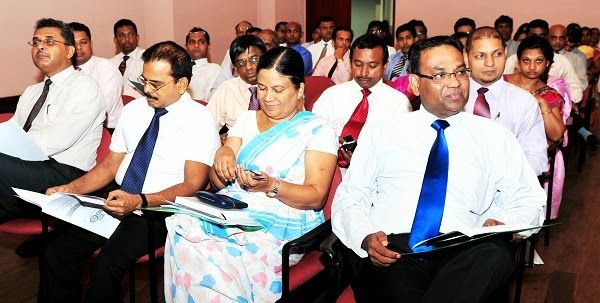 Also present on the occasion were the selected consultancy team of Bahrain based MTI Consulting led by its CEO Hilmy Cader, Sujatha Weerakoone (DG-EDB), Dr Yousuf Marikkar (ED-EDB), and various Directors and top personnel of export product sectors as well many heads of EDB Departments. EDB, realising the need for the service of a Consultant who is highly knowledgeable and well conversant with the export development process to formulate its Corporate Plan/Strategic Plan, sought the support of USAID VEGA Facilitating Economic Growth in Sri Lanka Project (VEGA FEG SL). USAID agreed to provide technical and financial assistance to formulate the Corporate Plan/Strategic Plan 2015-2020 for the EDB.
Accordingly, with the concurrence of the Minister of Industry & Commerce Rishad Bathiudeen and the EDB, the team headed by Hilmy Cader from Bahrain based MTI Consulting was selected by VEGA FEG Project for the consultancy. The consultancy fee is to be borne by the VEGA-FEG SL Project of USAID.
According to MTI CEO Cader, the international management consultancy MTI has more than 510 client engagements with operations across Asia & the Middle East and networked across America, Africa and Europe. MTI CEO Cader aims to complete the EDB process mapping and come up with a blueprint by August 2014 provided the operating conditions and environments stay unchanged.
According to the EDB, Sri Lanka's 2013 annual exports stood at $ 11.1 Bn, rising by 6.7% from 2012's $10.4 Bn.