Sri Lankan Embassy takes part in Brazilian trade promotion event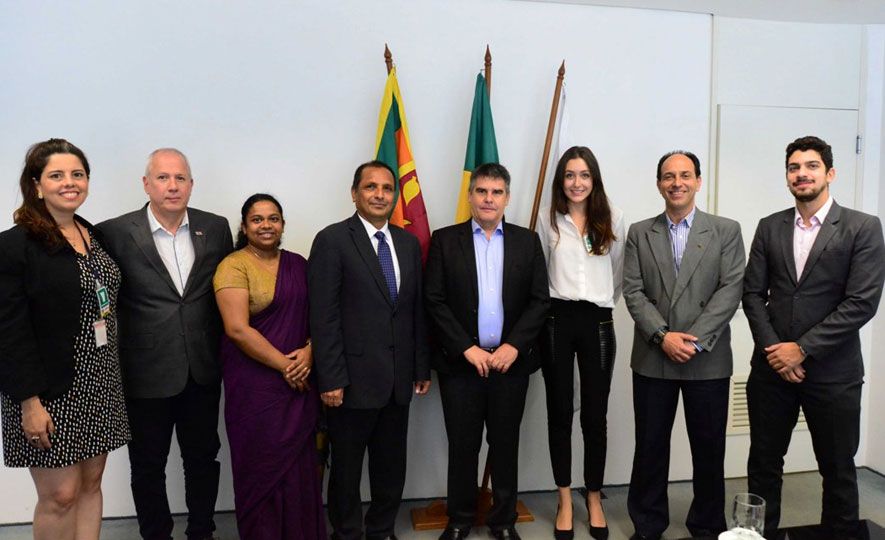 2019-10-30/ Daily FT
The Embassy of Sri Lanka in Brasília, under the Economic Diplomacy Program initiated by the Ministry of Foreign Affairs and with the patronage of the Department of Commerce, the Export Development Board, the Coconut Development Authority, and the Sri Lanka Tea Board, held a trade promotional program in the State of Minas Gerais from 15 to 17 October.
The key features of this important promotional campaign included participation at the 33rd edition of Super Minas Trade Show 2019, a tea-tasting session, one-to-one meetings with key potential Brazilian importers of Sri Lankan products, and meetings with senior officials of the State Government, trade regulatory and facilitation agencies of the State, and the Chambers of Commerce of the State of Minas Gerais.
At the Super Minas Trade Show, 517 exhibitors and over 50,000 trade representatives attended the event. During the three-day event, over seven Sri Lankan companies displayed their export product lines, such as coconut products, Ceylon tea, spices, and household rubber gloves, at the Sri Lankan stand, which attracted a large number of visitors. The trade section of the Embassy also held a significant number of productive business-to-business information-sharing meetings with potential importers and trade-related service companies at the fair.
In addition to the participation at the trade show, Sri Lankan Ambassador to Brazil Musthafa M. Jaffeer called on the State of Minas Gerais Vice-Governor Paulo Brant, and held discussions on forging close cooperation between Sri Lanka and Minas Gerais, especially in the economic, trade, agriculture and mining sectors. At that meeting, Vice-Governor Brant expressed the State Government's interest in establishing effective long-term cooperation with Sri Lanka in the areas such as livestock and dairy development, gems and jewellery, garments, tourism and culture.
During this trade promotional visit to the State of Minas Gerais, Ambassador Jaffeer also held productive discussions with representatives of key industries and investment promotion agencies, such as the President of the Association of Jewellers and Gems Stones in Minas Gerais, President of the Commercial Association of Minas Gerais (Acminas), and President and General Manager of the Investment and Trade Promotion Agency in Minas Gerais (INDI) with the view to explore joint cooperation and enhance bilateral trade exchanges between the State and Sri Lanka. Embassy First Secretary/Commercial Seevali Wijewatha took part in these discussions.