Sri Lankan National Export Strategy Drives 5 Billion Dollar ICT/BPM Industry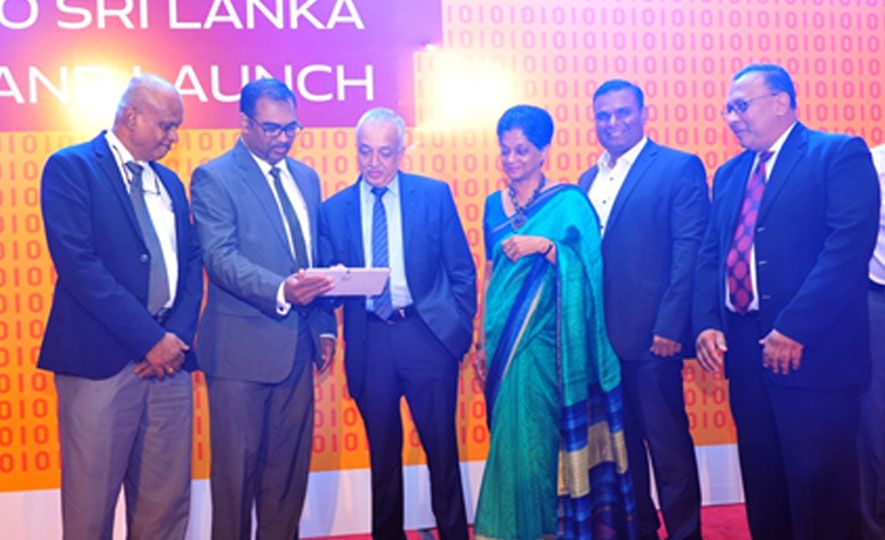 2019-02-21
High-Potential Companies in the Sector to be Enabled with Financial and Other Support Mechanisms
The Government of Sri Lanka (GoSL) and the Sri Lanka Exports Development Board (SLEDB) are working to uplift and transform the country's Information & Communications Technology (ICT) and Business Process Management (BPM) sector as part of its recently launched National Export Strategy (NES).
The NES encompasses the GoSL's vision of developing Sri Lanka into an export hub driven by innovation and investment over the next 5 years, with a goal of reaching USD 28 billion in annual export revenue by 2022. As one of six focus sectors prioritized by the NES, the ICT/BPM industry is expected to be a cornerstone of this effort. The industry has already demonstrated rapid growth over the last decade, and is currently the 5th largest segment in terms of export revenue earnings. By 2022, the industry will look to generate USD 5 billion in export revenues, while creating 200,000 direct jobs and 1,000 start-ups.
The ICT/BPM strategy has outlined several initiatives to achieve these goals, for which the GoSL has made a provision of LKR 3 billion. As a sectoral expert, Management Consulting firm STAX has been tasked with implementation of these initiatives over the next few years. The first phase of implementation will focus on three initiatives focused around enabling high potential companies in the sector, as well as country branding. It is expected that these initiatives will contribute to boosting sector export revenue by USD 2 billion, making ICT/BPM a top contributor to Sri Lanka's trade basket.
The Champion Builder Program: Accelerating High-Potential Companies
A key focus in phase one will be around a Champion Builder Program that will enable accelerated growth of firms deemed to have exponential growth potential. Additionally, this program will also look to transform existing supplier-customer relationships into more entrenched captive innovation center partnerships or buyouts. 'Champion' companies identified through this initiative will be provided with both financial and non-financial support—including opportunities to access grants, subsidies and investors, as well as support on market access, skills and capacity building, strategy and growth, and marketing and sales.
'Champion' companies eligible for this program will be evaluated and supported based on their needs across multiple indicators of sustained growth—including presence a clear growth plan, a competitive edge, management experience, and established global client partnerships.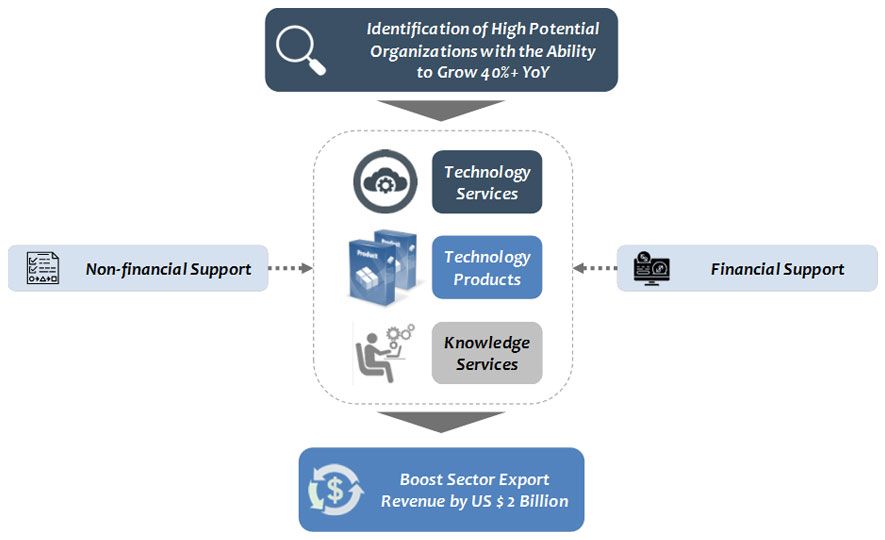 These company-specific efforts will also be supplemented by industry-wide initiatives designed to support both Champions, as well as the overall ICT/BPM sector; examples include the launch of a 'Captive innovation Center Program', promotion of Build-Operate-Transfer models, facilitation of infrastructure concessions, and engagement of international agencies, among others.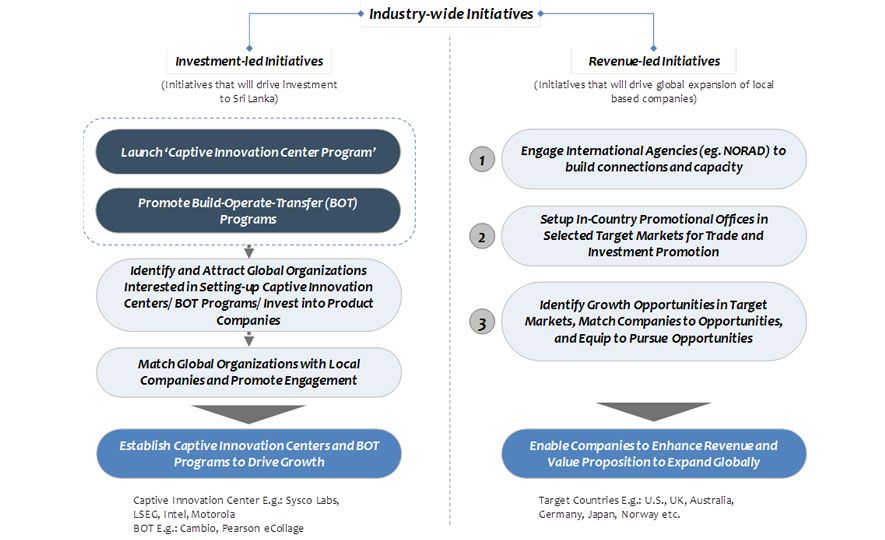 Country Branding and Awareness Initiatives
In addition to the Champion Builder program, the strategy also includes two initiatives focused around digital and non-digital branding campaigns for the ICT/BPM sector. These initiatives will be targeted towards the broader ICT/BPM industry, with a view of attracting more MNCs and large IT companies to setup business ventures within the country. Digital branding will be carried out through the existing 'Island of Ingenuity' (IOI) brand—a unified platform for the Sri Lankan ICT/BPM industry. The NES program will look to build on this initiative, focusing on the IOI website, in-bound lead management, and the execution and management of the IOI Marketing Campaign.
The non-digital branding campaign will further increase global awareness of the ICT/BPM sector's capabilities with a focus on improving country and industry positioning. This initiative will promote the IOI brand through traditional mediums, as well as by facilitating in-bound and out-bound missions to develop global trades partnerships for the industry.
For more information on the NES program for the ICT/BPM industry or specific information about each initiative, please contact [email protected]
If you are a company interested in receiving more information about the Champion Builder program, please register at www.islandofingenuity.com/register