Sri Lankan Pavilion organized by the EDB at Anuga International Food Exhibition in Cologne, Germany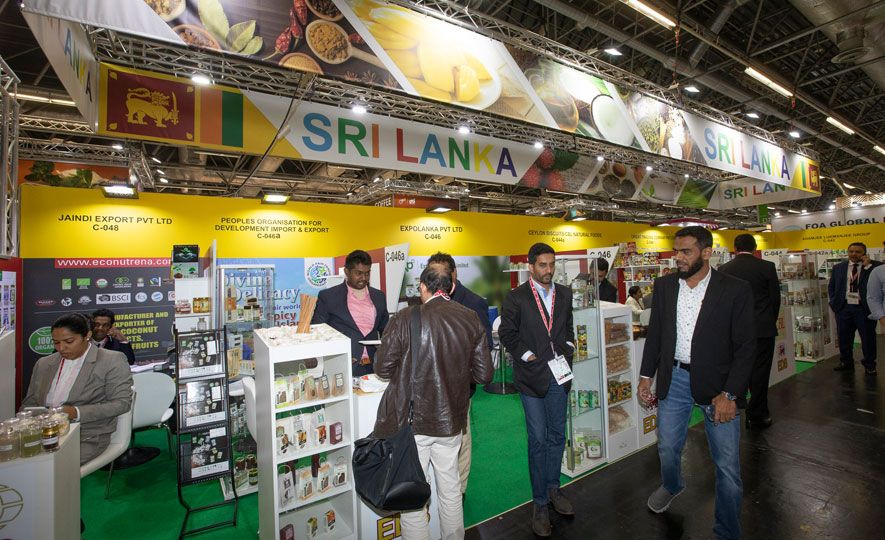 2019-12-11
The Export Development Board (EDB) in collaboration with the Sri Lanka Consulate in Frankfurt facilitated participation of Sri Lankan exporters at Anuga 2019, one of the leading world food exhibitions held in Cologne Germany from 5th – 9th 2019.
Nineteen (19) Sri Lankan companies representing various sectors in the Food & Beverage Industry such as Tea, Spices, Confectionery, Coconut Kernal based products, dehydrated fruits & vegetables, fresh fruit drinks, Coconut Water etc. participated at the exhibition. Anuga 2019 event offered a platform for each company to explore new business opportunities and also to strengthen the existing business contacts.
Anuga fair, held bi-annually in Germany is a leading international food exhibition in Europe which offers an extensive range of F & B products from food ingredients to ready to eat dishes. The impressive trade fair concept of Anuga allows exhibitors and trade visitors to experience the diversity of the food and beverage industry under 10 distinct segments. In every specialist segment, each food trade fair is unique and presents products and services related to the respective segment. The exhibition itself is a platform to gather information and also to showcase novel products. Current trends, latest innovations and visionary concepts to supply nutrition for the future world population were more than ever the focused at Anuga 2019.
The Anuga food fair celebrated its 100th anniversary in 2019. 7,590 companies from 106 countries have participated in an exhibition in an area of 284,000 m². Among them were 738 exhibitors from Germany and 6,852 exhibitors from abroad. More than 170,000 trade visitors from 201 countries have attended the Anuga 2019, with a foreign share of 75 %.
Above all the quality of the visitors was very convincing to the exhibitors. Numerous buyers with decision-making authority from the Food Trade and Food Service sectors have visited the fair. Among them were the TOP 10 grocers in the world and the TOP 12 grocers from Germany. These include Walmart, Costco Wholesale, The Kroger Co., Metro AG, Walgreens Boots Alliance Inc., Edeka, Rewe Group, Penny, Lidl and Kaufland (Schwarz Group). Major online retailers such as Amazon, LSG Group, E. Leclerc, Mercadona, Migros and SPC Groups were also present. On the trade visitor side, increase in number of visitors from Great Britain, the Netherlands, Poland and Ukraine were recorded in particular for Europe. Significant increases from non-European countries were mainly from Brazil, Japan, USA and Russia.
The EDB has organized Sri Lanka pavilions at this event continuously since 1997. EDB pavilion at ANUGA 2019 exhibition was organized in an area of 156 sqm at Hall No. 01.1 dedicated for Fine Food and it housed 19 Sri Lankan companies to display F & B products. One company participated as an observer to study the products/ market trends and find market opportunities for their products.
Import Promotion Desk (IPD) in Germany is working with the EDB to promote Sri Lankan Natural Food Ingredients such as spices, coconut milk, virgin coconut oil , ingredients for cosmetics (eg. essential oils, extracts), processed fruits and vegetables (dried fruits, jackfruit) for the German market. IPD has selected EDB as the focal point to implement this programme in Sri Lanka. Four companies namely Manchiee de Coco pvt Ltd, Worga Natural Pvt Ltd, LSP Natural Food Products and Natural Vanilla were selected under this programme to promote in Germany and B2B match making meetings were conducted for them at Anuga Fair in collaboration with the IPD.
The companies participated at the Anuga Fair have received confirmed orders worth of US$ 575,000 and more than 1200 business inquiries.
Mr. Vernon Abeyratne, Chairman of Orient Trading Company participated at Anuga under EDB pavilion stated:
"This year Fair is very good. Number of serious customers visited and inquiries have to be followed up and worked out. The location of the Sri Lanka pavilion is also attractive."
Mr. Mafaz Munnaz, Manager, International Trade of Expo Lanka (Pvt) Ltd. expressed :
"Anuga Fair is one of the most important trade fairs in Europe to meet large scale buyers. Also a meeting point to existing customers. Continuous participation at this fair is very important."
Mr. Keith Paulusz, General Manager of Cocotana Coconut Products were also happy with the inquires received from USA, China, Romania, Turkey and Malaysia for their products displayed at the exhibition such as Virgin Coconut Oil and flavoured coconut chips, Creamed Coconut & Coconut flour.
Mr. Idris Shabbir Gulamhussein, Director of Adamexpo who exhibited Spices, Tea, DC and Coconut water stated:
"The Sri Lankan pavilion was well organized and very attractive. We received good orders and inquiries this time. Continuous participation at this show is essential."