Sripalie recognised at CIDA 2018 Awards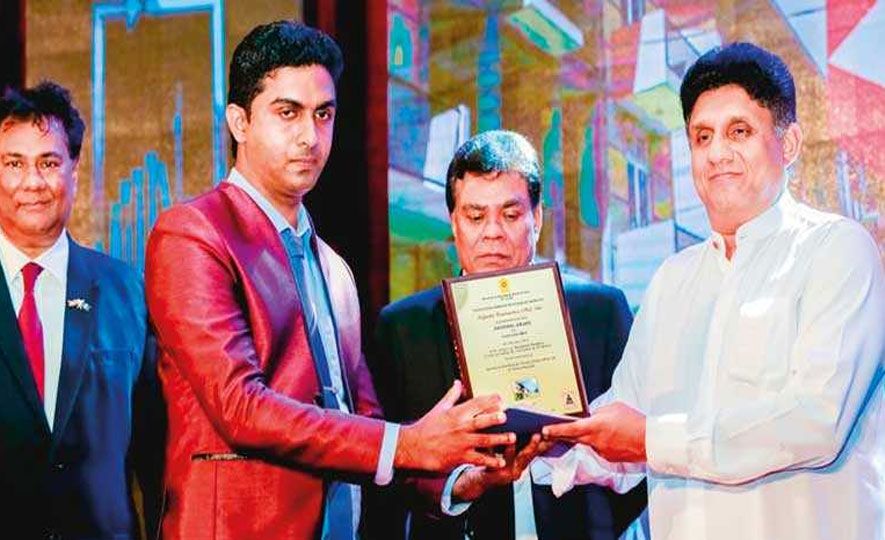 2019-01-16/ http://www.ft.lk/propertyconstruction/Sripalie-recognised-at-CIDA-2018-Awards/10516-671426
Sripalie Contractors Ltd. is the proud recipient of a Merit Award at the National Construction Excellence Awards 2018, presented by the Construction Industry Development Authority (CIDA) for the year 2018. The award was given to Sripalie Contractors for the construction of the Apartment Buildings for Prime Homes Ltd. at Thalawathugoda.
Construction Industry Development Authority (CIDA), a fully-owned entity of the Government of Sri Lanka, was set up to develop and promote the domestic construction industry, contractors, professionals, and work force. The National Awards for Construction Excellence was initiated by CIDA in 1990 with the view to recognising outstanding performance in Construction Management and Organisation. Today, it is viewed as the most prestigious award by the construction industry. The awards scheme is based on rigid evaluation criteria that encompass all the vital stages in construction and maintenance of buildings. The projects are graded based on points scored in various aspects of the project including construction process, quality systems, safety and health of workers, effective utilisation of resources, complexity of the project, environmental protection measures and innovative approach adopted by the contractor. The evaluation panel consists of eminent professionals representing different disciplines; Architecture, Structural engineering and Quantity Surveying.
When asked about the award, Sripalie Contractors Chairman and Managing Director Ruwan De Silva, mentioned that the success of the organisation was due to the strategic direction taken by the management at crucial instances, hard work and commitment shown by the employees of the company and the investment the company has made over the years in training and development of its staff members. He further stated that the company, since its inception in 1970 as a small scale construction company in Batapola in the Ambalangoda electrode, has been able to grow steadily to reach the position as one of the foremost construction companies in Sri Lanka. It is ISO 9001:2008 certified and has been accredited as a C-1 Grade construction company in Sri Lanka. The mission of the company is "to conduct our business in a profitable and ethical manner to clients, employees and other stakeholders". The company has constructed some of the landmark buildings in the country and earned a name for themselves for the quality of their work and flexibility to accommodate customer requirements.
Sripalie is a total building solutions company where they undertake turnkey design and build projects - right from conception to design and construction. Sripalie has experienced and knowledgeable design and construction teams in its ranks. This coupled with the innovative methodologies that they employ enable them to drastically reduce the cost and time taken to complete a project. As a result, they are able to provide reliable and cost effective design and build solutions to their customers, often exceeding customer expectations.
Source at: Daily Ft