Stronger Sri Lanka-Hungary ties in the offing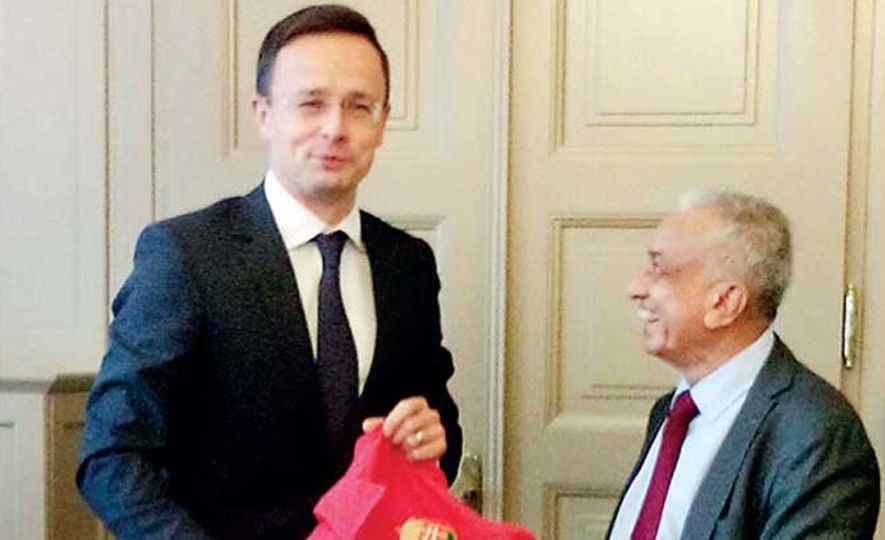 2017-10-27/ http://www.ft.lk/front-page/Stronger-Sri-Lanka-Hungary-ties-in-the-offing/44-642323
Malik and Hungarian Foreign and Trade Minister meet in Budapest to discuss Economic Cooperation Agreement to be signed in Dec.
Talks on avoidance of double taxation to start early next year
€150 million loan from Hungary, technical and other assistance, tourism cooperation and official visits on the cards
Sri Lanka and Hungary this week renewed their commitment to boost bilateral ties, with the two countries entering into an economic cooperation agreement later this year.
A review of the existing strong ties and talks to further enhance links took place when Development Strategies and International Trade Minister Malik Samarawickrama met with Hungary's Minister of Foreign Affairs and Trade Péter Szijjártó in Budapest on the sidelines of the World Export Development Forum (WEDF) this week. Discussions centred on a comprehensive economic cooperation agreement to be signed later this year and the first round of talks to finalise the avoidance of double taxation scheduled for first quarter of next year.
Whilst Hungary became the first Central European nation to host WEDF, Sri Lanka staged it last year and since then ties between the two countries have gained fresh impetus.
For the two ministers it was their second meeting in a year, with the last one being held when Szijjártó visited Sri Lanka in October to attend WEDF.
In the Budapest meeting on Wednesday, the two ministers also discussed a € 150 million loan program by Hungary to include water management projects, e-governance, road development and a railway security system.
An educational and scientific exchange program was also discussed involving 20 fully-paid scholarships for Sri Lankans in Hungary starting next year.
Minister Samarawickrama also sought Hungarian support to promote Sri Lanka tourism, especially wellness tourism including Ayurveda.
To further cement stronger ties, the State Minister for Economic Diplomacy is scheduled to visit Sri Lanka in December to share Hungary's experiences in development, trade and investments.
"Both ministers agreed to work closely to achieve the targets set for bilateral cooperation between the two countries," said Export Development Board Chairperson and Chief Executive Indira Malwatte, who attended the meeting with Minister Samarawickrama.
The Hungarian Foreign and Trade Minister had also said that his country was working closely with China after being the first European nation in 2015 to formally join China's Belt and Road Initiative which includes Sri Lanka as well.
Minister Samarawickrama addressed the first plenary of WEDF on Wednesday after it was inaugurated by Hungarian President János Áder.
The 2017 WEDF, being held under the theme 'Trade – A Force for Good: Include, Innovate, Integrate', has brought together over 500 business leaders, ministers and other policymakers, heads of trade and investment support institutions as well as leaders of international agencies to share the latest trends and best practices. It is co-hosted by the World Trade Organization, the United Nations joint agency the International Trade Centre (ITC) and the Ministry of Foreign Affairs and Trade of Hungary.
By Nisthar Cassim in Budapest, Hungary
Source at: www.dailyft.lk