Switzerland assures support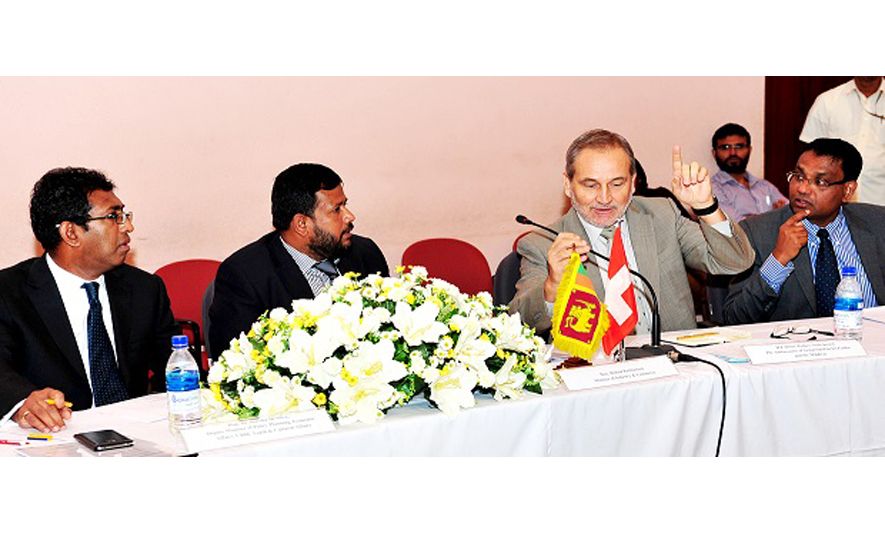 2015-05-15
I am very much impressed by the democratic process of Sri Lanka displayed after January 8. It's a unique event and a very good start and passing of the 19th Amendment, shows the spirit of reform is very much alive in Sri Lanka. We, the Swiss, would like to support this Lankan reform spirit," said Swiss Ambassador to Sri Lanka Heinz Walker-Nederkoorn on May 13, in Colombo.
Swiss Ambassador Nederkoorn was addressing the first ever Swiss - Sri Lanka Round table Business Discussion held at the EDB on May 13.
The Swiss Embassy in Colombo, the Department of Commerce under the Minister and the EDB are the joint organizers of this pioneering event, where reps from Swiss multinationals operating in Sri Lanka, sat face to face to discuss with Minister of Industry and Commerce Rishad Bathiudeen and Deputy Minister of Policy Planning, Economic Affairs Dr Harsha de Silva at EDB.
Swiss Ambassador Heinz Walker-Nederkoorn, said: "Sri Lanka's potential is high. I am pleased to share the first Swiss-Sri Lanka Business Roundtable in Colombo today. After the January Presidential polls, Sri Lanka started a comprehensive reforms process. "This is a timely event where significant economic and political changes are taking place in Sri Lanka under the leadership of President Maithripala Sirisena. In fact, one of the leading investment events to take place since the new government took over in January," said Minister Bathiudeen, addressing the session and added: "As far as our relations are concerned, Sri Lanka and Switzerland are enjoying a very cordial and friendly relationship in every aspect, including trade and investment.
Overall, the continuous presence of Swiss investors in Sri Lanka demonstrates a positive outlook. At the same time, we need to reassess whether you have been able to exploit the full potential of the country. Switzerland is one of the major Foreign Direct Investment Partners of Sri Lanka.