Thai Week Seminar in Sri Lanka promotes greater bilateral trade and investment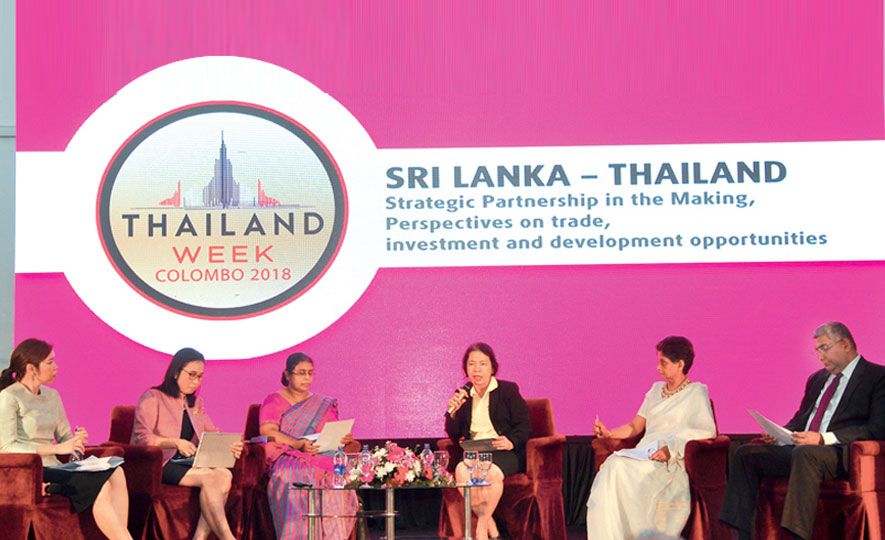 2018-03-14/ http://www.ft.lk/business/Thai-Week-Seminar-in-Sri-Lanka-promotes-greater-bilateral-trade-and-investment/34-651238
The Thai Week last week held a special seminar themed 'Sri Lanka-Thailand Strategic Partnership in the making: Perspectives on trade, investment and development opportunities' inviting an expert group of panellists to share their views and insights.
The event invited Thai Trade Center Chennai Commercial Counsellor and Director Jittima Nakamano, Ambassador of Thailand to Sri Lanka Chulamanee Chartsuwan, Thailand Institute of Scientific and Technological Research Ministry of Science and Technology Deputy Governor Chutima Eamchotchawalit, Ministry of Development Strategies and International Trade Secretary Chandani Wijewardana, Export Development Board of Sri Lanka Chairperson Indira Malwatte and INSEE Cement Lanka CEO Nandana Ekanayake as the panellists.

Nakamano noted that: "Sri Lanka is the only country apart from India that has a strategic partnership policy with Thailand and we see many opportunities for Thailand here. Sri Lanka is the 56th trading partner of Thailand and is number four in the South Asian Region. Around five years ago the total trade was around $ 492 million and we hope to further strengthen this partnership."
Thailand's exports to Sri Lanka have grown by 8% within the last five years with its major exports; machinery parts, rubber, edible oils, organic chemicals, automobile and parts, agricultural products and electronic equipment.
Ambassador Chartsuwan said, "We are now living in popularly known as the Asian century and the region has now become an engine for global trade and investment. Our two countries thereby are drawn to a natural partnership and on top of this we have a very strong partnership. The strategic partnership is not something that is given. We want to come as a friend to build sustainability and trust for mutual benefits."
As of now Thailand has imported products such as jewellery, vegetables, garments, fabrics, wired and cables, auto components, other textile products and fresh, frozen and processed aquatic animals and has invested in approximately $ 700 in textile, educational training and so forth.
Sharing her experiences of Thailand's agriculture industry, developments for food processing and the packaging sector, Dr. Eamchotchawalit stated that, "Thailand has a 4.0 value-based economy that is based on innovation and creativity. We provide a full scale of services through our supply chain management and packaging van add value to the products. If we can relate these things to Sri Lanka then we can improve our strategic partnership."
While there are many trade opportunities for both countries Ambassador Chartsuwan noted that while 2016 saw a total of $ 700 million investment, no major investment was materialised in 2017.
Wijewardena stated, "The diplomatic ties between Sri Lanka and Thailand dates back to 1955. Looking at Thailand's economic journey Sri Lanka is giving a high level of priority to build up a fruitful investment and trade tie. As government officials we are working towards further trade development between the two countries."
She also stated that the Government is working on two strategies to enhance investment and trade and are looking into major opportunities for Thai investors to invest in Sri Lanka's production sectors. The Government with the assistance of the World Bank is implementing a reform program to improve investment in the country.
"We already have FTAs with Singapore and we are working towards one with Thailand as well. I am sure that there is so much collaboration we can do with the Thailand especially in terms of fishing, gems and jewellery. The SME sector in Thailand has developed and we need to work with Thailand on that. This is more of a people to people relationship," said Malwatte.
Sri Lanka is currently working towards building a strategic partnership with Thailand and will see a full-fledged FTA within the course of the next few years.
Being a successful investor Ekanayake stated that, "Cement Lanka's parent company is a company from Thailand and there are great investment opportunities in the country. However there are several challenges as well and it is important to have a consistent, long term economic policy."
Source at: www.ft.lk