The EDB ties up with leading Travel Company in UK to promote Sri Lankan Wellness Tourism industry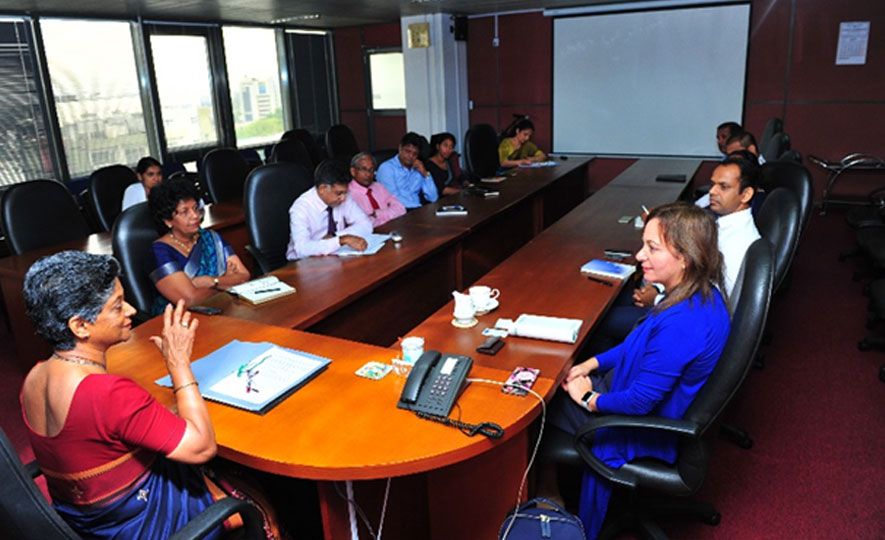 2018-10-26
Chairperson & Chief Executive, Director General, Director Export Services of EDB along with other public and private sector representatives met Ms. Stella Photi on 17th October at the EDB.
The Sri Lanka Export Development Board (EDB), as the apex organization for promoting exports, has identified the Health/Wellness Tourism sector as a key focus sector in terms of foreign exchange earnings and as a key sector in the National Export Strategy (NES). There is a clear synergy between global trends and Sri Lanka's traditional health approaches. The country has natural and traditional endowments that can be used to foster a sustainable wellness tourism value chain that is deeply rooted in local communities and traditions. The growing interest in and demand for wellness services is a favorable global trend for the development of this industry in Sri Lanka. Many countries and destinations are defining themselves as wellness tourism destinations but most do not have Sri Lanka's rich cultural and wellness lifestyle based heritage. The Average spending of a wellness traveler is around US$ 250 which is far beyond the spending of a general tourist or backpackers.
With the vision of "Sri Lanka: the preferred destination for well-being, the EDB is working with the industry leaders of the Health/wellness tourism sector and relevant government institutions to develop and promote the sector in target markets.
Aligned with the National Export Strategy, the EDB invited Ms. Stella Photi Founder and Managing Director of "Wellbeing Escapes" and a wellness tourism expert from UK and provided her an authentic experience with the aim of obtaining her expertise to develop the industry. Ms .Stella arrived Sri Lanka on 16th October and will be vising seven Ayurveda resorts until 30th October.
Stella founded Wellbeing Escapes https://www.wellbeingescapes.com 11 years ago when she saw a growing need in today's hectic world for people to take time to recuperate from their busy lives. Quite the jet-setter, Stella has visited over 54 different countries and has tried well over 100 different treatments. It's fair to say that Stella certainly knows a thing or two about wellbeing travel and has lent her expertise to many different media publications as well as being a leading member of the International Health and Wellbeing Alliance.
She also met with the industry leaders and other Government officials from Tourist Board and EDB on 17th October, 2018 at the EDB. Mrs. Indira Malwatte, Chairperson and CE of EDB highlighted that this sector is within the Tourism sector with all the ingredients such as bio diversity, experts, Buddhism which could attract high spending tourist from EU and other key markets.
The EDB seeks Ms. Stella's assistance to link with EU wellness travel companies and also, her observations and recommendations to improve the Sri Lankan wellness tourism sector targeting EU travelers. Also, the industry seeks her assistance to get the attraction of EU insurance companies with an aim of attracting year around medical travelers.
According to Ms. Photi still the UK is behind the Ayurveda know-how compared with German speaking markets. Also, she highlighted that it is appropriate time to get Middle East medical travelers to wellness and retreats.
The EDB will engage with Ms. Stella in the future and planning to obtain her recommendation on positioning the country along with other competitors. Also, she outlined how we should promote our capabilities among the international audience in targeted events and identify the trends in major markets.
The EDB is planning to organize a seminar with Ms. Stella Photi – "Product positioning & marketing to the International Wellness travelers" on 31st October from 9.00 am to 12.00 noon at the EDB 3rd Floor Auditorium and interested companies may register through http://pay.edb.gov.lk/payment/pay/wellness or by contacting Export Services Division of EDB through 0112303862.