Third global Potash power switches Lanka's agro-automotive ignition!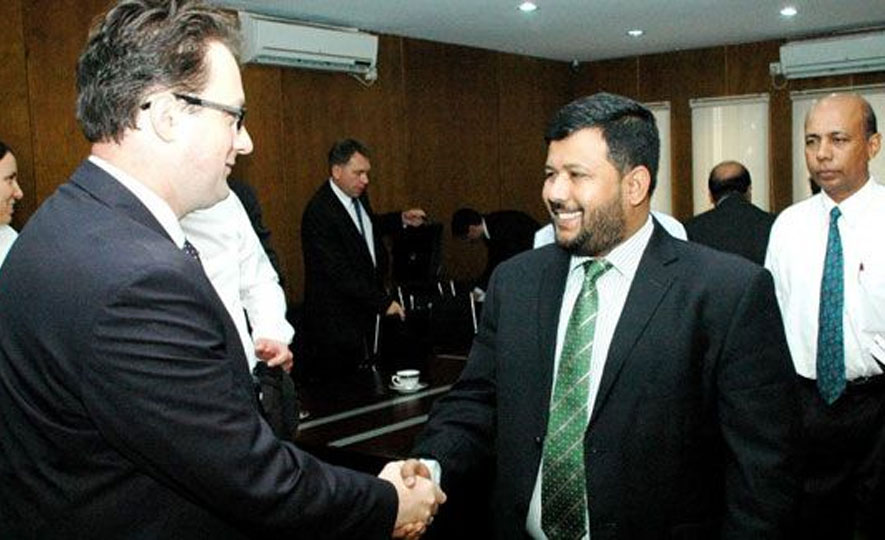 2013-08-08
Belarus, world's third largest potash power and an industry driven economy with a GDP equal to Sri Lanka, is bullish on Sri Lanka's trade, B2B and more importantly, in its industries. And Belarus is gearing towards partnering in the kick-start of Sri Lanka's crucial agro-automotive industry.
"46% of our GDP is industries! We have carefully studied about Sri Lanka's economic and industrial zones and please tell us more about your 26 industrial zones that aroused our interest!" declared an eager (HE) Vitaly Prima (the New Delhi based Ambassador of Belarus to Sri Lanka) on 06 August in Colombo.
Prima, who is currently leading a 14 member trade and business delegation to Sri Lanka, was addressing Rishad Bathiudeen (Minister of Industry and Commerce of Sri Lanka) at Minister Bathiudeen's Industry and Commerce Ministry on 06 August during his delegation's meeting with Minister Bathiudeen.
Also present with Minister Bathiudeen were Anura Siriwardena (Secretary, Ministry of Industry and Commerce), PD Fernando (Director General, Department of Commerce), Bandula Egodage (Chairman, EDB), Sujata Weerakoone (Director General, EDB) and top officials of the Department of Commerce, among others. The 14 member Belarus trade and business delegation, is the first such high level team here in recent times. Among the Belarus team are representatives of Belarus' famous OJSC Minsk Automobile Plant ($ 8.5 Mn annual gross revenue) which is known for its heavy duty agro-sector vehicles among others, sells in 50 countries, and reportedly has vehicle production joint ventures in Europe and even Latin America. Also among the reps were from the Belarus higher education sector (University). According to the Department of Commerce, Bilateral trade between both countries stood at $ 15 Mn in 2012 and bilateral trade volumes between Sri Lanka and Belarus show an increasing trend.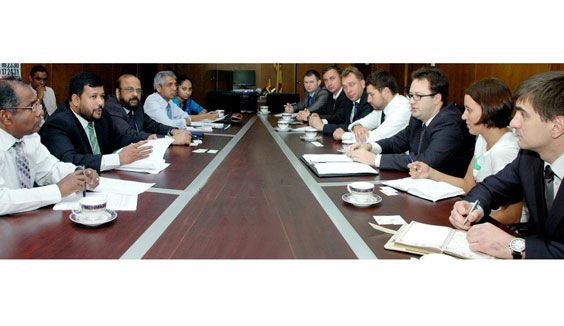 Sri Lanka's main export item to Belarus has been tea (90% of its total exports to Belarus in 2012). Other export items are new pneumatic tyres, used pneumatic tyres, articles for packing of goods. Fertilizers (Potassium Chloride) has been the major import item from Belarus contributing to 99% of total imports in from Belarus in 2012. Belarus is the world's third largest potash supplier after Canada and Brazil, and also leads the Commonwealth of the Independent States (CIS) starting from January 2013. Belarus, whose GDP is around $ 58 Bn, packs the potential of a viable gateway to the surging Russian and Central Asian markets.
Prima was responding to the invitation by an upbeat Minister Bathiudeen to Belarus delegation, to partner in Sri Lanka's surging industry and agriculture sectors when (HE) Prima declared Belarus' keenness on entering Lanka's industries.
"Sri Lanka has very attractive conditions for investment. 46% of our GDP is industries! We have carefully studied about Sri Lanka's economic and industrial zones, and please tell us more about your 23 industrial zones that aroused our interest. We want your presentations and materials on your industrial zones!" " said Prima and added: "We are keenly on establishing vehicle assembly lines here. Among our strong sectors of assembly are agro-automotives such as tractors, and other heavy duty automobiles. For example, our OJSC Minsk Automobile Plant produces 70000 tractors per year of 350 horsepower (each). We like to start assembling such ago-automotives in in Sri Lanka for the Asian markets. If there are any Lankan firms willing to partner with Belarus automotive sector and start here, we are open to them. As for your mineral sands, graphite and other rare earth mining, we are really interested in them too and we can offer you the latest extraction technologies developed by our many institutions specialising in such. Our extraction institutions have necessary design and delivery capacities and are already working with many other countries, at international level. Also, we are not only ready to partner with your private sector but also with your state sector industrial and technology firms. In fact, more than 300 top Belarus companies are state operated and they function under our Industry Ministry! We already met with the Lanka EDB on 05 August and during the meeting, many Sri Lankan representatives expressed their keenness to export and import with Belarus."
"We are happy to share the opportunities for progress with Belarus" said Minister Bathiudeen addressing Prima. "We invite Belarus to partner in Sri Lanka's industrial and agro-tech development as well as B2B cooperation. About 13% of our GDP is agro based and the main import from Belarus, Potassium Chloride, is used for our fertilisers. There are also investment opportunities for Belarus in our industries. 26 Industrial Zones are already operating in Sri Lanka under the Ministry of Industry and Commerce where Belarus industries can explore investment opportunities.
Also, Belarus industries has scope in our automotive, mineral sands, graphite and rare earth mining in which we invite you to invest, specially for value addition. If you commence agro-automotive assembly here, you can make use of the powerful Indo-Lanka Free Trade Agreement as well as the Pakistan-Lanka Free Trade Agreement to access to promising South Asian agro-vehicle markets! I am pleased to day that we are also planning to send high level trade and B2B delegations to Belarus in the due course so that we can strengthen the on-going cooperation between both countries" said Minister Bathiudeen.