Top Asia-Pac fishery man prepping Colombo for rare int'l confab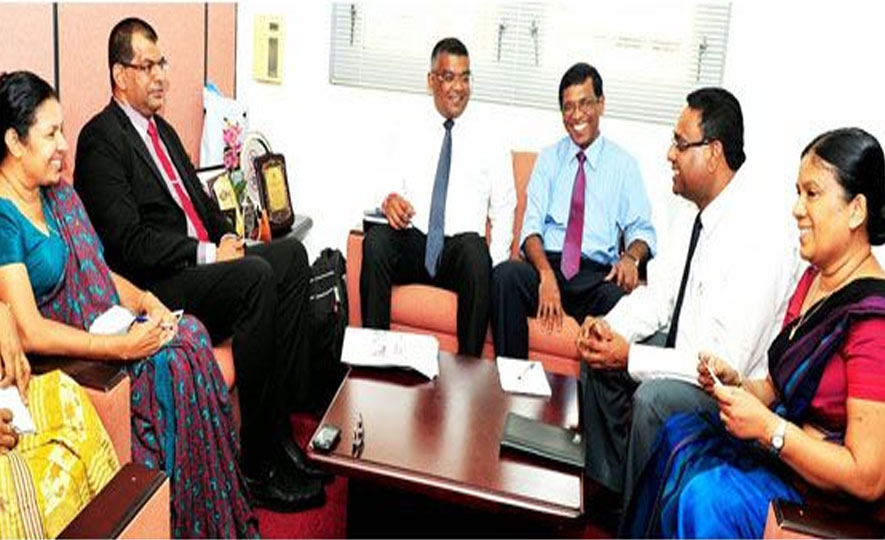 2014-08-13
Sri Lanka will feature a rare international confab this November –and many top global fishery experts and exporters will gather together in one place for the first time in South Asia, as announced on 12 August. "First ever International Ornamental Fish Conference to be held in Sri Lanka is taking place this November with EDB's support. We thank Malaysia based INFOFISH for affording this opportunity to Sri Lanka" said an upbeat Bandula Egodage (Chairman/CEO-EDB) on 12 August at EDB.
Chairman Egodage was meeting Dr Abdul Basir Kunhimohammed (Director General- INFOFISH) on 12 August at EDB. Visiting INFOFISH DG Dr Kunhimohammed is currently in Colombo to hold preparatory meetings with Lankan stakeholders for the first ever INFOFISH Global Conference to be held in Sri Lanka titled "Sri Lankan International Ornamental Fish Conference" scheduled on 10-11 November at Kingsbury Hotel, Colombo.
"This will be a global event attended by ten international ornamental fish industry speakers" said
INFOFISH DG Dr Kunhimohammed and added: "Since they are willing to share their experiences with local ornamental industry, this will be a rare first time opportunity for Sri Lankan fishery sector to directly network and learn important lessons from international experts right here in Colombo-and all such leading figures gathering together at the same time in one location. I urge the Lankan and regional fishery sectors to make the most of this. Some of the top presenters are not only fishery experts but are also leading international fishery businesspersons. Therefore, the networking potential will be considerable. Gerald Bassleer (Current President of Ornamental Fish International) will be a star presenter and I don't think that Lankan fishery sector should miss him. The reputed Ornamental Fish International is a trade association across no less than 44 major fish exporting and importing nations. It is not I, but the late Dr. Alex Ploeg, former Secretary General of INFOFISH who was scheduled to be in Colombo today and meet you but very sadly, Dr. Alex Ploeg, his wife, their son and his friend all perished together in the recent MH17 plane crash above Ukraine on 17 July. Despite this great loss to us and the international fishery sector, to continue with Dr Ploeg's valuable efforts, we still decided go ahead with Colombo event in November. The event is jointly organised by INFOFISH and EDB, and co-sponsored in collaboration with OFI."
he Kuala Lumpur, Malaysia based INFOFISH is an inter-governmental organization across 14 countries and provides marketing information and technical advisory services to the fishery industries of the Asia-Pacific region. Specially, it's the leading source of marketing support for fish producers and exporters in the region. In addition to exhibitions, conferences, workshops, seminars and training programs, INFOFISH also undertakes consultancies on all aspects of fisheries. Also joining the 12 August meeting were Dr Yousuf Maraikkar (ED-EDB) and reps from both NAQDA and NARA.
In 2013, Sri Lanka exported $10.7 Mn of ornamental fish, a surge of 41% from 2012's exports. US, UK, Germany, Japan and France were the top five importers from Sri Lanka in Y'13.
"First ever International Ornamental Fish Conference to be held in Sri Lanka is taking place this November with EDB's support" said Bandula Egodage (Chairman/CEO-EDB). "We thank Malaysia based INFOFISH for affording this opportunity to Sri Lanka. In fact INFOFISH has been continuously assisting us to upgrade the Lankan sector. Minister of Industry and Commerce Rishad Bathiudeen inaugurated the 26th session of INFOFISH Governing Council held in Colombo in 2011 December. Therefore INFOFISH is no stranger to us. EDB wants to enlist stakeholders of Lankan fisheries such as the Fisheries Ministry, National Aquaculture Development Authority of Sri Lanka (NAQDA) and National Aquatic Resources Agency (NARA)."
"Ornamental fisheries sector in Sri Lanka is very cottage and SME level and has been identified as a potential export development segment" said Sujatha Weerakoon (DG-EDB). "Therefore we need to give them not only knowledge and resources, but even networking and international linkages as well. This is the reason we decided to do this global event in Sri Lanka in November so that international participants will discuss important aspects with the local participants. We are anticipating 200 to 300 participants of which one third will be foreign " DG Weerakoon added.