Trade talks for first TA with surging 'Nam on the cards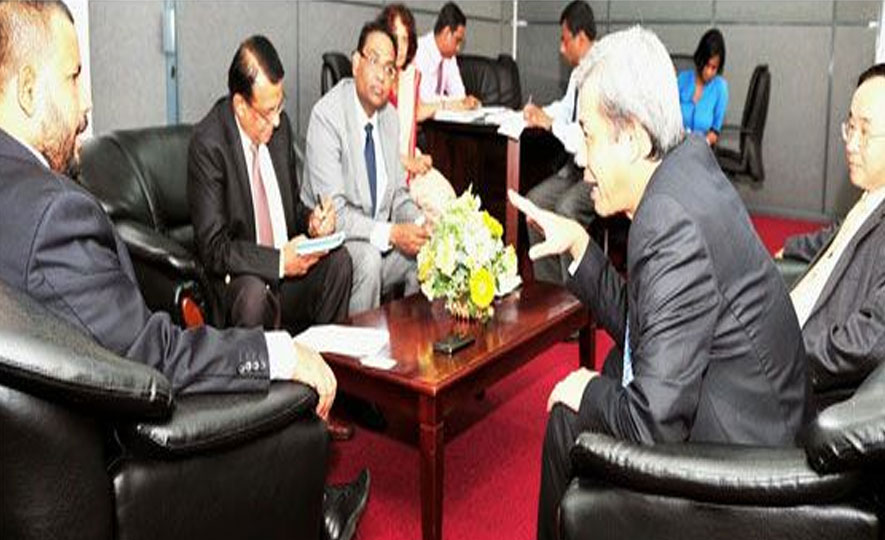 2014-08-08
As YoY bilateral trade jumped by a huge 88%, possibility of a first ever official trade agreement with one of the most discerning Asian suppliers to Sri Lanka has edged closer to reality on 07 August. "Our record exports today at $130 Bn was strongly supported by the seven FTAs that we entered into. An FTA with Sri Lanka can boost bilateral trade specially for Sri Lankan exporters. We should consider at least a Preferential Trade Agreement (PTA)" said an upbeat (HE) Ton Sinh Thanh (the outgoing Ambassador Plenipotentiary & Extraordinary of Viet Nam to Sri Lanka) on 07 June in Colombo.
Ambassador Thanh was addressing Rishad Bathiudeen (Minister of industry and Commerce of Sri Lanka) on 07 August in Colombo during his farewell courtesy call on Minister Bathiudeen. Ambassador Thanh, who served a successful three year stint in Colombo is scheduled for New Delhi next. Joining Minister Bathiudeen on 07 August were RDS Kumararatne (DG-Department of Commerce) and Bandula Egodage (Chairman/CEO-EDB).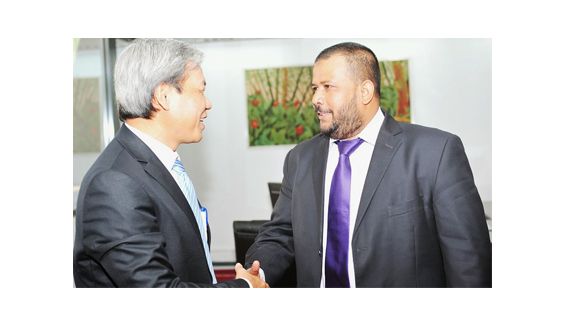 "Seen from our end, bilateral trade in 2014 first half (1H) already is at $ 109 Mn and therefore end of this year, we can expect a very strong bilateral trade performance. Also, 2014 1H Sri Lanka exports to Vietnam already equalled 2103 full year exports and therefore, this will be a record year for Lankan exports to Viet Nam" said Ambassador Thanh, and added: "We have been expecting this trend for a long time and now we see it at last! Vietnam wants more of Sri Lanka's black tea, gems and leisure boats while we also want to send more of our products here. This is the reason we set up the Sri Lanka –Vietnam Business Centre here. Since there is almost no information in Vietnam on Sri Lanka products, it's time you too set up a similar Centre in Vietnam to promote your exports to our country, which will no doubt be very useful to businesses at both sides. Our record exports today at $130 Bn was strongly supported by the seven FTAs that we entered into. An FTA with Sri Lanka can boost bilateral trade specially for Sri Lankan exporters. We should consider at least a Preferential Trade Agreement (PTA). Your tariff for incoming Vietnamese products are still high but under a trade agreement, tariff on your products at our end too could be adjusted. Sri Lanka's ITC/BPO as well as rubber products too are lines that you can try in Vietnam. The issue with Sri Lanka's exports in not marketing but production capacities and you need to increase investments and identify products with advantage for you in this regard. Looking through our own experience, I observe that Sri Lanka, with its diverse fisheries, is lagging in its export of seafood and fisheries and I see very vast potentials in it for you. Vietnamese drink green tea but our youth market is turning to black tea and Sri Lankan black tea is now in demand and our youth love it-specially flavoured teas. It is time that more than one Lankan tea brand enters Vietnam. In the forthcoming Sri Lanka – Vietnam trade talks in Viet Nam on 21 August, Sri Lanka can impress on Viet Nam of the FTA's importance for trade, while focusing on setting up sub committees on trade and amidst discussions on PTA. I also strongly suggest you to make proposals to Viet Nam to set up exclusive Sri Lankan export promotion zone in Viet Nam to be operated by Lankan manufacturers similar to the 'Vietnam-Singapore Industrial Park.'
"We congratulate Your Excellency's new appointment to yet another important trade partner of Sri Lanka, wish you great success in your new assignment and thank you for your strong contribution in enhancing our bilateral cooperation during your stay here' said Minister Bathiudeen responding to Ambassador Thanh, and added: "According to the Department of Commerce of Sri Lanka, total Lanka – Vietnam trade in 2013 rose to $ 224.39 Mn, a surge of 88% from 2012's $119 M. This was supported by increased exports of aeroplanes, footwear, pepper, and seafood (fresh and frozen). Total exports to Vietnam alone rose by a huge 107% in 2013 to $ 43 M from 2012's $21 Mn. These promising trends enable us towards the need for more formal trade ties such as Trade Agreements so that mutual benefits could be greatly enhanced. We too look forward to productive discussions during our Vietnam trade talks starting on 21 August and we are positive of expectations. I also invite Vietnamese investors to Sri Lanka. As for development of fisheries exports, we too understand that it is underutilised and we shall be making an integrated effort involving our fisheries sectors. We will discuss with our manufacturers on creating a Lankan Free Trade Zone in Vietnam."
Responding to Minister Bathiudeen, Ambassador Thanh said: "Vietnamese investors now have entered into global investments such as oil and gas projects (in Venezuela), as well as telecoms, hotels in many other countries. These are the sectors of interest for them at this moment."
Responding to Ambassador Thanh, Minister Bathiudeen said: "We welcome Vietnamese investors to our tourism infrastructure, rubber production, boat building, urban development and in infrastructure construction. One hundred percent of participation-ownership-is allowed by our government for the foreign investor on their valuable investments especially when they enter priority sectors such as tourism development. Foreign investments are given constitutional guarantees of safety with 100% profit repatriation."
Both Minister Bathiudeen and Ambassador Thanh also discussed of the progress of other areas of bilateral cooperation on 07 August.