Two Lankans clinch global rubber glory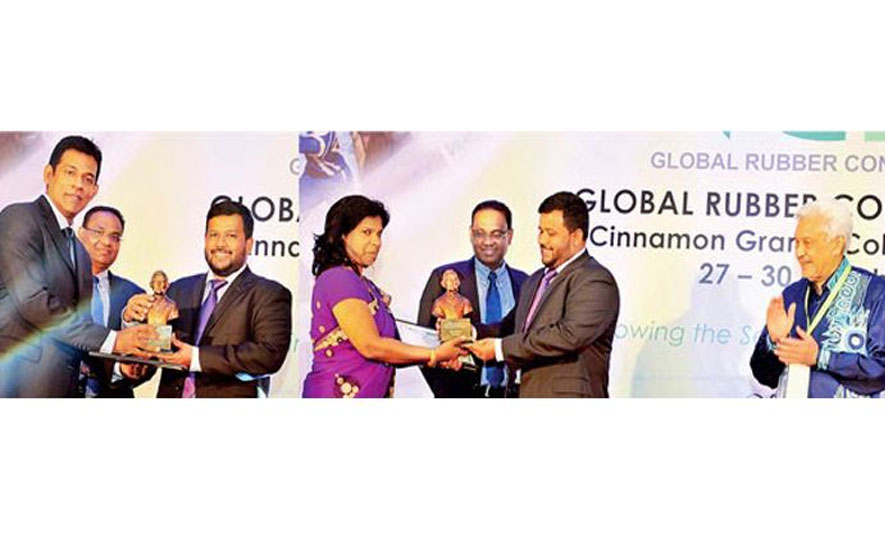 2014-10-30
Two Sri Lankans won GRC Wickham awards at the Global Rubber Conference 2014 (GRC) held at the Cinnamon Grand Hotel on 28 October.

"At the next Global Rubber Conference, the knowledge received at today's sessions should be reflected and evaluated. In such a background it is important for us to continuously review developments in all the closely related aspects and industries including the global economy and currencies as well," said Industry and Commerce Minister Rishad Bathiudeen said while speaking at the conference.
The GRC drew more than 250 delegates from 28 countries, including ASEAN, US, EU, East Asian and North Asian nations, and concluded yesterday.

This is the fourth GRC to be held and the first to be staged in Sri Lanka.

The GRC Wickham Award for Technology Innovation 2014 was awarded to Prof. DPSTG Attanayaka, who is presently serving as the Dean of the Faculty of Agriculture and Plantation Management of the Wayamba University of Sri Lanka. He is also the Regional Secretary (Sri Lanka) of the Society for Advance Breeding Research in Asia and Oceania (SABRAO).

"During his career at the Rubber Research Institute of Sri Lanka, he contributed immensely to the natural rubber industry by improving productivity of rubber plantations. He also pioneered the incorporation of Molecular Breeding to rubber breeding and the selection program of the institute. He has more than 85 research articles to his credit," the GRC organisers announced.

The GRC Wickham Award for Technology Commercialisation 2014 award was presented to Lalan Rubbers Chairman Lalith Hapangama.

"A pioneer in the rubber industry and a visionary entrepreneur, Hapangama is one of the leading manufacturers and exporters of disposable, surgical, household, industrial gloves, rubber bands and rubber mattresses to 48 countries with seven offshore offices in four continents. His operation is a vertically integrated company with rubber plantations across 17000 acres with two centrifugal facilities. "He was singlehandedly able to establish Sri Lanka as a formidable competitor in the global market especially for gloves, exporting to the most renowned supermarkets in the world and supplying to automotive, aircraft, chemical, electronic, food and construction industrial brands, with his ability to provide livelihood to 15000 families," the organisers stated.

Minister Bathiudeen said: "Today's conference sessions have given all of us much food for thought and there was productive opinion-sharing during the sessions. More importantly, we are pleased with the commitment and interest shown by the international participants. Let me stress that sectors such as transport, health, chemicals and heavy machinery need to be watched. Also we need to closely watch currency exchange rates."

The GRC Wickham Award was established in commemoration of Sir Henry Wickham. Sir Wickham brought rubber seeds from the Amazon jungles to the UK in 1876 and thereby introduced rubber to the world for the first time.