Veteran Export Professional Dr. Kingsley Bernard assumes EDB Chairmanship
2023-04-03
Veteran Export Professional Dr. Kingsley Bernard assumed Chairmanship of the Sri Lanka Export Development Board (EDB) on 3rd April. He succeeds the outgoing Chairman Suresh D de Mel who ended his tenure last month.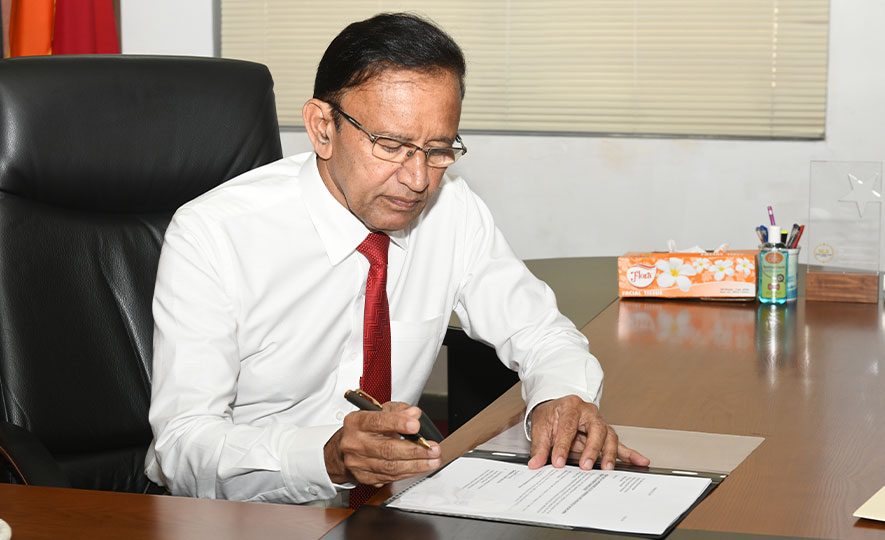 Addressing the EDB staff upon assuming duties, the new EDB Chief remarked a quantum leap in export performance is necessary and that the country must strive towards introducing products based on innovation and advanced technology to its export portfolio. Bernard added that Sri Lanka's achievement in exports is commendable, however, he pointed out that the progress in exports over the last decade has been slow compared to regional peers such as Bangladesh and Vietnam, and he requested the commitment and assistance of all employees within the board to develop the country's exports.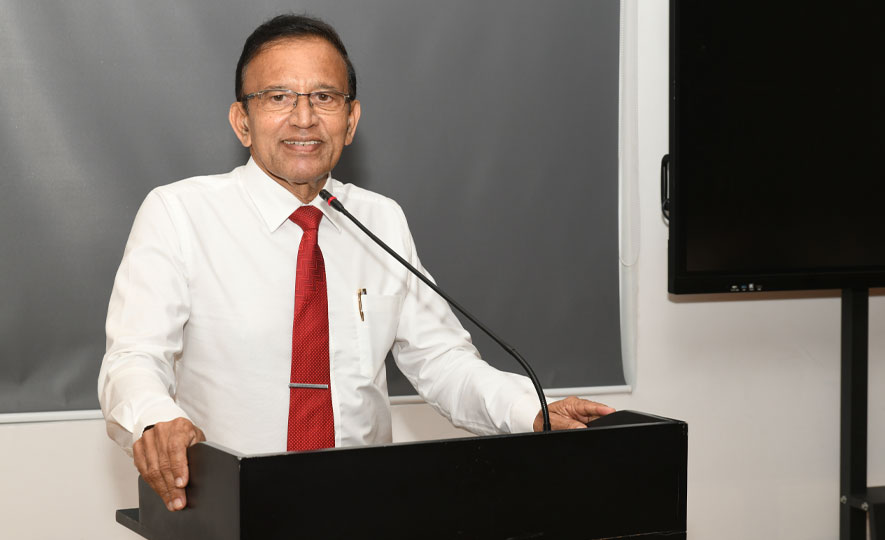 Bernard had an illustrious career - spanning more than three decades - in the corporate sector holding numerous responsible positions in export-related entities. He is no stranger to the EDB having been its Director-Marketing during early 90s, in which period he was involved in holding highly successful international exhibitions – Expo 92 and Expo 94. The new EDB Chairman is acclaimed for his noteworthy contribution to the development of exports in Sri Lanka, having held the positions of Management Consultant of Sri Lanka Export Credit Insurance Corporation (SLECIC), Vice President of the Exporters' Association of Sri Lanka (EASL) - the Ceylon Chamber of Commerce, and President of the National Chamber of Exporters of Sri Lanka (NCE) in a glorious period for the nation's exports. During his stint as CEO of Dankotuwa Porcelain PLC, the company was adjudged the 'Most Outstanding Exporter of the Year' for three consecutive years at the NCE Export Awards.
Bernard also served as a Visiting Lecturer at the Post-Graduate Faculty of the University of Colombo from 1989 to 2008 and was also a Visiting Lecturer at the Post-Graduate Institute of Management (PIM) - University of Sri Jayewardenepura, University of Kelaniya and Open University of Sri Lanka, teaching post-graduate students subjects such as marketing management and global marketing. He was also a former Chairman of the Sri Lanka Council for Agricultural Research Policy (SLCARP). Group Director of Capital Maharaja Organization and Daya Group of Companies, Deputy Director-Marketing of the Agricultural Development Authority, Managing Director of Walker and Greig, and Senior Manager of Unilever-Sri Lanka, Chairman - Bimputh Finance PLC are among other appointments held by him.
Subsequent to ending his corporate career in 2014, Bernard became a full-time academic by joining Sri Lanka Institute of Information Technology (SLIIT) – Faculty of Business (Business School) and held the positions of the Head - Department of Business Management as well as the Department of Information Management. He left SLIIT Business School in 2020.
Bernard holds a PhD from the Management and Science University (MSU) of Malaysia, an MBA from the University of Colombo, Post-Graduate Diploma in International Marketing from Colorado State University (CSU) – USA, and Bachelor of Science Degree (BSc) from the University of Jaffna. The newly appointed EDB Chief has excelled in leadership from his youth and his outstanding leadership qualities enabled him to be the first President of the Students Council of Jaffna University, representing a significant achievement for a student hailing from the South in mid-70s in view of the tense ethnic relations prevalent in the country. He is also a keen social worker and was elected as the District Governor of Lions International District 306B2 in 2009-2010.