Vietnam calls for FTA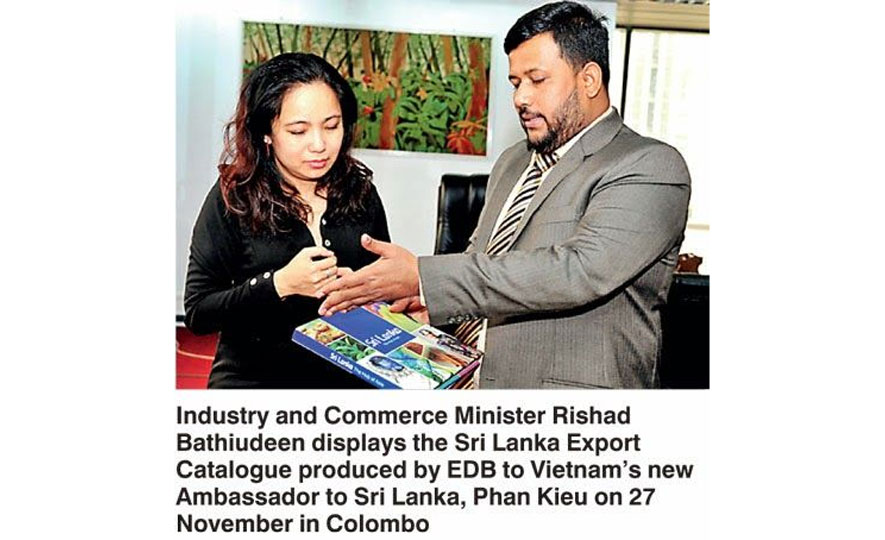 2014-12-02
Stepping up its trade cooperation with Sri Lanka, Vietnam said that it was working towards establishing a groundbreaking FTA with Sri Lanka.
In view of this, Sri Lanka has promptly appointed its first-ever trade officer to Vietnam, the world's fifth largest apparel exporter which is ready to partner with Sri Lanka's own apparel industry.
"There is huge unrealised trade potential between both countries that we need to explore. Trade need not be mostly the exchange of rice and tea between both countries. Therefore, while in Colombo, I will take up the task of promoting an FTA with Sri Lanka," said Vietnam's new ambassador to Sri Lanka, Phan Kieu Thu on 27 November in Colombo.
Ambassador Thu was speaking to Industry and Commerce Minister Rishad Bathiudeen during her maiden courtesy call on the minister at EDB.
Joining Minister Bathiudeen in the discussions were officials from the Department of Commerce and EDB Chairman and CEO Bandula Egodage.
"The former Vietnam Ambassador in Colombo Ton Sinh Thanh has done a good job in Colombo promoting bilateral trade right until the last minute of his departure. He was also instrumental in promoting bilateral investments," said Minister Bathiudeen said.
"As per the export vision of President Mahinda Rajapaksa, we are targeting $ 20 b in exports by 2020 and free trade agreements with our partners could help us in this effort. The Department of Commerce has increased its efforts to boost bilateral trade. I am pleased with the establishment of our successful first-ever Lanka-Vietnam official trade mechanism in August. This Joint Trade Subcommittee has enhanced existing bilateral trade and economic relations to new heights. I am pleased to inform Your Excellency of the appointment of the first Lankan Trade (Promotion) Officer to Vietnam by the Department of Commerce and this officer is expected to start in January 2015. Next year we are also planning to send a strong Lankan business B2B delegation to Vietnam, based on a Vietnamese invitation to do so during my August visit." In reply Thu said: "We are working on receiving the Lankan B2B delegation in Vietnam next year. Expansion of your exports to Vietnam will give a wider choice of Lankan goods to our consumers and an FTA is a great instrument."
At present Vietnam ranks 40th as an export destination and 23rd among suppliers to Sri Lanka, accounting for 0.43% of total Lankan exports and 1.06% of total imports respectively. Total trade between both countries – which stood at $ 119.5 m in 2012 – increased to $ 224.4 m in 2013, registering a remarkable growth of 88%.