High-profile-list-of-international-speakers-to-take-the-stage-at-WEDF-2016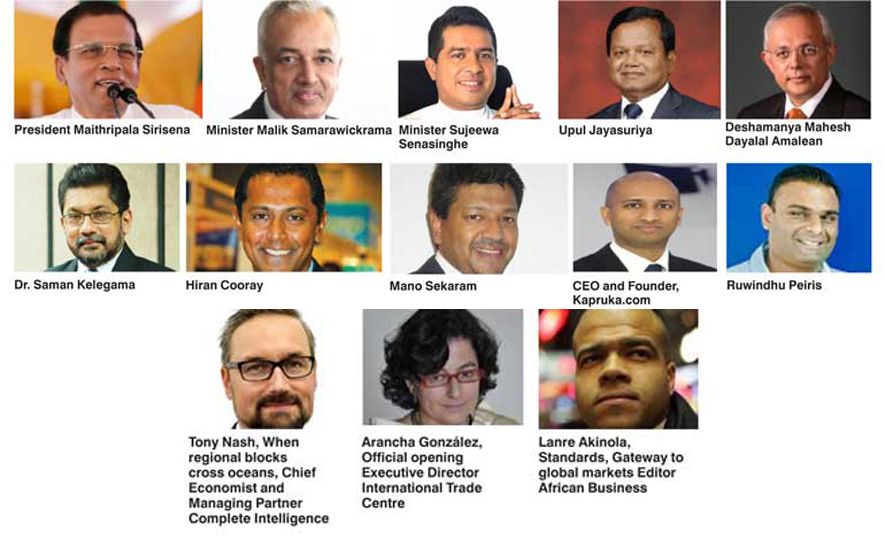 2016-08-08
President Maithripala Sirisena and Minister of Development and International Trade Malik Samarawickrama will lead the line-up of high-profile speakers including policy makers, trade experts, trade analysts and global business leaders, set to speak at the World Export Development Forum (WEDF), scheduled to be held on 12 and 13 October in Colombo, Sri Lanka.

The International Trade Centre (ITC) together with the Ministry of Development Strategies and International Trade of Sri Lanka, through the Sri Lanka Export Development Board (EDB), organises the global summit. ITC Executive Director Arancha Gonzalez will also take the stage on the opening day of the event together with the President of Sri Lanka, to start off the two-day event.

The first plenary of WEDF 2016 on the topic 'When Regional Blocs Cross Oceans', is one of the most anticipated sessions at the forum, with the panel of esteemed speakers consisting of the Secretary General of the Commonwealth Secretariat Patricia Scotland, President of the Confederation of Indian Industries Dr. Naushad Forbes, Pakistan's Minister of Commerce Khurran Dastgir Khan, Chairman of local apparel powerhouse MAS Holdings Mahesh Amalean and CEO and Chief Economist of Complete Intelligence from Singapore Tony Nash. The panel will be moderated by geopolitical expert Amin Kazmin, Head of Office at the Financial Times Asia.

The session is set to explore research results from the Commonwealth Secretariat on the impact of mega regional blocs on developing countries, and the impact of the Trans-Pacific Partnership (TPP) on South Asian nations such as Sri Lanka, India and Pakistan.

The second plenary session will focus heavily on the rapid digitisation of trade and ecommerce success stories, with experts on the subject taking the stage as panellists. VP of Alibaba Group and Director of AliResearch Hongbing Gao, CEO and Co-Founder of award-winning software product engineering company 99X Technology Mano Sekaram, Chairman of Daffodil International University & Daffodil Group, Bangladesh Md Sabur Khan, Chairman and Founder of The Opportunity Network, Italy Brian Pallas and CEO of Wormhole IT, Argentina Sally Buberman.

Day two of the conference will host the third plenary session titled 'Standards, a Gateway to Global Markets', with Board of Investment of Sri Lanka Chairman Upul Jayasooriya, Nestlé Sri Lanka Director/VP Jagdish Singla, ITC Chief Economist Marion Jansen, The European Commission Chief Trade Economist Dr. Lucian Cernat and African Business Editor Lanre Akinola.

These acclaimed international economists will present guidance for businesses, policymakers and standard-setters on the impact of standards and regulations for businesses in international value chains.

The final plenary session of WEDF 2016 explores the concept of authenticity as a key for competitiveness in the tourism sector. Titled 'Authenticity: The New Tourism Destination', the panellists will consist of Jetwing Sri Lanka Chairman Hiran Cooray, Writer/Tourism Expert from Burma Pascal Khoo, China Outbound Tourism Research Institute in Germany Director Dr. Wolfgang Arlt and World Tourism Organisation to the United Nations in Geneva Representative Zoritsa Urosevic. There will be two In-Focus sessions beneficial for young entrepreneurs and start-ups. The first session will look at Trade Facilitation and Logistics in Regional Integration with Stefano Arganese – CEO of Central Eastern Europe and Middle Europe for DHL and Saman Kelegama – Executive Director of the Institute of Policy Studies of SriLanka (IPS), and will be moderated by Donia Hammami – Vice President of the ICC, France.

The second In-Focus session brings together Dulith Herath – CEO and Founder of Kapruka.com, Sri Lanka, Gian Luca Petrelli – Founder and CEO of BeMyEye, United Kingdom, Rizhlane El Alaoui – General Director of QuickTech, Morocco and Ruwindhu Peiris, a Managing Directors of Stax, a global strategy consulting firm with offices in Boston, Chicago, New York, and Colombo. Additionally, there will be four How-To workshops targeting the SME sector on topics such as Young Entrepreneurs: From Ideas to Markets, Services for Female Entrepreneurs, Managing Logistics in the Supply Chain and How to Go Digital. The closing session will once again see Minister Malik Samarawickrama taking the stage with Arancha Gonzalez, also joined by Sujeewa Senasinghe, State Minister of the Ministry of International Trade, Sri Lanka, who is championing the WEDF 2016 event together with the joint support of the EDB, the government and the private sector.

EDB Chairperson and Chief Executive Indira Malwatte commented on the calibre of speakers who are confirmed to speak at WEDF 2016 saying, "We are excited that this year's participants will have an opportunity to witness renowned industry experts, economists and business leaders at one forum, to learn, to discuss, and most of all to be part of significant changes to the future of trade in the region and across the globe."

All plenary and other sessions align with this year's conference theme, 'Trade for Success: Connect, Compete, Change', and is targeted to attract over 350 international delegates and 300 local business representatives and entrepreneurs, making the event an unprecedented benchmark for the export industry of the country. For further information related to sponsorship opportunities and participation contact Dayani Wegapitiya on 0777 732846.