Celebrated Blue Sapphires from Sri Lanka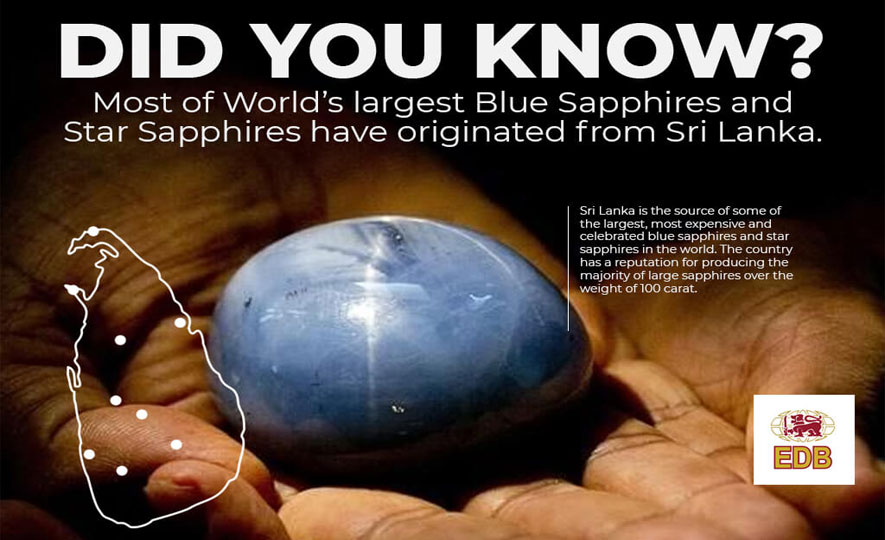 2020-01-27
As one of the world's steadiest suppliers of top-quality sapphires and seventy-five other types of gemstones, Sri Lanka is one of the most important countries in the world when it comes to gem and jewellery, despite its small size.
Hailed as the mythical Tarshish, the legendary island of invaluable gemstones, Sri Lanka has been the source of many celebrated gemstones throughout history. According to Hebrew records Queen Sheba's great ruby and the star ruby in King Solomon's ring has been sourced from Tarshish, nearly 30 centuries back.
Sri Lanka has long celebrated as the main source for large blue sapphires and star corundum, that are above the size of 100 carats. Incidentally, 60% of the largest gemstones including sapphires had been sourced from this small island in the Indian Ocean.
In this post you will read about the most celebrated Blue Sapphire from Sri Lanka
Here is the list:
01.Star of Adam
Sri Lanka is the proud source of world three largest sapphires; a Blue giant of the Orient, Logan Blue Sapphire and the Blue Belle of Asia, all ranging between 400 – 466 carats.
In addition to the world's largest sapphires, Sri Lanka has also been the source of some of the largest star sapphires in the world, the largest being the Star of Adam, an oval-shaped blue sapphire weighing 1,404.49 carats.(1)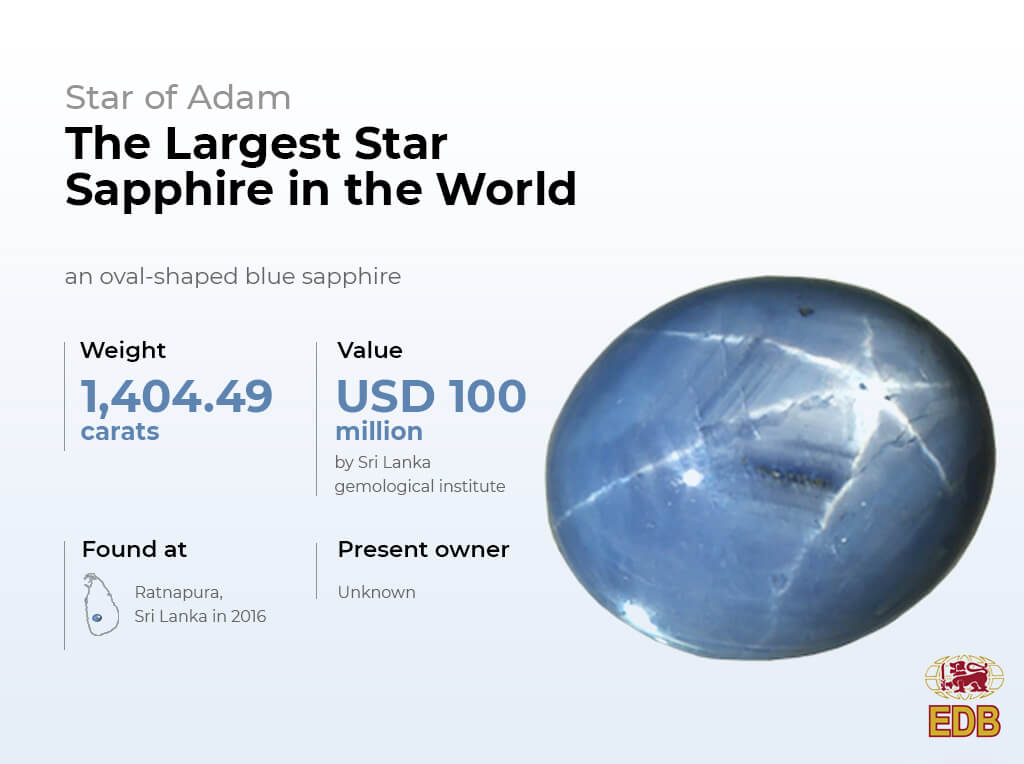 02.Logan Sapphire
Another renowned Ceylon Sapphire is the Logan Sapphire, now housed at the Smithsonian National Museum of Natural History. The 423 carats violently blue coloured, Logan Sapphire, which is the size of an egg, is one of the world's third-largest faceted blue sapphires and the heaviest mounted gem in the National Gem Collection at the Smithsonian.(2)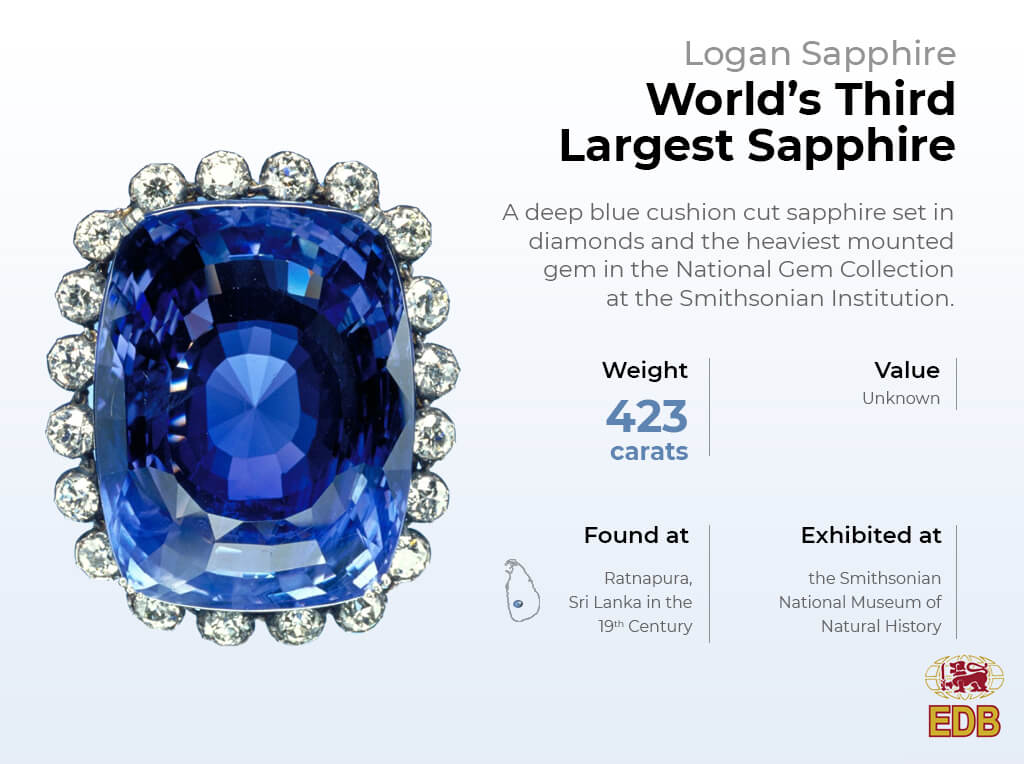 Image source
03.Star of India
Incidentally, another large star sapphire known as 'Star of India' too originated from Sri Lanka and is now housed at the American Museum of Natural History. At the size of a golf ball, the greyish blue star of India is 564 carat in weight and contains a unique six-string star caused by the mineral traces in the gemstone.(3)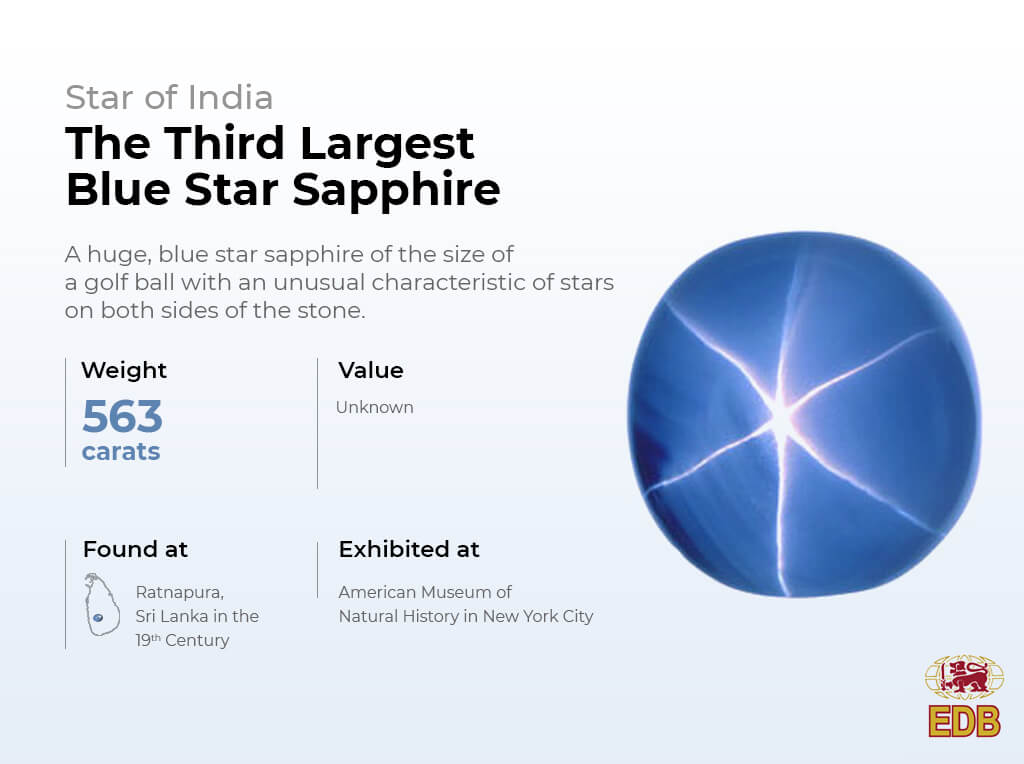 Image source
04.Blue Giant of the Orient
The world's largest faceted blue sapphire,' Blue Giant of the Orient' too owns its origin to Sri Lanka. Discovered in Sri Lanka in 1907, this brilliant blue 486-carat large sapphire was purchased by an anonymous American buyer and remained out of the limelight until it resurfaced at Christie's jewels auction catalogue in 2004. Set in a platinum frame styled with diamonds, the blue sapphire brooch was purchased by a British buyer at the price of US$ 1 million.(4)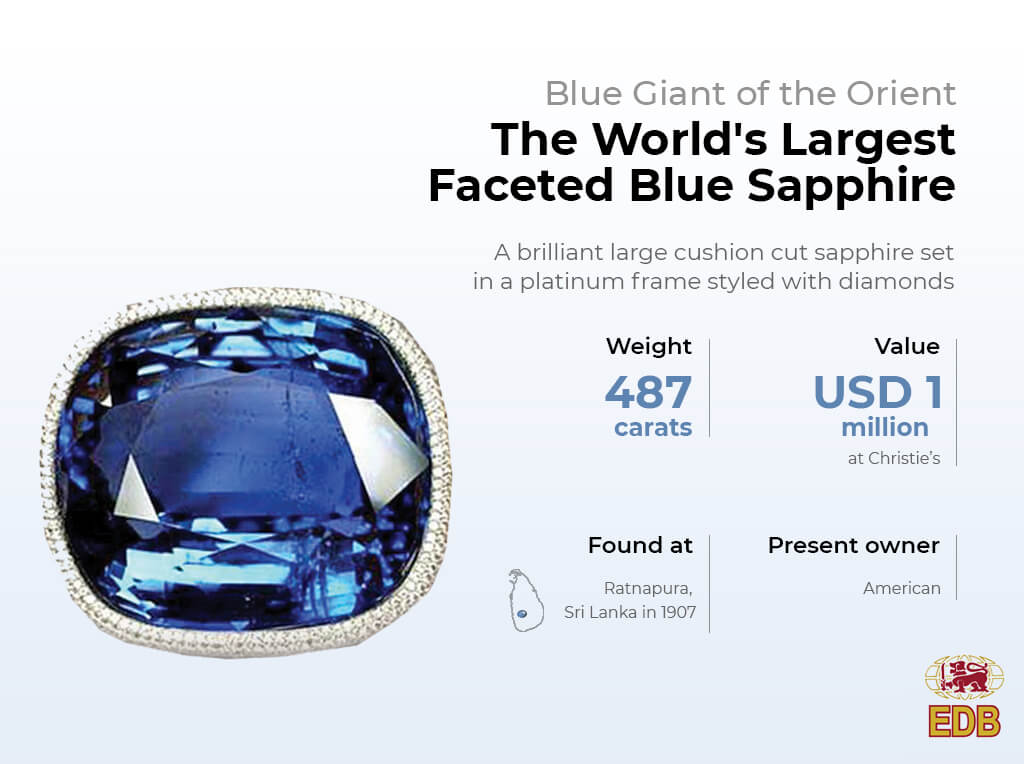 Image source
05.Blue Belle of Asia
World's fourth-largest Sapphire, Blue Belle of Asia has also been mined from Ratnapura, Sri Lanka in 1926. The 400-carat peacock blue sapphire mounted on a necklace of diamonds and platinum fetched 17 million dollars at a rare jewellery auction in Geneva by Christie's in 2014, which is the highest ever price set on a sapphire.(5)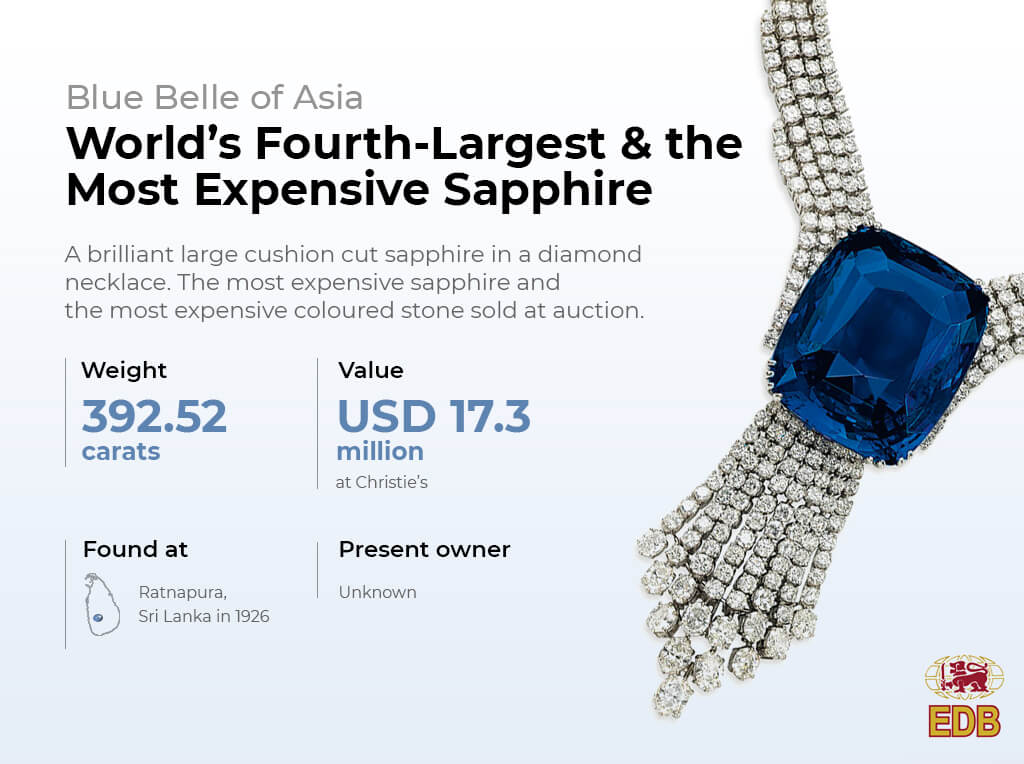 Image source
06.British Royal Engagement Ring
The engagement ring given to Lady Diana Spencer by Charles, the Prince of Wales with a 12 carat Ceylon Sapphire set in 18K white gold is maybe the most popular piece of Jewellery with a Ceylon Sapphire. The royal sapphire originated from a mine in Pelmadulla, Sri Lanka, renowned for superior quality sapphires. Generations later the same ring was given to Kate Middleton, the Duchess of Cambridge by Prince William, continuing the legacy of Ceylon Sapphires.(6)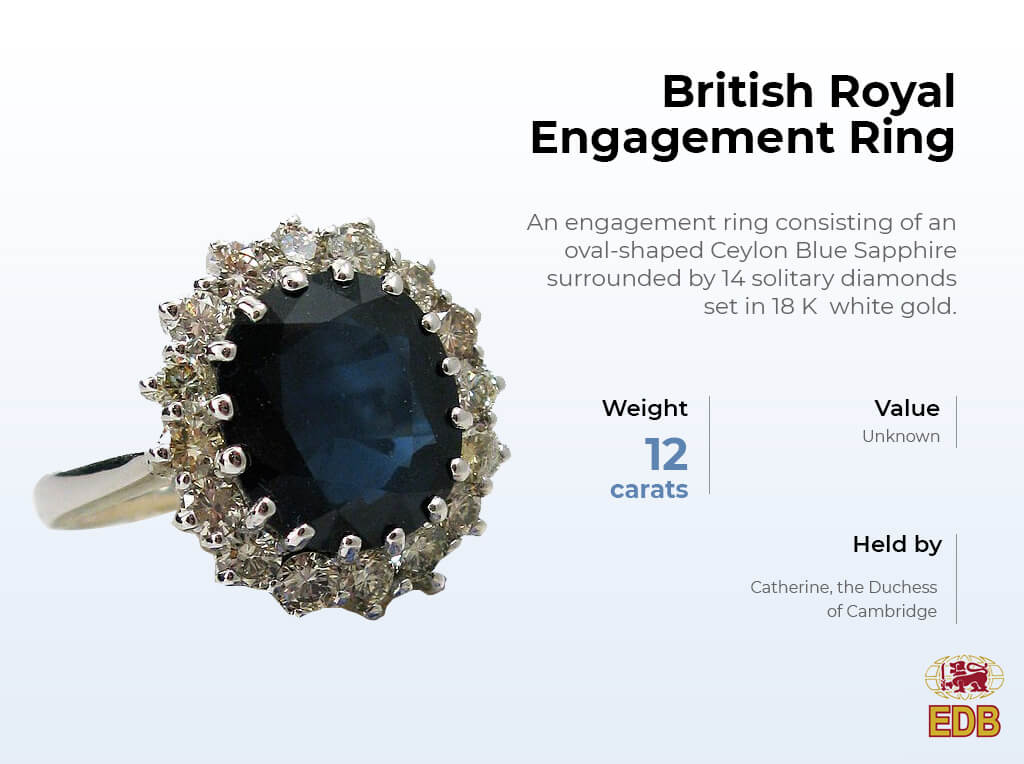 Image source
07.Sapphire Brooch of Empress Maria Alexandrovna
Despite the popularity of the Royal engagement ring, Sapphire Brooch of Empress Maria Alexandrovna, now on display at the Diamond Fund Exhibition, Moscow, Russia, is one of the exquisite Ceylon Blue Sapphires found in the world. A gift from Russian Emperor Alexander II to his wife Empress Maria Alexandrovna; this priceless masterpiece is characteristic for its colour, cut, size and clarity. Unlike most of the stones of its size, its colour is evenly distributed and holds a medium-dark saturated blue colour prevalent in highly-priced stones.(7)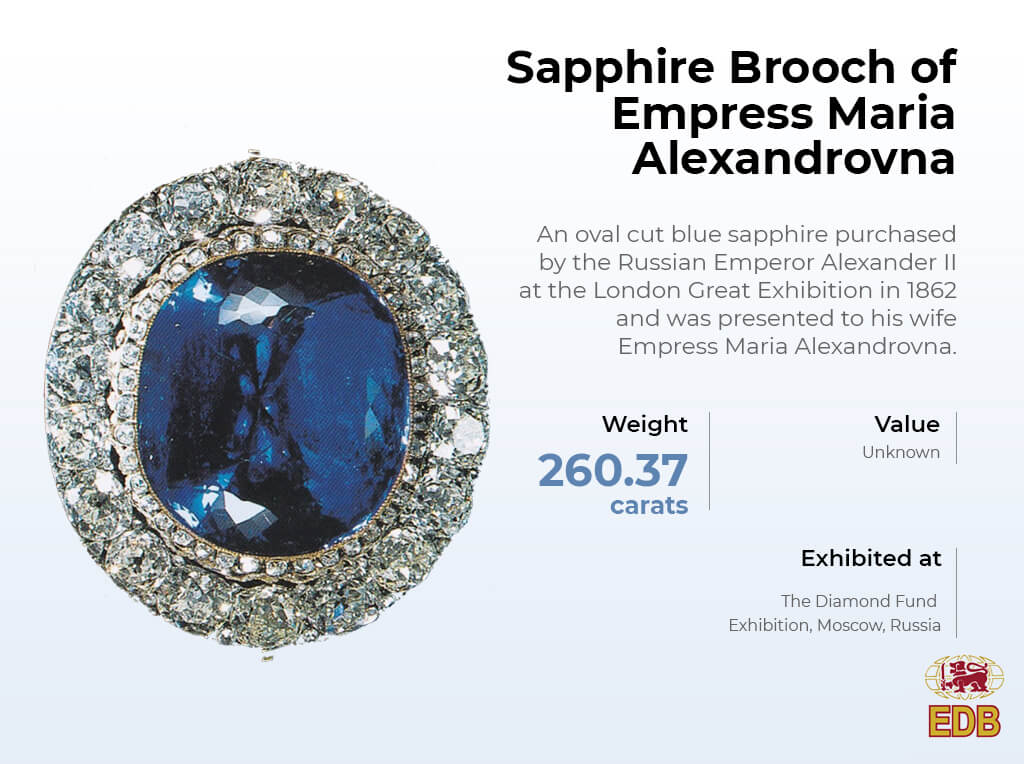 Image source
08.Hall Sapphire and Diamond Necklace
Another remarkable specimen of jewellery made with Ceylon Sapphires is the Hall Sapphire and Diamond Necklace, which features 36 cushion-cut sapphires from Sri Lanka, totalling 195 carats set in platinum along with brilliant-cut diamonds totalling to 83.75 carats.(8)
The well-matched sapphire stones have been sourced from Sri Lanka and the necklace was designed by Harry Winston Inc. for Mrs Evelyn Annenberg Hall, who donated the necklace to Smithsonian gem collection in 1979.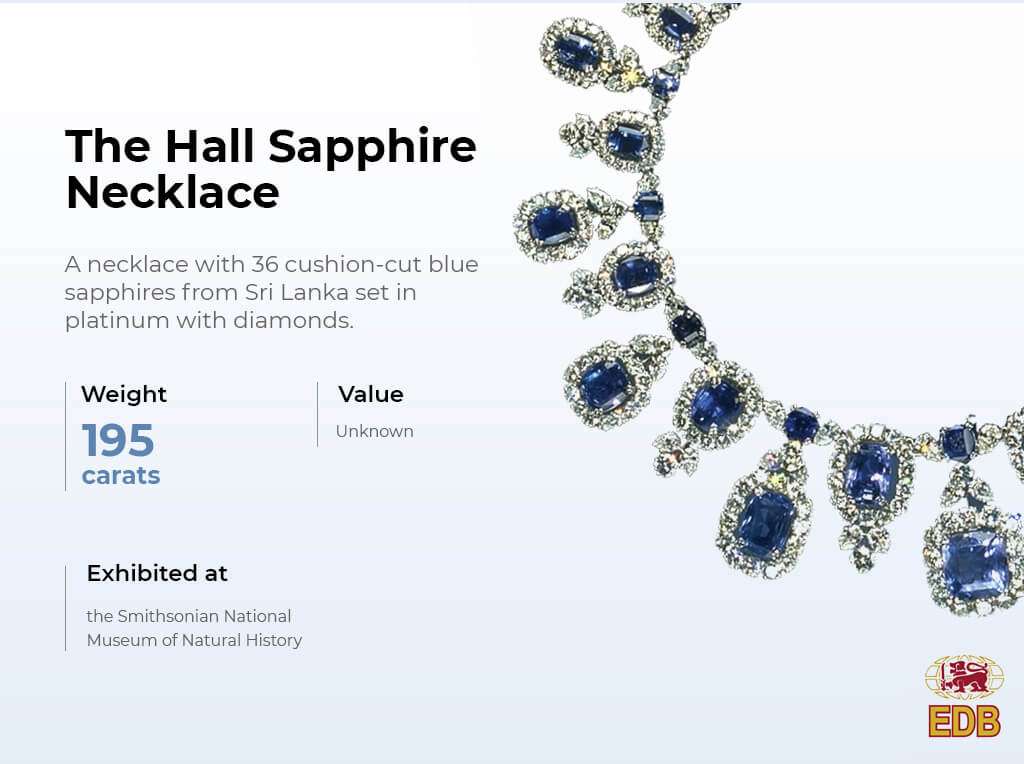 The Star Sapphire Necklace at Smithsonian gem collection also carries a sky blue star sapphire from Sri Lanka weighing nearly 60 carats. With a clearly visible six-rayed star created through an optical phenomenon called chatoyancy, the star sapphire has been rough cut and is set in platinum along with 126 diamonds by Marcus &Co.(9)
Created nearly three billion years ago, Sapphires are a natural wonder found in abundance in Sri Lanka, making this small island world's number one destination for large size sapphires.