The Export Potential of Clayware from Sri Lanka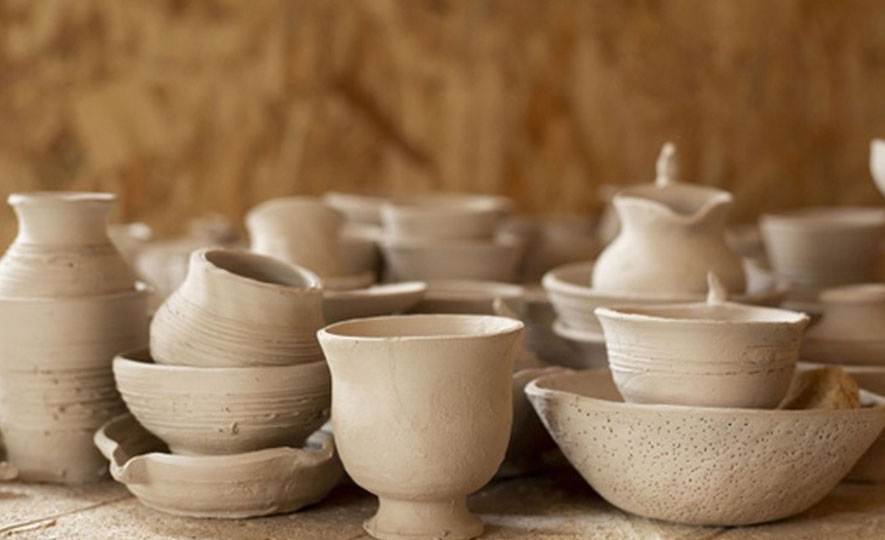 2020-11-17
Clay is an eco-friendly material. It plays an important role in the environment itself by being a natural scavenger of pollutants. The natural source is structured in a way that it collaborates with water to increase its quality. As a result, clay is well known for its hygienic quality. (1) This amazing material is moulded into different shapes and forms giving opportunity for hidden talents to find its way to the surface. Sri Lanka is a country that has a long history with such clay-based products.
According to sources, the use of clay in Sri Lanka started to gain more attention with the introduction of Buddhism to the island. Buddhist stupas were built using clay. Clay craftsmen have been coming down to Sri Lanka on various historical occasions which eventually improved the local crafting talents creating professions for creators. (2) The country specializes in its patterns and styles when it comes to its pottery products. Each form of pottery served a different purpose. Pottery used for domestic purposes was often not decorated whereas decorative pottery was coloured and glazed.
Sri Lanka Clay
Sri Lanka possesses a variety of clay in abundance. The raw materials are categorized according to their contribution to the production of various clayware. Earthenware clay, Ball clay, and White clay are three main varieties that can be found at various parts of the island. Earthenware clay is the common red clay that is usually used to make bricks by mixing it with sand and grit. In Sri Lanka, this clay variety is obtained from the Naththandiya area. The clean layers of this clay are used for pottery. Ball clay is mostly found in Boralesgamuwa and Meetiyagoda. It occurs in large deposits. This is the clay variety that is used to manufacture porcelain and ceramics. (3)
Sri Lankan Clay Products
The key requirement of a vessel is always to serve the purpose it is designed for. Sri Lankan potters create their unique products with the use of equipment that is specially built for pottery. Traditional water-storing vessels designed by these creators such as Kalagediya and Gurulettuwa have a spherical shape with a wide inner space to store water. The clay used to make these vessels absorbs and removes the organic and inorganic contaminants from drinking water. Therefore, some of these vessels are used today in the same form while some have transformed to serve the suit modern lifestyle while delivering the same advantage to the user.
Clay-based cooking pots that are used in traditional cooking still play an important role in the local kitchen. Potters keep these pots in the sun to dry for a few days after they are being shaped or they burn these pots in a kiln to make them hard and brittle. As a result, these pots are not damaged by the hours they get to spend on the fire.
Terracotta is one of the main ingredients that is used by Sri Lankan potters when making most products. It can be defined as fired clay. The colour of Terracotta depends on its fired colour of the clay. (4) Other than vessels, products made using this ingredient include tiles, bricks, and decorative ornaments.
Terracotta tiles vary according to their texture, tone, and size. These variations are considered as a part of its originality in this tile genre. Terracotta tiles are highly water absorbent. They are mostly placed in outside establishments due to this unique feature. Its thickness qualifies it to be a ground-based tile that can also be used for indoor flooring. (5)
The same ingredient is used to make roof tiles. These tiles are excellent heat absorbers as a result of their inherent thermal mass. According to specialists, these tiles can last for more than 100 years if treated right. The use of Asbestos roofing sheets became a trend starting from the 1950s. But a lot of people were reportedly fallen ill due to Asbestos-related illnesses. (6) As a result, it has been banned in most countries. This highlights the health-related benefit of Terracotta roof tiles.
The Process
Pottery in Sri Lanka is an SME industry. It is also the livelihood for groups of people in certain areas. For example, Wadakkarawewa is one such village that is famed for its artistic pottery. The villagers collect clay during the dry season. They make sure this collected clay is sufficient for one year's production. It is left for seasoning for two or three days. This is then sliced to remove the dirt. Slicing is followed by drubbing of clay, which is done using a machine. (7)
Sri Lankans have their traditional ways of producing clay-based products. Most of these methods have been indigenously developed to suit modern customer expectations. Sakaporuwa is a turning wheel that is fixed on to a metal socket, which is fixed firmly to the ground. Pots are shaped by local potters with the help of their experience on this machine that spins continuously. (8) This combination of aesthetics and functionality helps creators to produce artistic clayware.
The Industry Potential
Sri Lanka is already a leading supplier of porcelain and ceramic products in the world market. The produced ceramic ware reflects the country's rich artistic heritage. The ceramic industry consists of many resources including a high-skilled labour force, excellent management, and state-of-art technology. These products comply with international standards giving a fair competition to the competing countries. (9)
Pottery studios and workshops are now present in Sri Lanka. These institutions help young talent to discover their potential and become promising craftsmen to serve the industry. Some of these institutions are sponsored by the government with the motive of improving the talent and technology that involves the production of clayware. Guidance is given to the craftsman at these workshops regarding the preparation of clay body mixtures and glazers.
The tourism industry has also found its ways around pottery through "Pottery Tourism". Tourists are being allowed to witness the creative process of clayware manufacturing with the involvement of fun and knowledge-based activities. The experience involves allowing the visitors to create their souvenirs with the help of craftsmen. The tours are done in the villages that are famous for pottery.
When all these factors are taken into consideration, the future of the Sri Lankan clayware is making its way towards a prominent place in the global market.