Different flavours and uses of coconut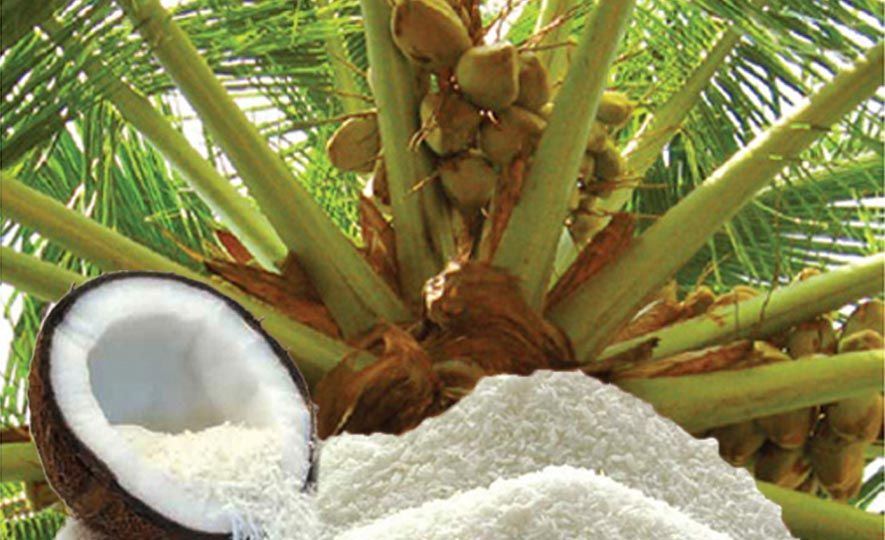 2015-07-14
From super hydrating coconut water to oil rich coconut milk and gluten free coconut flour, coconut is a source of varying tastes and food products, feeding a world with nutritious and tasty products that are easy to prepare and good to eat.
For every Sri Lankan that ever lived, coconut palm is equal to a wonder tree that delivers to a variety of products from food, cleaning material to shelter.
Coconut has made a larger part of daily diet in Asian countries for the last numerous centuries. In Sri Lanka scraped coconut, coconut oil and coconut milk is an essential part of the daily cuisine while coconut jaggery, treacle and vinegar, made out of the sap of the coconut flower, are essential in preparing desserts, chutneys and pickles.
With the changing of lifestyles and tastes, the need for convenient yet nutritious ingredients and products made out of coconut has increased within the local and global food markets.
Sri Lankan coconut product manufacturers produce an array of coconut-based products including coconut milk powder, canned coconut milk, coconut butter, coconut oil, desiccated coconut, coconut water, coconut sugar, coconut flour and vinegar, jaggery, and treacle made out of coconut flower for the local and export markets.
Among Sri Lanka's most popular coconut exporters are those who export virgin coconut oil. Made by cold-pressing the dried scraped kernel of the coconut, virgin coconut oil is transparent in color and is naturally odourless and tasteless unlike the RBD coconut oil that has been refined through chemical processing.
Health benefits of virgin coconut oil include increased metabolism and helps greatly with weight loss. High lauric acid levels in virgin coconut oil also helps to reduce bad cholesterol and helps to maintain good heart health and healthy insulin level in blood stream, preventing the development of diabetes. The good fatty acids in virgin coconut oil also improves the body's natural immunity and brain's cognitive function preventing the development of neuro-degenerative diseases.
Sri Lankan coconut milk products too have a greater demand in the global market with more European and American gourmets adopting coconut milk in fusion cooking. Many Sri Lankan coconut product manufacturers export canned coconut milk, coconut milk powder and coconut butter to global markets. Coconut milk is a rich source of fibre, vitamins including Vitamin C, E and B complex and minerals including iron, selenium, sodium, calcium, magnesium and phosphorous. Coconut milk is also a rich source of Lauric acid, which has numerous health benefits for humans including improvement of metabolism and anti-bacterial and anti-viral qualities.
Prepared by spray drying natural coconut milk, coconut milk powder is the most convenient method of storing coconut milk for a long period of time and contains nearly 68% of the original amount of fat and lipids.
Coconut milk is also available in canned form, ready to be poured out straight out of the can. Added with stabilizers and anti-oxidants, canned coconut milk is also a great ingredient to cooking Asian dishes and desserts yet should be refrigerated and used within a few days after opening.
Creamed coconut or coconut butter too is made out of coconut milk and are sold in the form of solid white blocks, that can be added directly to dishes after grating or could be mixed with warm water to produce coconut milk or cream. This too requires to be refrigerated once open, yet lasts longer than coconut milk in a can.
Made with the dried coconut meat after the extraction of coconut milk, coconut flour is a gluten free and high fibrous option for baking. Although coconut milk is a permanent part of Sri Lankan diet, the left over coconut meat is being disposed as a kitchen waste daily without reaping its maximum benefit.
Rich in proteins, fats and fibres, coconut flour is more filling compared to other flours and is also a good source of lauric acid, which promotes proper function of the immune system and thyroid and helps to maintain a healthy skin.
High levels of manganese in coconut flour contains many health benefits including the improved absorption of vitamin c, biotin and thiamine in food and maintenance of bone health, nervous system function, thyroid health and proper blood sugar levels.
May it be a bread, cake, muffins, waffles, pancake or any other favorite baking recipe, coconut flour can easily replace wheat flour with a simple adjustment to the recipe's moisture content. Made without chemical treatment or use of preservatives, Sri Lankan coconut flour is made from the best coconut in the world and are produced under strict quality guidelines adhering to international standards.
Sri Lankan bottled coconut water is also a popular beverage in American and European markets due to its high energy producing qualities. Rich with electrolytes and minerals and low in sugar, coconut water is an ideal thirst quencher and an energy drink popular among sportsmen and sportswomen worldwide.
Other than the food ingredients prepared by the parts of the coconut, Sri Lankans also use a wide variety of ingredients made out of the sap of the cut coconut flower. The sap is collected, boiled and concentrated to produce jaggery, coconut sugar and treacle while coconut vinegar is made out of the fermented sap.
Low in glycimic index and rich in minerals and amino acids, coconut sugar, treacle and coconut vinegar are ideal food ingredients for diabetic patients and improve detoxification and metabolism.
Made according to the local and international quality guidelines, Sri Lankan coconut based food products earned a revenue over US$ 200 million in the year 2014.