EMS - A pillar of export success in the Electronic & Electrical Sector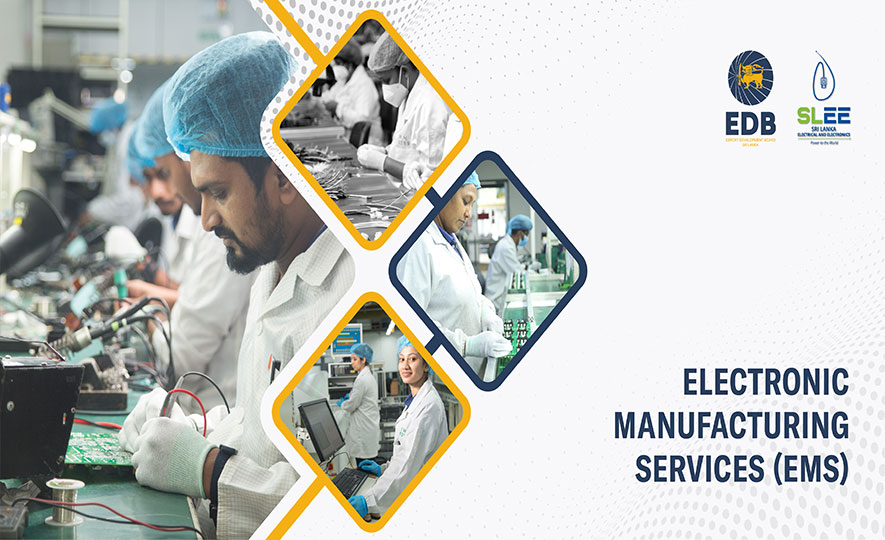 2023-03-16
In 2022, the electronic and electrical industry achieved a record-breaking earning of USD 450 Mn+. Such performance following a global pandemic is glaring evidence of the resilience of the industry's export sector.
The electronic Manufacturing Services (EMS) sector is a vital industry subset.
EMS is the practice of obtaining services of contract manufacturing of electrical parts. It is a form of subcontracting. However, EMS is not to be misunderstood with ODM (original design manufacturing) since EMS contractors do not retain the intellectual properties of the manufactured parts.
Market Watch speculates that the EMS market will exceed USD 675 billion by 2024 at a CAGR of 7.5% on a global scale. The EMS market is quite vast, and the competitive advantage lies in identifying existing marketing segments and segmentation strategies. Printed Circuit Board (PCB) Assembly takes a considerable market share among these segments.
Printed circuit board assembly is the process of connecting electronic components to printed circuit boards. The process is usually divided into several steps, including design, prototyping, and soldering.
The Sri Lankan export sector within the PCB assembling industry has been able to maintain spotless reliability as suppliers throughout history. These enterprises, some of local origin and some branches of international manufacturers are certified according to the norms ISO 9001, ISO 13485, ISO 14001, ISO 45001, UL and from 2022 IATF 16949. Global recognition has enabled these companies to contribute more than the electronic companies based in Sri Lanka.
Their secret is design-to-finish PCB services as SMD assembling, THT assembling, coating, and potting, and also testing and inspection. The compilation of these services skyrockets the PCB units the company assembles.
Certain manufacturers have the competitive advantage of BOI (Board of Investment) patronage and provide niche and specialised services – assembling circuit boards customised for customer requirements. These manufacturers service a large variety of industries ranging from aerospace, electric trains, clean-tech, tools and medical to name a few. This diversified clientele has allowed the company to remain unaffected in the grander scheme of things when individual sectors face obstacles. These exporters abide by strict guidelines and standards regarding suppliers and most often define and nominate the components and suppliers to be partnered with subsequent to quality conformation. Certain locally based global manufacturers have a global procurement arm that facilitates this and allows the company to streamline its production. However the most significant competitive edge of this sector, locally is that it is a 'one-stop shop' which enables the manufacturers to have a streamlined supply chain and increase efficiency to provide quick delivery times which in turn serves to attract and retain customers.
The background that these key players compete with in global competition is inspiring. Global Market Insights expects the PCB assembly market to rise to a staggering USD 120 billion by 2030. Established international recognition, coupled with this market demand, only boosts motivation.
The applications of PCB in the medical industry experienced a sudden surge in demand with the exponential growth of the COVID-19 pandemic. Considering the same field, the emergency of Monkeypox only boosts the demand further.
Sri Lanka's biggest challenge in the field of PCB is the competition from the ODM market. Some western and European countries are slowly developing a habit of utilizing the ODM manufacturer brand value to increase product value. Thus, such real-world business challenges must be tackled before they exceed the point of no return.
In doing so, the export industry's stakeholders are exploring the market drivers during 2022. One such market driver is the low-cost production to spur the demand for single sides PCBs. The simplicity of this type of PCB enables higher volume manufacturing at faster rates. Following the fundamental ISO rule of customer satisfaction, Sri Lankan exporters exhibit a marked tendency to acquire such opportunities.
Sri Lanka can further hope for more market share in the entire EMS market due to the capacity of the EMS sector as a whole in the country. Using that driving force to encourage more export volume is expected, given the rising demand for PCB globally.
The replacement of conventional PCBs with flexible PCBs has also created a new influx of PCB demand. Global Market Insights speculates an 8% CAGR of the flexible PCB market through 2030. These trends justify the dedication of the Sri Lankan PCB stakeholders to increase flexible PCB production and assembly.
PCB industry and the automotive industry are interconnected. In such a background, the Grand View Research expects the global automotive electronics market size valued at USD 217 billion to grow with a CAGR of 7.9% through 2030.
In parallel, Market Research Future expects the electronic vehicle (EV) market to be worth almost USD 1,000 billion by 2030. Maximum possible attention should be given to the automotive industry, given the role of PCB in multiple arenas.
It should be noted how manufacturing and assembly can be the two sides of the same coin. Conquering the manufacturing opportunities simultaneously with the assembly is the most convenient way of increasing foreign currency reserves by several folds.
In challenging times similar to 2022, mere recovery will not suffice; growth is crucial. While being one segment of electronic manufacturing services (EMS), the industry of PCB assembly is sustainably rising in the international market. Utilizing rare opportunities of unhesitant state patronage to achieve record-breaking earnings must never be allowed to be let go unused. It applies only more in a high-demand sub-sector such as printed circuit board assembly.