LMD pays tribute to 50 Sri Lankan businesspeople who continue to drive the nation's engine of growth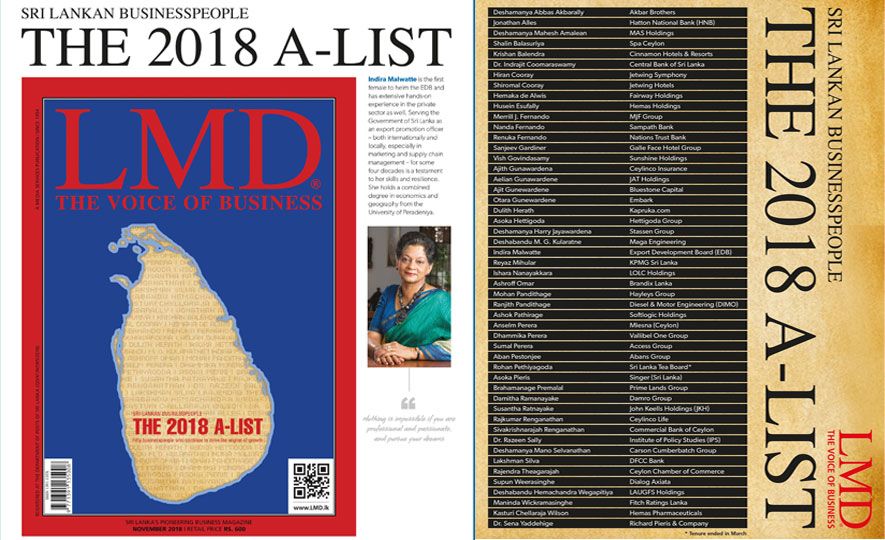 2018-11-02
The Sri Lankan economy has faced multiple headwinds in the recent past amid fears of the nation falling into an irreversible debt trap and a rapidly weakening currency against the backdrop of a strengthening greenback. Concern over the external economy therefore, has received extended coverage in the media for most of this year.
STATE OF THE STATE Political instability has not helped the country's cause either with the corporate sector having to steer clear of the fallout from inconsistent and often incoherent policy-making on the part of the administrators. To make matters worse, there continues to be a never ending flow of rhetoric from opposition forces who themselves have yet to answer many questions about their past deeds.
The engine of growth would be in dire straits if it didn't carry well oiled shock absorbers. Recently, the Sri Lankan Rupee plummeted to a record low when it breached the 170 mark against the US Dollar. The stock exchange followed suit when it fell to a near five year low not long afterwards and to cap it all, the LMD-Nielsen Business Confidence Index (BCI) is now at a postwar low. In the meantime, the price of oil has increased steadily, which is bad news for import dependent nations such as ours. The price of a barrel of Brent crude oil reached a four year high in late September and all indications are that the upward spiral will continue into next year.
Nevertheless, the national economy grew by 3.7 percent year on year in the second quarter of 2018 with GDP at constant (2010) prices reaching Rs. 2.3 billion during the period, according to the Department of Census and Statistics – thanks to 4.5 percent year on year growth in agricultural activity (compared to a 3.1% contraction in the corresponding quarter of 2017), as well as a further expansion of the industry (2.3%) and services (4.8%) sectors.
Indeed, this bears testimony to the resilience of the nation's engine of growth – the private and semi-private sectors. Sri Lanka's businesspeople and professionals have inspired, envisioned and steered the corporate ship – at times through choppy waters – to reach new horizons by breaking new ground or at the very least, stay afloat.
DOING BUSINESS MILIEU Promoting regulatory reforms that strengthen the ability of the private sector to create jobs, lift people out of poverty and create more economic opportunities is a key focus area of the World Bank's Doing Business rankings. This year, Sri Lanka finds itself in 111th place in the ease of doing business, which is a step down the ladder from 2017.
The World Bank report does commend reforms in the context of Sri Lanka's ability to trade across borders with exporting and importing made easier by developing a customs single window. However, the economy lags behind its counterparts when it comes to matters such as registering property, obtaining credit, paying taxes and enforcing contracts.
BUSINESS HALL OF FAME Many high achievers in our world of business have played a part in taking the country and their respective organisations to the next level. In this edition of LMD, we pay tribute to the business front-runners in 2018. Our A-List of Sri Lankan Businesspeople is based on nominations received from LMD's contributors, as well as an in-house think tank led by the editorial and senior management teams. In this year's hall of fame, LMD showcases 50 leaders from among the best in Sri Lanka's corporate and professional communities.
LMD's collective think tank works on the basis of nominating those who helm Sri Lanka's best in class business houses for financial performance (with the LMD 100 being a key point of reference), corporate respect (LMD's Most Respected rankings come into play here) and branding successes (our Brands Annual says it all) – and indeed, other dimensions including entrepreneurship, the spirit of innovation, major accolades in the recent past and all else that make for inspiring leadership.
THE A-LIST PROFILE This year's roll call of the island's leading business personalities pays homage to leaders from diverse fields. The 2018 lineup is led by the nation's trailblazing conglomerates, followed by the banking and finance industry – they are among the giants of Sri Lanka's engine of growth. Sector-wise, hotels and travel, manufacturing, apparel and retail also feature prominently, and there are representatives from construction and engineering, e-commerce, motor, power and energy, real estate, technology and telecommunications too.
In terms of professions, there's a notable presence in the 2018 A-List of bankers and accountants while the nation's entrepreneurs also shine through. This year's hall of fame also includes at least one representative from the legal profession and state sector, a scientist cum engineer and a taxonomist.
As for designations, the vast majority of leading businesspeople are Chairpersons or Managing Directors, or members of the corporate C-Suite – with a Governor thrown into this heady mix.
LMD's 2018 A-Listers reflect the private sector's diversity; it spans two generations with ages ranging from the early 40s to the late 80s. On the gender front, 12 percent of the 50 strong list comprise women.
THREE FOR THE ROAD If you're wondering how many of Sri Lanka's 50 A-Listers have appeared on the cover of the country's pioneering business magazine, the answer is exactly half – that's 25. There are also two 'Sri Lankans Of The Year' (Coomaraswamy and Ratnayake).
And if we may end this introduction to Sri Lanka's 'Business Hall of Fame' with 'family ties,' the 2018 A-List is graced by as many as three duos of siblings – read Cooray(s), Gunewardene(s) and Pandithage(s).
A small world, shall we say… with a big heart and even bigger ambitions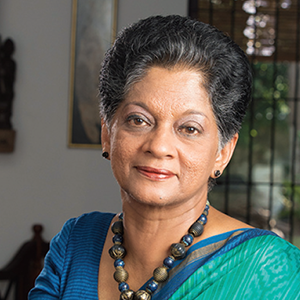 Indira Malwatte is the first female to helm the EDB and has extensive hands-on experience in the private sector as well. Serving the Government of Sri Lanka as an export promotion officer – both internationally and locally, especially in marketing and supply chain management – for some four decades is a testament to her skills and resilience. She holds a combined degree in economics and geography from the University of Peradeniya.
Source at: LMD