Outpacing Routine Growth in Times of Adversity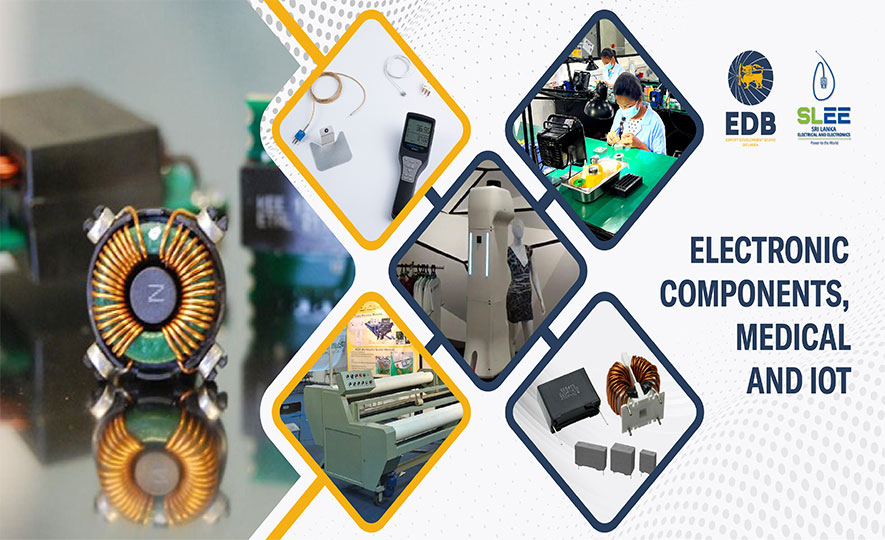 2023-02-28
Adversities with impact on human life will in other forms present opportunities that could also serve humanity in constructive ways. During a pandemic that took the world by surprise and brought the most powerful to their knees, and during the resultant economic downturn universally experienced, global trade no doubt opened new opportunities to those who aspire to see the brighter side of things.
The Sri Lankan exporters in the Electronic and Electrical spheres also seized such opportunities with open arms, especially so in electronic and electrical components, medical equipment, and IoT (internet of things) products. Electrical transformers, Coils and inductors, Static Converters and Capacitors, Load Cell and Weighing solutions, High-Precision Sensors and Industrial Automation Solutions are other areas that experienced export growth.
The 28.38% export growth of Electrical and Electronic Components (EEC) to US$ 421.42 Mn is solid proof for the claim. Sri Lanka's EEC exporters' dedication must be appreciated as their innovative efforts are targeted at EEC's exponentially growing market size. By 2030, the market size is expected to expand to US$ 273.9, according to Precedence Research.
Regarding medical equipment exports, CBSL's 2021 press release revealed a massive export revenue of almost US$ 200 Mn from January to October 2021. The market growth for this market is the largest out of these three segments — US $745,000 Mn. This vast market is infiltrated by highly advanced medical devices such as medical isolation transformers in a power range from 150 VA to 5300 VA.
IoT (internet of things) is a unique market segment experiencing market growth at a CAGR of 13.9% from 2021 to 2030, expanding to US$ 292.83 Bn. The HKTDC survey revealed the rising demand for Sri Lankan healthcare electronic exports. The main reason for the market can be pinpointed as the increased adoption of IoT-based smart medical devices and portable medical devices.
In fact, the United Nations conference on trade and development in October 2021 proposed a national policy framework where Sri Lanka is expected to be established as a global innovation hub. The use of the Internet of Things (IoT) is one crucial aspect of the plan. Hence, it is clear that utmost patronage from the government and the international community welcomes potential exporters to join the community.
Combined, the total market share for IoT and medical devices is US$ 1,037,830 Mn.
Under these three main categories, the following key segments include too,
Electronic and electrical transformers, coils, and inductors
Static converters and capacitors
Load cell and weighing solutions
IoT devices and industrial automation
Medical equipment
High-Precision sensors
As reported by Trading Economics, Sri Lanka's Exports of electrical transformers, coils, and inductors to the United States were US$ 6.21 Mn in 2021, according to the United Nations COMTRADE database on international trade. The market size is expected to expand to an impressive US$ 135 Mn by 2030.
The competition for isolating most of this market is the primary goal of the interested Sri Lankan exporters. Continuation provision of various products related to transformers, coils, and inductors explains this movement. These components can be abundant in several rapidly growing industries, such as sustainable energy, transportation, mechanical locomotion (escalators and elevators), etc.
These markets supplied by the electrical and electronic transformers, coils, and inductors are projected to experience massive market expansion over time by 2030. For example, the markets for sustainable energy are expected to grow to US$ 1,977.6 Bn, transportation to US$ 101.26 Bn, escalators to US$ 19,116.6 Mn, and elevators to US$ 13,000 Mn.
Market Research Future expects a market growth of almost US$ 4,000 Mn in static converters and capacitors by 2030. In this expanding market, Sri Lanka's three significant destinations for static converts in 2021 were Hong Kong, Japan, and Thailand, according to IndexBox Research. Trading Economics confirms these statistical data revealed that the total revenue was US$ 2.58 Mn approximately.
Static inverters act as a linking, adapting, or transforming stage between two sources, generally between a generator and a load. The Sri Lankan export community identified the growing demand for sustainable energy in the Asian region. As the exporters have already established the reliability of their products in the Asian region, opportunities in the European and American regions are still available to infiltrate.
The advantage Sri Lankan tech companies have is lower labour and manufacturing costs while preserving quality. Some international companies are using this advantage by opening branches in Sri Lanka. Thus, Sri Lankan exporters should seize these opportunities as the market is welcoming and in high demand.
The demand for load cells and weighing solutions will continue to rise. These electronic components are essential for several manufacturing and healthcare industries. Hence, the interested Sri Lankan companies are keen on producing the highest quality load cells and weighing solutions adhering to ISO quality standards. These companies produce a wide range of load cells, weighing systems, force and pressure sensors, digital instrumentation, and custom test stands. These components have significantly contributed to the 9.14% growth of the exports during the first six months of 2022 compared to the same period a year earlier.
The Sri Lankan manufacturers have also come a long way in terms of their contribution towards the medical electrical equipment industry. Currently there are local companies who manufacture and market laboratory equipment for Assisted Reproductive Technology (ART) and Research Laboratories and have developed a range of equipment that is exported to various global markets. They assist in the process of giving life to many families who struggle to conceive due to the many challenges of the modern world, which has become a global issue. The R&D strength of the local medical equipment manufacturing industry has also enabled the manufacturing of VOC filters, high accuracy thermometers and designing the world's first smart Petri dish among other innovations. A test stand manufactured by a manufacturer based in Sri Lanka is also being used for weight verification in the production of the Covid vaccine.
High-precision sensors and load cells are somewhat interconnected regarding the operational method. The replacement of steel with Graphene, as the material is 200 times stronger and incredibly flexible, has enabled local exporters such as SLINTEC to build extraordinarily efficient and cost-effective high-precision sensors. According to Allied Market Research, the relevant Sri Lankan exporters community is striving to allocate as much as possible from the projected global market growth of US$ 345.77 Bn (by 2028).
Industrial automation's global market share is expected to expand to US$ 430.9 Bn by 2030. The co-dependency of industrial automation on software development and IoT greatly complements the industry's growth in several sectors, including apparel, medical, transportation, and especially production factories. Currently the locally based organizations of the sector offer end-to-end service delivery including technology consulting and engineering services encompassing both hardware and software for a variety of industries including retail, hi-tech, banking & finance, telecommunications, logistics and manufacturing.
The bottom line is that Sri Lanka is currently functioning several times faster than it did in terms of the electrical and electrical components export industry, including IoT devices and medical equipment. With a massive global market share and the high-quality standards of the Sri Lankan manufacturers, it is not a challenge to surpass international competitors in the market arena in the 2020s.