Sri Lanka is ready for business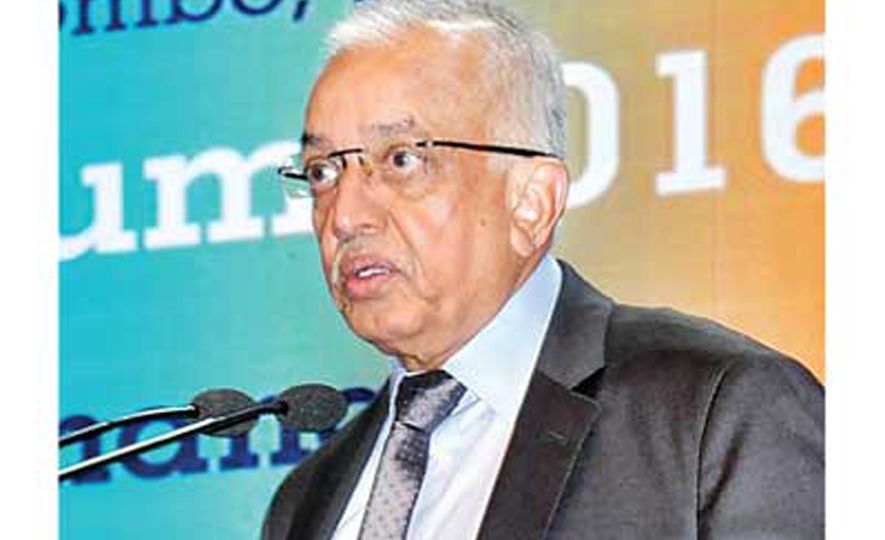 2016-10-14
To achieve strong growth Sri Lanka has put in place a multifaceted framework to encourage business and get access to key markets around the world, said a top official at an international forum.

The entire spectrum of economic changes planned by the Government to boost growth was outlined by Development Strategies and International Trade Minister Malik Samarawickrama at the inauguration of the World Export Development Forum (WEDF) on Wednesday. Given below is the full speech delivered by the Minister.

It is a great pleasure indeed to welcome all participants to the 16th World Export Development Forum (WEDF) 2016, and at the outset permit me to thank the individuals and institutions whose untiring efforts have enabled this forum to take place in Sri Lanka.

A special word of thanks to the energetic Executive Director of ITC, Madam Arancha Gonzalez, for bringing this event to Sri Lanka and guiding our team.

WEDF is a unique global conference and business-to-business (B2B) matchmaking platform dedicated to supporting trade-led development. As the flagship event of the International Trade Centre (ITC), WEDF brings together over 600 business leaders, policymakers, heads of trade and investment, support institutions and international trade development officials to address international competitiveness for developing countries.

Sri Lanka's economy has witnessed a steady revival in growth during the past few months, with the country venturing into new avenues of commodity and service monetisation. The new Government has brought in freedom, democracy and transparency and with this given a message of assurance to the international business community.

The decision by the ITC to hold the WEDF 2016 in Sri Lanka itself is a clear message that we are on the right path, symbolising the international recognition for the business environment that we have built. Let me also mention that in Sri Lanka, we now have a very stable Government with two major political parties – the SLFP led by Maithripala Sirisena and the UNP led by Prime Minister Ranil Wickremesinghe, forming a National Unity Government, are undertaking major reforms to fast-track development in our country.

We are also in the process of implementing a series of reforms to uplift the country's trade and investment performance. This includes 'Ease of Doing Business'.

New trade policy

A new trade policy framework is being formulated, which focuses on reducing the anti-export bias in our policies. Para tariffs are being reviewed and the Central Bank will manage the exchange rate flexibility while avoiding high volatility. These reforms are being complemented by improved trade facilitation, which will enable Sri Lanka to capitalise on its strategic geographic location and excellent port facilities to become a manufacturing, distribution and logistics hub.

The global trading environment is changing rapidly with global production networks and global value chains. The developments are a result of product fragmentation; cross border dispersion of component production/assembly. Each country specialises in a particular stage of production sequence and trade the value added components which ultimately results in the final product.

Product fragmentation was first seen in apparel and electronics and now it has spread to automobiles, electrical machinery, telecommunications, etc.

The factors that have led to product fragmentation are the rapid advancement in production technology, technology innovation in communication and transportation and liberalisation of policy reforms in investment and services both at home and host countries.

Export growth can no longer depend on traditional export markets such as the US and the EU, where demand is slack. Therefore, it is imperative that Sri Lanka find new markets and curve out easy market access to them. That is why the Government has embarked on a strategy to deepen the existing FTAs with India and Pakistan and work out new FTAs with growing Asian economies like China and Singapore.

Sri Lanka is currently at a juncture where it can no longer depend on debt-financed development. Thus a viable development strategy that will bring in more foreign exchange to the country is needed via promoting exports and attracting FDIs.

For export promotion, FDI will support to enhance the supply capacity of export and make best use of the wider market access gained via FTAs. Making this transition from debt-financial public investment and import substitution, to a private sector-led export and FDI-based development strategy remains challenging. But it is the only option available for Sri Lanka at present.

If we look at South Asian countries in the SAARC, Sri Lanka is far behind others in working out duty free or preferential market access to other countries. In SAARC, Bangladesh, Nepal, Bhutan, Maldives and Afghanistan by virtue of them being LDCs qualify for duty free access to the EU and Indian market through Everything But Arms (EBA). In fact 84% of SAARC LDC exports have duty free access to the world at large.

India has preferential market access to ASEAN, Japan and South Korea through various FTAs and CEPAs it has signed during the last decade. Pakistan has FDAs with China, Malaysia and Sri Lanka and benefits from GSP+ in the EU market. In contrast Sri Lanka has access to only India and Pakistan and some preferential access to APTA members, China and Korea, for which Bangladesh and India also qualify.

Sri Lanka lags behind even its South Asian neighbours in having preferential markets access to its trading partners. When Sri Lanka's standing in the global and regional framework is behind others, it becomes all the more important to sign more bilateral agreements.

Economic agreements

The world around us is increasingly moving forward with regional and bilateral Free Trade Agreements, as the multilateral trade liberalisation process led by the WTO has come to a standstill. According to the WTO website, there are 419 regional trade agreements. Also 133 of them have been now converted into the Economic Partnership Agreement (EPA), Comprehensive Economic Partnership Agreement (CEPA) or other forms of deeper economic agreements.

These agreements basically deepen and broaden the FTAs with selective reduction of the negative list and incorporating investment and services liberalisation. 50% of global trade now take place through regional or bilateral FTAs.

Within the broader framework of an agreement, which is inclusive of services and investment, it is easier to address the shortcomings of FTA. That is the reason for the rapid transition of FTAS to more comprehensive economic arrangements.

In the case of the India-Sri Lanka FTA, it is being broadened and deepened via the proposed Economic and Technology Cooperation Agreement (ETCA) and that will certainly assist Sri Lanka to address many of the current problems it is facing in fully utilising the FTA.

ETCA can increase Sri Lanka's competitiveness in industrial exports and also increase our supply capacity, to better utilise the market access to India. In addition, ETCA negotiations are addressing outstanding non-tariff barriers in the Indian market as well as many of the existing procedural barriers and delays in Indian ports of entry, particularly through Mutual Recognized Agreements.

We are also negotiating a new FTA with China and invigorating our existing FTA with Pakistan. Under the China FTA, we are focusing on apparel, tea, gems and jewellery, rubber products, coconuts and spices as key industries. We plan to include a priority tariff line for competitive Sri Lankan products that would go into immediate effect upon the signing of the agreement.

Sri Lanka's agreements with Pakistan also provide an opportunity for Indian investors to access that market on a preferential basis by locating in Sri Lanka. We could explore the possibility of redirecting some of the Indo-Pakistan trade currently transmitting through Dubai.

We have also launched negotiations on a FTA with Singapore. This will open up the entire ASEAN market for Sri Lanka and will create opportunities for high tech innovative products to be exported to this region.

We are negotiating these agreements with an open mind but with the intention of getting the best possible deal for the country.

The Government of Sri Lanka is aware of the possible trade disruptions that can occur during the transition period and therefore we are looking at providing a trade adjustment package for local industrialists to upgrade machinery and introduce new technology so that these industries can be more competitive and serve the local market as well as export to the regional and global markets.

Before I finish, I should also point out that Sri Lanka has enormous potential as a tourism destination. Investment opportunities are considerable in this sector. Our Government is taking a number of positive measures to improve investor confidence, strengthen the business environment and make Sri Lanka an attractive destination for FDI.

Let me conclude by reiterating that the benefits of investing in Sri Lanka include its resilient economy, supportive Government policies, its educated workforce, strategic location, preferential access to large markets, fast developing infrastructure and increasingly vibrant business environment.

Sri Lanka is ready for business.

I urge all of you to take full advantage of this opportunity to network and form long-lasting partnerships. I wish all of you a fruitful and productive session.