Wellness Tourism in Sri Lanka on a Global Scale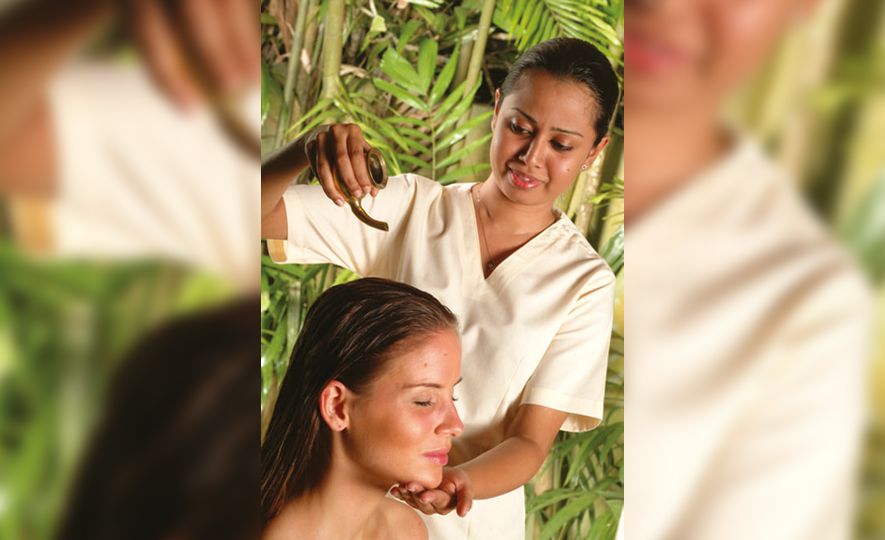 2019-01-03
As the leading tourism body in the nation to drive the growth of the tourism sector in the country, Sri Lanka Tourism Promotion Bureau contributes to promote destination Sri Lanka with its continual tourism promotional campaigns, events, and consumer fairs and international press trips. Tourism in Sri Lanka has expanded to greater dimensions such as Eco tourism, Film tourism, Wedding tourism, Culinary Tourism, medical tourism and in today's context, wellness tourism too, stands out as a niche segment of tourism in Sri Lanka.
Sri Lanka Tourism has identified an array of themes such as Scenic, Wild, Thrills, Bliss, Essence, Festive, Heritage and Pristine, which portrays the ultimate wonders of Sri Lanka as a compact island. Under the Theme ''Bliss'' Sri Lanka Tourism has elaborated on the crucial role wellness tourism plays to promote Sri Lanka as a popular wellness tourism destination with its ancient and traditional Ayurveda treatments going back to thousands of years.
Related to wellness tourism, there are many segments and sub categories including traditional and alternative medicine, spas, spirituality, nutrition and fitness, and also Sri Lanka's historical connection with Ayurveda are the main reasons for the global demand for the wellness of mind and body. Tourists and travelers who need to escape from their busy and stressful lifestyle, will find it a most relaxing experience to indulge themselves in the amazing Ayurveda and holistic treatment to rejuvenate and refresh their minds and enjoy themselves in the luxurious comfort of Sri Lanka's exclusive spas.
The traditional Ayurveda healing methods and exercises vary from Ayurvedic steam baths and saunas to meditation, Acupuncture, energy medicine and yoga. Based on herbs and diet, it was the regions' only treatment method until the introduction of western medication.
Specialized instructors and trained staff are based in every luxury hotel to find out the visitor's needs, from Ayurveda body massages to Ayurveda steam baths and Ayurveda herbal baths. Some of these Ayurveda resorts possess '' beheth oru'' which go back into the ancient times, immersing the individual in a boat filled with herbs and medicinal drugs plants to rejuvenate, refresh, and heal the body.
Sri Lanka's major source markets for wellness tourism encompass European countries, USA, China and Japan. And most of them are focused on treatment for weight loss, stress relief, detoxing to escape from their busy and stressful lifestyles in their countries. Most tourists enjoy experiencing the powers of meditation and yoga to maintain a perfect mental health and a healthy lifestyle. To promote these elements of wellness tourism, luxury spas, Ayurveda products, herbal treatments, and meditation centres are available in star class hotels, boutique hotels and luxury villas across the island. Each of these establishments is closely monitored by Sri Lanka Tourism to ensure quality of products and services.
In wellness tourism, a healthy and nutritious diet is also a crucial factor. Providing organic food products, and looking towards a healthy diet with fruits, vegetables can be very beneficial for health conscious travelers. In this regard, Sri Lanka Tourism contributes to promote spice gardens, herbs and spices to create awareness of authentic and healthy Sri Lankan cuisine and its health benefits. Since Ayurveda is concerned with treating the inside as well as outside the human body, one can enjoy the authentic Sri Lankan cuisine prepared in the Ayurveda manner, which are freshly harvested and prepared using authentic herbs and spices sourced locally.
Since Ayurveda is concerned with treating the inside as well as outside the human body, one can enjoy the authentic Sri Lankan cuisine cooked in the Ayurveda manner, which are freshly harvested and prepared using authentic herbs and spices sourced locally. In Ayurveda, food is categorized into six taste categories: sweet, sour, salty, bitter, pungent and astringent. To receive a proper nutritional balance, Ayurveda philosophy recommends all these categories in every meal. Holistic wellness such as Yoga and meditation have also become immensely popular over the years in wellness tourism. For those who seek the inner peace of mind and relief from mental tension, these elements tend to be highly productive, and specialized instructors and trained staff are widely available to look into the visitor's needs.
The wellness tourism sector in Sri Lanka is heading towards rapid growth but has to be nurtured carefully in collaboration with the industry stakeholders from both government and private sector. Among the potential new markets for traditional medicine are Gulf /Russian federation countries, Eastern Europe, the far east and Australia. The government has recognized wellness tourism as a principal growth sector for investors. Wellness tourism can be reckoned as a niche market for the country because of its potential to attract foreign investment and revenue generation.
Sri Lanka has the potential of being successful in marketing Ayurveda products to tourists who enjoy the relaxing aroma of Ayurveda products. Sri Lanka already has exclusive and local Ayurveda brands that are exported in order to popularize traditional Sri Lankan Ayurveda overseas.
Sri Lanka Tourism Bureau is working towards ensuring that Sri Lanka's wellness tourism sector is developed at an international level, with the aim of bringing more tourists to the island and promote Sri Lanka as a holiday destination popular for every aspect of tourism. Sri Lanka's tourism authorities are focused on applying international quality standards on the services offered by the local health tourism sector.
Among the recommendations made by the international trade centre for the development of medical and wellness tourism, Sri Lanka has positioned itself as one of the authentic Ayurveda wellness destinations in the world for development, production, and export of Ayurveda linked cosmetic and supplementary products to the global market. With the wellness tourism rapidly growing to be a promising sector, Sri Lanka has a huge potential of becoming a wellness tourism hub.